Merseyside derby's second wind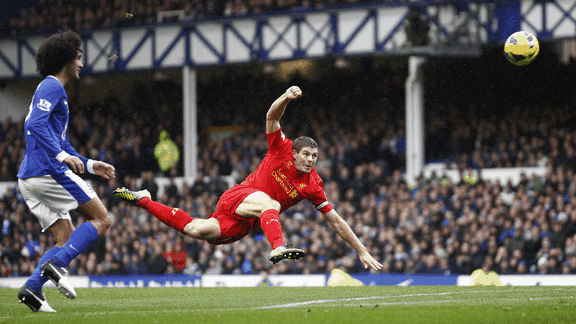 PA PhotosSteven Gerrard is often at the fore of the Merseyside derby.
Musicians Bobby Scott and Bob Russell only met three times. They first encountered each other in a Los Angeles nightclub in 1969 when Russell was already dying of lymphoma, but still found time to pen the song that 43 years later, and 5,000 miles away, would provide musical backdrop for a new kinship between Liverpool Football Club and neighbours Everton.

"He Ain't Heavy, He's My Brother," made famous in Britain by Manchester band The Hollies, was the musical accompaniment to Everton's tribute to those 96 Liverpool supporters who had died at Hillsborough on April 15 1989. It was the selection of Everton chairman Bill Kenwright, his reaction to the news that the Hillsborough families were winning their fight for justice, having received an apology from the British government, and the hope that, finally, the truth about what happened on that spring day in Sheffield might be revealed.

- Brendan Rodgers exclusive interview
- Walsh: Martinez a game-changer

Merseyside's derby used to be known as "the friendly derby", but such a monicker lay deep in the past. A common myth of red and blue stood and sat together permeated but the last two decades have been frustrating for both clubs. Those frustrations have often been taken out on each other.

"Because the two teams weren't doing well, that meant the derby took on greater significance," suggests author Simon Hughes, whose book "The Red Machine, Liverpool FC in the 1980s" describes a time when the rivalry was the most significant in English football. From 1984 to 1987, the two clubs divvied up major honours in England before both fell victim to the disasters that soiled the English game of the era.

Everton were runaway champions in 1985, only just missing out on a Treble, yet they were never permitted to take their chance in the European Champions Cup. On May 29 1985, at Brussels' Heysel Stadium, Liverpool fans' charge into Juventus fans caused the collapse of a wall, and the death of 39 supporters. English teams were withdrawn from Europe, and Everton eventually suffered the loss of their manager, Howard Kendall, and star players who moved abroad the continent, and Scotland, in search of continental football. Heysel's consequences cause resentment among Everton's support to this day.

Liverpool were again the dominant force when Hillsborough happened, but its aftershocks eventually loosened their grip. Manager Kenny Dalglish had stoically led the city's mourning process, but finally could no longer live with such psychological pressures.

On February 22 1991, he resigned his post, to worldwide shock, even if the signs of decline had been apparent. The breaking point was an FA Cup match two days previously that had ended 4-4 at Goodison Park, the away team surrendering a lead four times.

"I knew that night I had to go," Dalglish admitted later. "After we took the lead for the final time I was standing on the touchline and I knew that I had to make a change to shore things up at the back. I could see what had to be done and what would happen if I didn't do it, but I didn't act on what I knew I had to do. That was the moment I knew."

At that time, Liverpool were defending league champions, a status they have never since enjoyed. They and Everton contested three cup finals in the 1980s, but lost their pre-eminence to slicker, more modern operations from Manchester and London.

The last decade saw the rivalry cook up into a bitterly-fought local conflict. Poor relations between managers hardly helped. Liverpool's Rafa Benitez caused outrage by labelling Everton a "small club" while David Moyes in turn proclaimed them the "people's club," taken as a swipe against Liverpool's many out-of-town supporters. Still, Everton had a rotten record against Liverpool under Moyes, who only won 4 from 22 shots at the Reds, all at home.

Benitez never appreciated the fixture's significance. "Benitez took off Steven Gerrard in the 2007 derby because he said he was playing 'too much emotion' but the fans want to see emotion," says Hughes.

Liverpool's derby heroes were often childhood Evertonians. Steve McManaman and Robbie Fowler were once Blues. "Look at Jamie Carragher," says Hughes. "Liverpool scored two late goals in 2007, and you would have thought Everton had played no part in his life. His dad Philly was known as one of the most ardent Evertonians around."

When Bill Shankly arrived at Second Division Liverpool in 1959, Everton were the establishment club. Indeed, Liverpool had been formed as a breakaway club from Everton after a dispute between Anfield's owner and the club's board. The Shankly era intensified the rivalry, as Everton were often the butt of the Scot's jokes.

"If Everton were playing at the bottom of the garden, I'd pull the curtains," he once said. Though in retirement Shankly was more often seen at Goodison than Anfield, he had given rise to a white-hot rivalry. When Liverpool were celebrating their first European Cup in front of a civic reception at St George's Hall, captain Emlyn Hughes grabbed the mike to jibe: "Liverpool are magic, Everton are tragic."

The matches themselves are high intensity, but quality is often spurned for a quantity of energy. "It's not a frenzy, more a nervous tension," says Simon Hughes.

John Barnes, Liverpool's star of the late 1980s, never enjoyed playing in the fixture. "I understood why they meant so much to fans; the sense of anticipation was intense," he says in The Red Machine. "But I prefer games where the winners prevail because of football. A lot of players on both sides would play derby games with their hearts, rather than their heads."

With Everton strugglers at Anfield, Goodison is the home of derby excitement. The last two meetings there saw Luis Suarez assume centre stage, first for an errant sending off for Jack Rodwell in 2011, and then for a disallowed goal in last year's renewal, a pulsating 2-2 draw.

Yet despite all the controversy, the result was not quite as important as it might once have been. Last October's match was played amid a sense of brotherhood between the clubs, a friendly rivalry revived.