Pellegrini's early report card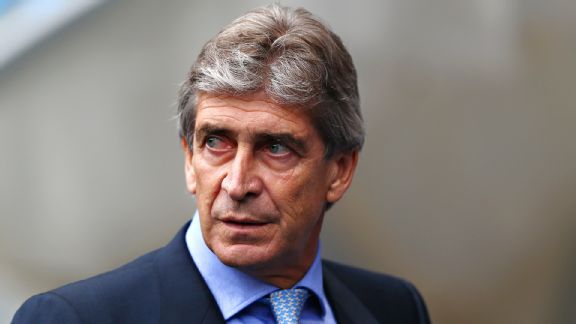 Michael Steele/Getty ImagesManuel Pellegrini's first three months at Man City have been intriguing.
Three months into his first season at the Etihad Stadium, Manuel Pellegrini has taken Manchester City both forward and backward. The Chilean has secured their place in the knockout stages of the Champions League for the first time. In the Premier League, however, they have six and nine points fewer than they did at this stage of the past two seasons. So how is Pellegrini getting along?

CHAMPIONS LEAGUE

A stark, and welcome, reversal in City's fortunes. After failing to reach the last 16 in the previous two seasons and claiming only three points in their disastrous campaign 12 months ago, City are already through. They have won as many matches (three) in four attempts for Pellegrini as they did in two years under Roberto Mancini. Given the Chilean's exploits with Villarreal and Malaga in the competition, it may reinforce a reputation as a Champions League specialist. And yet it is worth remembering that, after participating in successive groups of death, this time City have faced the Czech minnows Viktoria Plzen and a CSKA Moscow side that is less than the sum of its parts. The meeting with Bayern Munich, the one class team they have faced, was a chastening defeat.

HOME LEAGUE FORM

Immaculate. City have a 100 percent record on their own turf and, with 20 goals in those five games, are much the most prolific team. The 4-1 demolition of Manchester United was much the best display any side has produced this season, and Pellegrini's attacking approach means opponents are liable to be thrashed at the Etihad Stadium. However, it is worth asking whether that is anything new: Mancini lost only one of his past 46 home league games, and, in his title-winning season of 2011-12, City scored 55 goals in 19 matches. Far from being a revolution, it may not even be evolution as much as simply a continuation of excellence.

AWAY LEAGUE FORM

Awful. City have taken four points from a possible 18 on the road; to put it another way, that is two fewer than Fulham have managed. While they seemed to travel with trepidation under Mancini, the Italian lost only four away games last season. Pellegrini has been beaten four times already, at Cardiff, Aston Villa, Chelsea and Sunderland, and it is worth remembering that City have visited only one club (Chelsea) who are likely to finish in the top eight. Thus far, the manager has escaped criticism, partly because each of the first three losses included a goalkeeper howler and the score line did not necessarily mirror the game: Indeed, while the error-prone Joe Hart has not saved enough shots, he has stopped Pellegrini from being blamed. Yet the failings on the road extend beyond the last line of the defence.

SIGNINGS

Mixed, though it is pertinent that Pellegrini does not deserve all the praise or the blame; director of football Txiki Begiristain also has an input in recruitment. Alvaro Negredo has been an unqualified success and, if the Spaniard was seen as a cheaper alternative to Edinson Cavani, the expensive Uruguayan could scarcely have been much better. Fernandinho, too, has quickly established himself as an integral part of the side, but Jesus Navas has lost his place in the first-choice team to Samir Nasri. Stevan Jovetic is sadly injury prone but always seemed a strange signing: Why spend 25 million pounds on a player to understudy the club's deadliest striker, Sergio Aguero, especially when the money could have been better used elsewhere? The centre of defence, for example, where Martin Demichelis is looking an uncertain deputy for Vincent Kompany; although comparatively cheap, the 4-million pound Argentine could have been acquired on a free transfer earlier in the summer. It all suggests confused thinking.

MAN-MANAGEMENT

A definite improvement. If Pellegrini was hired to be the opposite of Mancini, he appears to be following the job description closely. The press and the City public saw a charming, charismatic Mancini, but the players found him more aloof. In contrast, Pellegrini seems cold and dour to the wider world but displays more warmth behind the scenes. Nasri, one of those alienated by Mancini, is particularly effusive about the benefits of Pellegrini's regime. It is no coincidence the Frenchman is in the finest form of his City career. That others, such as Negredo, Aguero, David Silva and Yaya Toure, have also flourished, reflects well on Pellegrini.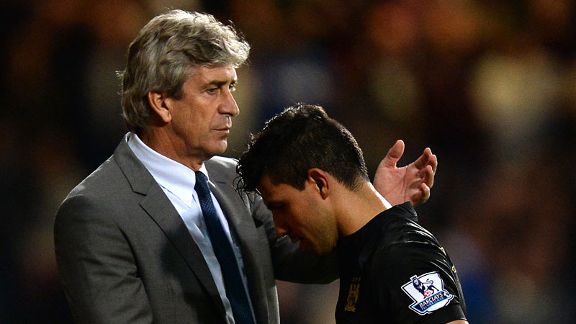 PA PhotosManuel Pellgrini's man-management has been a feature of his tenure.
TACTICS

Despite the suggestions a 4-3-3 formation would be implemented when City imported power brokers from Barcelona and however often Pellegrini mentions a "new style," this is the 4-4-2 -- although sometimes described as 4-2-3-1 -- favoured by Mancini. The major change is the removal of a holding midfielder, in Gareth Barry, and the introduction of Fernandinho, who plays further up the pitch, to allow City to play more of a pressing game. The corollary is that City play a higher defensive line which, along with Hart's mistakes, explains goals Villa and Chelsea have scored against them. The only time Pellegrini has changed shape was at Stamford Bridge, though it was an error not to select a fifth midfielder against Bayern Munich.

TEAM SELECTION

Pellegrini pledged a meritocracy and was true to his word when preferring Nasri to the summer signing Navas. Hart's blunders brought that policy into question, although the sense is that Pellegrini is annoyed with himself that he did not drop the Englishman earlier. The 60-year-old has been criticised for his reluctance to select Joleon Lescott and Matija Nastasic together, although the evidence they produced against Hull supports his case. It is fairer to fault him for resting too many players in the 0-0 draw against Stoke, for omitting Pablo Zabaleta and Negredo against Bayern Munich and for an inexplicable faith in Javi Garcia, chosen at the expense of more deserving candidates and whose blunders have been as regular, if not as costly, as Hart's.

KNOWLEDGE

Whenever Pellegrini is asked about an opponent, the answer goes along the lines of: "I know all about Stoke/West Ham/Hull." The sense, though, is that he does not. City certainly seemed under-prepared for the trip to Cardiff and duly lost to the set-piece specialists. Partly that is because Pellegrini is a proactive manager who, rather than displaying a Mourinho-esque attention to detail, would rather opponents worried about his team. Yet it reflects his lack of experience in England; indeed some of his failings highlight a lack of knowledge of English players; hence his faith in Garcia, who he had seen in Spain. He refuses to select Micah Richards as a right-sided centre-back -- though he has played there more often than Garcia in the past -- and has only belatedly realised James Milner can operate in the centre of midfield. Meanwhile, Gareth Barry, who he allowed to leave, has excelled for Everton. He, too, would have been a better option than Garcia.