Confusion, secrecy, chaos will ruin Ballon d'Or
Of course, as soon as the news filtered out, broken first to my knowledge by Spain's France Football correspondent, Francesc Aguilar of El Mundo Deportivo, the conspiracy theories erupted.

And that was the benign part. There followed incredulity, anger, derision and disgust.

The reason? FIFA's decision to abandon the previously applicable deadline for Ballon d'Or votes (Nov. 15) and apply a new one of Nov. 29. The leak trickled out right in the middle of that "1812 Overture" performance by Cristiano Ronaldo in Stockholm so, to borrow from Marshall McLuhan, the medium became the message.

- Marcotti: FIFA causes another needless mess
- Report: Ballon d'Or voting deadline extended

Here is how the news -- and its timing -- will have read to most of those who consumed it.

A) The original Ballon D'Or vote closed before the World Cup playoffs and ...

B) Sepp Blatter, Cristiano Ronaldo and Real Madrid have been involved in a fierce, damaging and unnecessary spat over the past few weeks, fueled by the fact the written copy in Ronaldo's "Bio" on the FIFA.com website attributes an incorrect number of goals and incorrectly makes his 2013 (calendar year) scoring performance appear inferior to that of Leo Messi and ...

C) Ronaldo was in the process of ramming four goals down Zlatan Ibrahimovic's throat across two playoff contests to single-handedly ensure that Portugal would be at FIFA's football jamboree next summer in Brazil and ...

(... please remember this is a hypothesis of how the decision looked to the legions of fans I saw expressing their fury and cynicism on social media as the shockwaves spread from minute to minute)

D) ... "ergo" the initial vote count had indicated that Messi (or Franck Ribery) had won and there was a panicky decision that due to Ronaldo's heroics capturing the public imagination, it was time to allow the vote to catch up with public mood.

Because Sepp Blatter used his Oxford Union appearance in October to mimic Ronaldo in a what appeared a derogatory fashion -- calling him a "commander," pointing out that he spent more on his coiffure than Messi and admitting a personal preference for the Argentine -- it has appeared to many that FIFA now needed to make extra sure Ronaldo's current excellence was catered for. Right up to adulterating the voting process.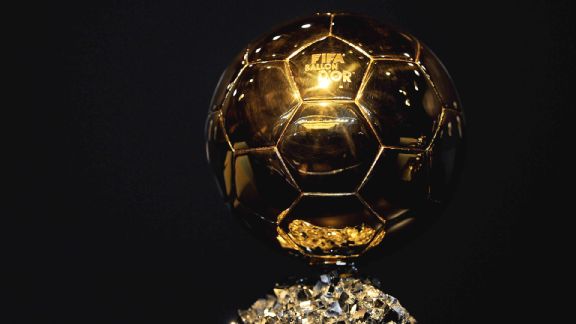 Stuart Franklin/Getty ImagesThe Ballon d'Or trophy ought to be a revered and accurate award. The sliding deadline has made it anything but.
A valuable democratic exercise
Personally I must admit that I'm genuinely impacted by this ruinous decision for one reason and one reason alone.

I believe that a democratic, well-communicated exercise in which some well-established and trustworthy journalists (plus the captains and coaches of every national side) vote for who they all wish to be named as the "best" player during a certain calendar period is not only valuable; it's fascinating and will in time prove a useful, even if not definitive, record of achievement and bona fides as we and those who follow us look back on this era.

As it emerged that Vicente Del Bosque had chosen to vote for Xavi and Iniesta (and permitted informed "speculation" that his third-place nomination went to Ribery), or that Thiago Silva admitted he'd voted for Messi-Zlatan-Ronaldo because he (wrongly) thought he wasn't permitted to vote for Neymar, my personal point of view firmed up in a couple of ways.

First and foremost, I enjoyed the idea that this award could allow slight idiosyncrasies. This hasn't been a vintage year for Xavi or Iniesta, granted, but should a coach, captain or journalist sincerely wish to vote for them -- or Thibaut Courtois, Arjen Robben, Neymar, Phillip Lahm or Robin van Persie, for that matter -- then while I wouldn't agree, I'd have no quibble. The current criteria leave things that wide open.

Second, it's clear that FIFA haven't done very good work in managing this process since 2010. Every year, voters tick the box of a player they are not allowed to vote for or admit they didn't vote for someone of the same nationality when, in fact they are able to select them.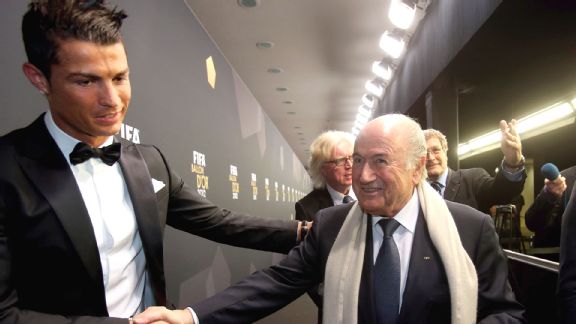 Alexander Hassenstein/Getty ImagesCristiano Ronaldo's disdain for Sepp Blatter has been well reported, hence the theory that the Ballon d'Or vote is being forced in his favor so as to win him back.
Know your audience
Your modern footballer can often be either spoiled, time-poor, attention-span poor, a major procrastinator and, usually, vastly over-dependent on his club or agent or spokesman doing everything from arranging his timetable to shaking and zipping before emerging from the bathroom. Unless someone who wants them to do something extra is utterly, ruthlessly organised or paying large sums of money for the privilege, then there's a heavy chance it won't get done. No matter what it is.

However this award ultimately proceeds, it's time that FIFA and France Football took account of and catered properly for this reality.

I'm not so naive as to argue that the recent combined Ballon d'Or or World Player voting processes have been flawless -- far from it. Nevertheless, I had high hopes that this relatively new award -- the Ballon d'Or dates back to 1956 but the FIFA Ballon d'Or has only existed since 2010) could genuinely become something, once refined and calibrated, representative and revered, democratic and transparent to be considered the pinnacle of all individual awards.

But right now, concerning those high hopes, the little old ant ain't moving the rubber tree plant and the ram ain't buttin' a hole in the billion kilowatt dam.

So, I'm angry. It's like the moment when someone finally tells you there ain't no Father Christmas and, despite all the goodies, you've been suckered all these years. In this case, there ain't no Sanity Clause.

But despite the fact FIFA deserve scorn for this utter botch job and that it is not at all my intention to defend them, the conspiracy theorists may need to gear down from ramming speed and just let their engines tick over for a while.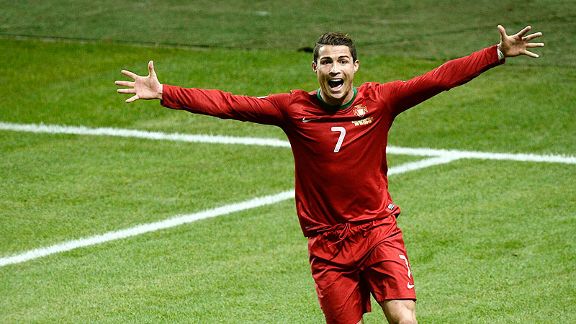 PONTUS LUNDAHL/AFP/Getty ImagesContrary to what's been reported, the FIFA switch was apparently made before Ronaldo's defining heroics versus Sweden.
FIFA's timing and transparency
I know a handful of international captains and coaches who had already voted and a few of them have confirmed to me that the FIFA email hit their inboxes at a time when the Sweden versus Portugal match was still balanced at 0-0 (0-1 on aggregate) and there was a reasonable possibility that it could be Zlatan who'd be hoisted on his teammates' shoulders and Ronaldo who'd be missing the World Cup.

The decision to extend the vote by a fortnight was taken and communicated before Ronaldo even put the ball in the net once on Tuesday night.

Equally, the new missive states that: "In order to ensure a representative participation of the selected media and all FIFA member associations, FIFA and France Football have decided to extend the deadline for votes for the FIFA Ballon d'Or, the FIFA Women's World Player of the Year and the FIFA Men's and Women's Football Coaches of the Year to 29 November 2013."

The communique also emphasizes that "all votes and abstentions will be published."

While two Spanish football papers stated that those who have already voted will be entitled to re-cast their votes based on events subsequent to the original Nov. 15 deadline, the formal FIFA update makes no mention of that being the case.

Reading between the lines, "ensure a representative participation" means there has been an underwhelming response to the voting and that those responsible for administering the process were forced to look, fearfully, at the world's response when the votes were made public (a commendable feature of this award) on Jan. 14.

If, say, a few dozen of the world's more prominent national team captains and managers have either forgotten or not bothered to meet the deadline, it would leave the Ballon d'Or awards, FIFA and France Football open to ridicule next January.

More ridicule than right now, you ask? That remains to be seen. But I must admit that I was surprised when two prominent, intelligent and extremely reliable British football journalists immediately used social media to support the radical decision.

Independently, they each argued that the lesser evil was to ensure that voting remained open so that (A) the playoffs could be taken into account and (B) the "right" winner could be established. In each case they both meant Ronaldo. Neither of them has a vested interest and each person is widely known for a willingness to make a journalistic case and argue it with finesse regardless of whether or not they are in tune with the prevailing mood. Independent and objective.

Who knew?
Regarding point (A) it's unquestionably true that the playoffs should always have been within the voting parameters. You have to feel sorry for FIFA there. If only someone in-house had warned them when the FIFA World Cup playoff dates were in relation to the FIFA Ballon d'Or voting dates. No blame there then.

But if they were unable to schedule the thing properly in the first place, they should have just issued a mea culpa for the whole business, learned for ensuing years and popped on their tin hats come January.

As for point (B) I just can't see it. Once a democratic election process has started, then unless criminality is discovered, it should be seen through at all costs and the results supported. The fact it has been planned shortsightedly is something to review postpartum -- and is not a case for termination.

Next, while I have long celebrated Cristiano Ronaldo and used various television and radio broadcasts or written columns to support him against the inaccurate and mean-spirited criticisms that he attracts, I'm not certain that the current euphoria over his form of the past few months means he either should be, or still will be, a shoo-in for the award.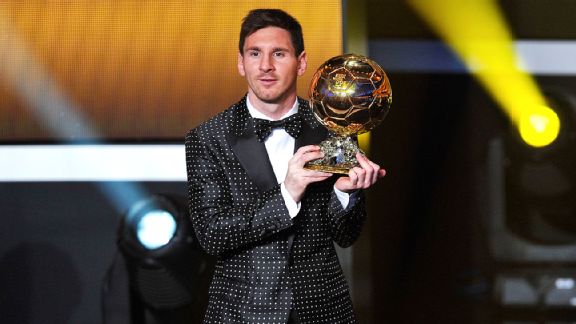 Harold Cunningham/Getty ImagesWhether Lionel Messi wins again or not this year, it's important that FIFA restores credibility to what should be its flagship individual honor.

For the first time in five years this field was genuinely open. Messi, Ronaldo and Ribery, each in their own way, had cases that could be argued and supported. Were Ronaldo to win I must admit I'd be pleased that his almost perpetual excellence was finding individual reward, but I'd be unsure that his first half of 2013 hadn't been obscured by the prevailing climate of "now is important and yesterday is nothing."

His competitive international goals, only four in eight matches prior to the Sweden games, had come against Northern Ireland and Luxembourg. It was this failure to score in crucial qualifiers that helped ensure that Portugal were left in the playoffs.

He couldn't swing Real Madrid's Champions League semifinal against Borussia Dortmund in his side's favour nor, despite scoring, could he see Los Blancos through to Copa del Rey final glory against Atletico Madrid -- a rival that Madrid hadn't lost to since 1999. Incidentally, he was also red-carded in that game.

One of the few things the Ballon d'Or criteria do specifically emphasize is "performance in big matches." (Trophies aren't specifically mentioned.) Though I'm very far from "against" Ronaldo winning this year's award, I'm shocked by the number of people, fans, journalists and professional football people who say he's the outright World No. 1 for 2013 largely because he has been white-hot since September.

So what happens now?
1) Will FIFA captains, coaches or France Football correspondents contact the governing body and say something to the effect of "I was genuinely conflicted whether to make Ronaldo my winner/second/third and now that the deadline has changed, I demand the right to re-vote?"

They would, in my view, be within their rights if it had been a millimeter-thin decision for them about where to place the Portuguese star on their Nov. 15 voting slips.

2) Will there be any issue with the online gambling world?

At a time when we are consistently warned that there is a fundamental threat to football's probity from illegal gambling and from the trading of "inside information," it was ill-advised to allow a period during which those who were informed of the new deadline could bet on the outcome online (quite legitimately) using their new information plus Ronaldo's blistering performance, despite the fact the gambling firms had not been informed of the change.

3) Will there be sufficient transparency to ensure that we are told who voted prior to Nov. 15 and who did not but then did vote prior to Nov. 29?

4) Will Ronaldo attend the Ballon d'Or Gala in Switzerland on Jan. 13, 2014?

5) Will common sense prevail from now on so that the performance period in question be specifically delineated as being from the day after the voting closes in a given year until the day the voting closes the following year?

Thus: the Ballon d'Or 2014 voting should close in late December -- let's say the 20th. Voters could then take into account all football played between Nov. 29, 2013, and Dec. 19 (or even Dec. 20), 2014, if they wanted to take into account a big league match played that day or a World Club Championship. The 2015 award would then be based on performances from Dec. 21, 2014, until Dec. 20, 2015. Or something extremely similar to that.

6) A recent FIFA meeting announced that this Ballon d'Or would comprise a five-man short list for the first time, but the communique on Tuesday night seemed to revoke that and referred to a three-man short list being announced on Dec. 9. Which is true? Why the change?

7) Will FIFA/France Football devote personnel, resources and finances to ensuring that they have a direct communication established with every eligible voter and that they have a trusted "guardian angel" on hand in every country to badger that voter into either making the deadline or having absolutely no leg to stand on when their slip is marked down as "abstention" following the public release of the poll each January?

8) Above all, will those who currently administer it begin to take the stance that this award -- which I choose to consider as venerable rather than a new kid on the honours block -- be treated as important and worth protection in and of itself, not simply because either Messi or Ronaldo might win it or might have their nose put out of joint should they lose?

Qatar and the Ballon d'Or Christmas party

Two final points from me. Does this volte-face on the award, despite clearly delineated rules and announcements, not indicate that FIFA should be open to a new vote on Qatar's 2022 suitability now that it has suddenly emerged that a summer tournament there isn't feasible?

And Christmas? You can only guess that the scheduled FIFA/France Football team-building night out at the local brewery is probably still on, but everyone will be coming back stone-cold sober.