FIFA could have handled Ballon d'Or better
There's nothing quite like FIFA changing the rules and procedures midstream to fuel the conspiracy theories. This time, the powers-that-be have extended the deadline to vote for the FIFA Ballon d'Or by another two weeks.

The vote had closed Nov. 15. Now it has been moved to Nov. 29. Ostensibly, this was done because turnout among voters was poor. Not that low turnout hasn't been an issue before; by my count, nearly one-in-five (18.9 percent) eligible voters didn't cast their choice last time around.

- Report: FIFA extends Ballon voting deadline
- Watch: Ronaldo can't be stopped
- FC on TV: Blatter's Twitter pandering to CR7

But here's the thing: It's not just stragglers who couldn't get off their backside to cast their ballots who now have more time to vote. According to one eligible voter, Francesc Aguiar from El Mundo Deportivo, folks who have already cast their votes can now change their minds, perhaps based on something that might have happened since Nov. 15. Like, say, Cristiano Ronaldo getting a hat trick and powering Portugal to a come-from-behind win that takes them to the World Cup?

That's certainly one way to read it. And to the conspiracy theorists, it's further evidence of FIFA shenanigans.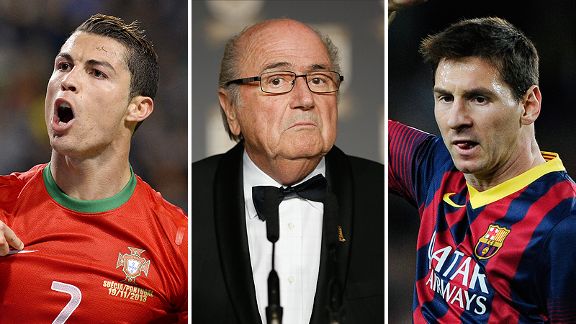 Getty ImagesFIFA's botched handling of the Ballon d'Or voting is no surprise given past messes at their doorstep.

They want Ronaldo to win the Ballon d'Or, so they give folks more time to vote for him. If somebody opted for one of the other front-runners -- Franck Ribery, Lionel Messi or Neymar -- they can now change their mind. After all, only one of those four made his case that much stronger since Nov. 15. And he's neither a Barcelona player nor French.

Looks like a duck. Swims like a duck. Manipulates procedures like a duck. It probably is a duck.

So why would FIFA have an interest in favoring Ronaldo over the others?

Well, Ronaldo has been contemptuous of the Ballon d'Or award in the past. He reportedly was annoyed that Messi has been winning it with some regularity. And he -- reportedly, again -- blamed Real Madrid for not offering him "institutional support" and lobbying for him to win it in years past. Why not try to build some bridges with him?

Given that Messi has had (by his standards) an off-year in 2013, this is a great chance for FIFA to get Ronaldo another Ballon d'Or to go with the one he won in 2008. Spread the wealth around, send him an olive wreath. And while they're at it, perhaps remind him that, unlike UEFA -- whose seasonal award has snubbed him in the past few years -- they appreciate his talents. (And no, it's not lost on anyone that FIFA is run by Sepp Blatter, whose nemesis with an eye toward 2015 elections is none other than the UEFA president Michel Platini.)

Plausible? I guess. With FIFA you never truly know.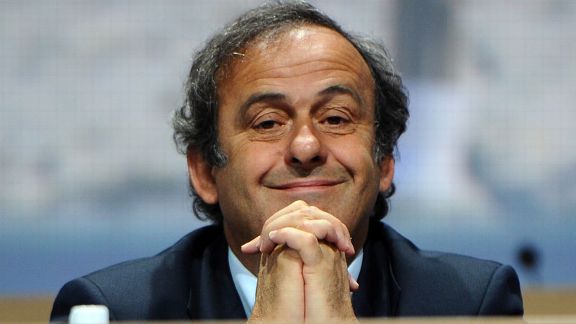 AllsportOne underlying motive behind Blatter and FIFA's hasty Ballon move: the chance to undermine Michel Platini, whose UEFA awards have eluded Ronaldo for years.

At the same time, it's equally possible that this is just another FIFA/France Football fly-by-night decision, like somebody noticing all those missing ballots.

"Uh-oh! It's mid-November, and half our voters haven't bothered responding to us. We better do something about it. This is making us and our award look really bad. We can't really fill in their ballots ourselves here at FIFA HQ -- we'd probably get caught -- so instead let's give them more time. And -- hey! -- if someone out there is stuck or wasn't sure when they first cast their ballots, they can have a rethink and maybe draw inspiration from Tuesday's games."

Or maybe, just maybe, somebody further up the food chain than the folks at FIFA and France Football who are charged with running the Ballon d'Or election had an epiphany.

"Wait a minute! What's the single most important FIFA event in 2013? No, not the Confederations Cup -- be serious for a minute -- that's right, it's World Cup qualifying. And here we have freaking playoffs in Africa and Europe, plus the intercontinental playoffs, and we're not even giving voters a chance to consider these? Hello? McFly? Who the hell made these criteria in the place? Screw this, let's move the deadline to the end of November. And to make it fair, let's give everyone the same pool of information to work from, which means letting the guys who have already voted change their minds if they want. Heck, it doesn't take that long to add up the votes and send out the invitations for the FIFA Ballon d'Or gala. That doesn't even take place until mid-January!"

My guess is that it's simply some combination of the latter two instances rather than some gigantic pro-Ronaldo plot twist. After all, there are other, more efficient ways to manipulate voting if you're so inclined. Besides, I'm not wholly convinced how much the higher echelons at FIFA really care about who wins the award, as opposed to the fact that there is an award and it's a big deal across all media.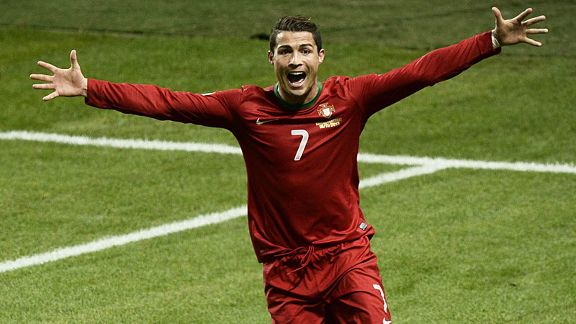 AllsportCristiano Ronaldo has missed out on many individual awards due to Lionel Messi's sustained brilliance, but will he want to win it with this obvious manipulation?

After all, this is the award that, in recent years, has seen eligible FAs not cast votes in industrial quantities. The one that, in 2010, saw a bunch of votes intended for Xavi going instead for Xabi Alonso -- we know this because voters such as Mario Yepes and Chris Katongo came out and complained after the fact -- and possibly enough votes to move Xavi to second place. (He finished third, behind Andres Iniesta.)

The upshot of all this? More controversy. Even less faith in FIFA and its procedures. And for what? For a popularity contest with no set criteria and jumble of voters with wildly varying levels of access/interest in the game?

It's not the first thing FIFA has handled poorly, of course. The initial damage was done when they chose the Nov. 15 cutoff and when they failed to do something concrete to ensure a decent, credible turnout.

(In an age of global communication when so many of the smaller FAs are so dependent on FIFA, it really shouldn't be hard to pick up the phone and say: "Hey, FA of Country X, you've had two months. Find your captain and coach and turn in that ballot by tonight or your guys will be flying economy to the next congress and staying at the Dubious Motel next to the toxic dump.")

And of course, they're mishandling it further now. Releasing the names of the delinquent voters and giving us exact turnout figures might make the low turnout argument more credible in the eyes of some. It would add transparency to the process and help generate the kind of moral suasion that might push FAs, team captains and national team coaches to get off their butts and vote. (After all, it's not a secret ballot.)

It might also be a good idea to tally up the votes as they stood Nov. 15, seal them up and hand them over to some independent notary-type to lock away in his safe. For all we know, the winner won't change thanks to this extra voting window. If that's the case, then it will be much ado about nothing and FIFA will be off the hook. Somewhat.

But no, don't expect any of the above to happen. Expect instead the usual conspiracy theories to flourish, especially if Ronaldo wins. We know he wanted to win the award, and it's a safe bet that he wanted to win it cleanly without the slightest whiff of controversy.

Yet through no fault of his own, he won't get his wish even if he does wins.