Pragmatic future awaits Ireland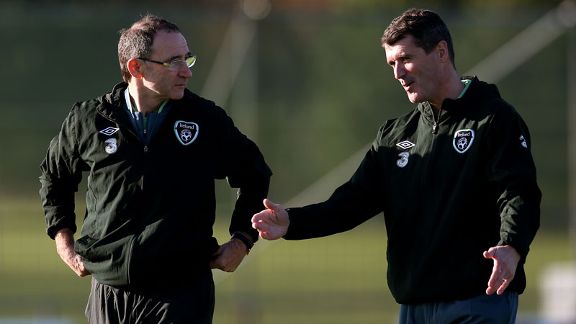 PA PhotosPragmatism could be the name of the game under Martin O'Neill and Roy Keane.
It felt like Christmas had arrived early when the Republic of Ireland landed Martin O'Neill, and Roy Keane, as their new management ticket. But the festive period is now over.

Having been around football long enough, O'Neill knew that the hype surrounding the dual appointment would fade away quicker than most wanted it to. And he stated that he was making the most of his "10-minute honeymoon" after beating Latvia 3-0 in his first game.

Well, after a largely dull scoreless draw away to Poland, the realism that this new era cannot cast miracles quickly set in. There will be more of an attacking onus from the team than under Giovanni Trapattoni, but it won't be like watching Barcelona, Bayern Munich or Borussia Dortmund -- that is just not O'Neill's style.

Back in 2008, FAI officials, supporters and media all got giddy about Trapattoni's CV and overlooked how he achieved results. That same naivete cropped up again when it took 80 days to land O'Neill as few people questioned his track record in how his teams have traditionally played. From Wycombe Wanderers to Sunderland, superlatives have been rarely used to describe how they won games.

Yet, it is not as if Ireland are blessed with a deep pool of top players. So maybe O'Neill and his pragmatic ways are exactly what this team need after failing to qualify for the 2014 World Cup.

Confidence has already been restored, now it's about lifting things to the next level and finding a way to compete against the best nations.

So far, O'Neill has showed a willingness to experiment with his formation (starting with a 4-4-1-1 in both games), to give players a chance (21 different men got a run-out), and to push forward and go for a win (they recorded 10 shots on target against Latvia -- something the team never managed in 10 games under Trapattoni this year). Positive start then, huh?

With the next game not scheduled until March -- a friendly at home to Serbia -- O'Neill will have plenty of time to assess his options and begin the process of finding some new faces. Some who were injured will surely come back in, like Ciaran Clark, Robbie Brady and Anthony Pilkington, but there is certainly a need for fresh blood.

If he looks at the under-21s, there is Watford's Sean Murray, Aston Villa duo Samir Carruthers and Jack Grealish, and Wolves defender Matt Doherty who can all make the step up. The problem is that none of those play in the positions where O'Neill is short on options -- left-back and defensive midfield. So this is when O'Neill's scouting powers must come to the fore.

In the games against Latvia and Poland, Ireland got away with being tested at left-back, where Stephen Ward did fine, but is definitely not the man to put in against teams like Germany, Holland, France or Portugal when the Euro 2016 qualifiers roll around next September. O'Neill knows this and it will cause him some serious headaches.

The former Celtic boss will also look at defensive midfield in the same way. Everton's James McCarthy is a nailed-on starter, but who is the best man to partner him? Darron Gibson is the answer, although he is out long-term with a knee injury. The alternatives used to date -- Glenn Whelan and Paul Green -- don't exactly leave opposition teams shaking with fear.

Perhaps O'Neill will take a closer look at Hull City's David Meyler, Derby County's Jeff Hendrick, Wigan Athletic's Chris McCann and Bournemouth's Harry Arter over the coming months. And as he does that, the Irish supporters will begin to realise that their team is still some way off suddenly becoming a top-tier contender.

Sure, Ireland should be in the mix to qualify for Euro 2016, especially since they will be second seeds when the draw is made in February. But caution needs to be heeded and expectations lowered somewhat. Ireland, under O'Neill, will be well-balanced, hard to beat and able to grind out results, but they won't play slick, attacking football and that's OK.

What we learned from the first two games of the O'Neill-Keane reign is that this team can play better football than what they did under Trapattoni; it's just that it will be almost a rewind to the times of Mick McCarthy. That isn't a bad thing, as long as everybody buys into it.

It is a new beginning and positivity is in the air. Now, let's see if the new duo can find a solution to their left-back and defensive midfield problems before shaping a team that few nations will want to play against.