Top Tenner: Passport to success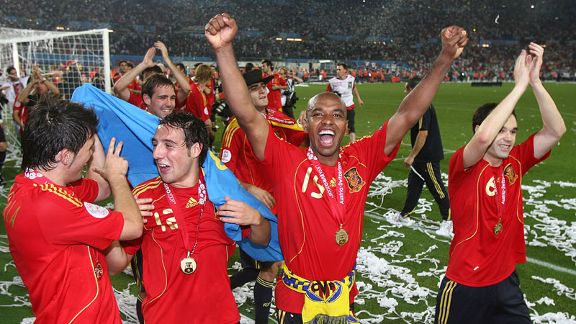 GettyImagesMarcos Senna was a key player for Spain as they won Euro 2008.
In light of Brazilian striker Diego Costa's decision to represent Spain, Top Tenner picks out a selection of players who starred for countries they were not born in.

10) Marcos Senna

It seems slightly incongruous for the modern Spain side, this dominant force of international football, to have to nick players from other countries, but they did with Senna as they are doing now with Diego Costa. At least Senna never represented his birth nation (Costa has played in two friendlies for Brazil), and was granted Spanish citizenship shortly before the 2006 World Cup. The midfielder went on to play in Spain's victorious Euro 2008 campaign, and was named in UEFA's team of the tournament.

9) Marcel Desailly

Born in Accra in Ghana, Desailly moved to France aged four and went on to help Les Bleus to success at the 1998 World Cup and Euro 2000. He was not the only member of those squads born outside France -- several others had origins in countries belonging to the old empire -- but Desailly is more active in his appreciation for his birth nation than most. He is a UNICEF ambassador for Ghana, runs a charity that helps abandoned children in the country and has been close to taking the national coaching job on a couple of occasions. "I never really had the choice of choosing France or Ghana," Desailly said this year. "I would have liked to play for Ghana though, just once."

8) Deco

Starting his career in his home country of Brazil, Deco was recruited by Benfica in 1997. However, while the 19-year-old thought he was heading for a first-team spot in Portugal, then-manager Graeme Souness wasn't as convinced (he preferred Mark Pembridge) and immediately sent him out on loan. He eventually signed for Porto and was at the heart of Jose Mourinho's all-conquering team, gaining Portuguese citizenship in 2002. Not everyone was impressed -- Luis Figo was quoted as saying "If you're born Chinese, well, you have to play for China" -- but that didn't stop Deco from playing 75 times for his adopted nation, putting him 12th on their all-time appearances list.

7) John Barnes

Barnes is regarded as a Liverpool legend, but not an England one. Of course, this is partly because his best football was played for his club rather than his country, but there was a sense that he was never truly accepted as an England player, partly due to the racism that was rife in the 1980s (and at a time when National Front members were among England's support), and it would be naive to think that his birthplace of Jamaica didn't play a part. Indeed, Barnes was singled out for booing by the crowd after a particularly poor England performance in 1992, which he believed was inspired by a Daily Mirror article that questioned his loyalty to the country. Barnes would go on to (briefly) coach Jamaica, leading them to a win in the 2008 Caribbean Championship.

6) Omar Sivori

One of Serie A's greats, Sivori won the title three times with Juventus and made eight appearances for Italy, but it could have been very different indeed had he stayed in his native land. Sivori, born in Buenos Aires, formed a formidable three-pronged strike force with Humberto Maschio and Antonio Angelillo (they were known as the "Trio of Death") for the national side, and looked to be favourites for the 1958 World Cup. Unfortunately all three signed for Italian clubs in 1957, and were banned from playing for Argentina, leading to a disastrous campaign in Sweden as they watched hated rivals Brazil win the tournament. All three men were later recruited, thanks to their Italian ancestry, to play for the Azzurri.

5) Eduardo da Silva

While those who abandon the nation of their birth are often treated as cads and bounders looking for a convenient country who'll have them, Eduardo's story is actually quite touching. The Rio-born striker didn't seem to be getting anywhere at his local club and, after being spotted by a Dinamo Zagreb scout aged just 15, took the opportunity in Croatia, and slept in a storeroom at the Dinamo training ground in his early days. He married a Croatian and took citizenship in his adopted homeland in 2002, making his debut for the national side in 2004. However, while his caps lie in Eastern Europe, it seems his heart is still in South America. "I am Brazilian," he said in August 2009. "I like it there, I'll always be Brazilian. But on the other hand, Croatia has given me everything."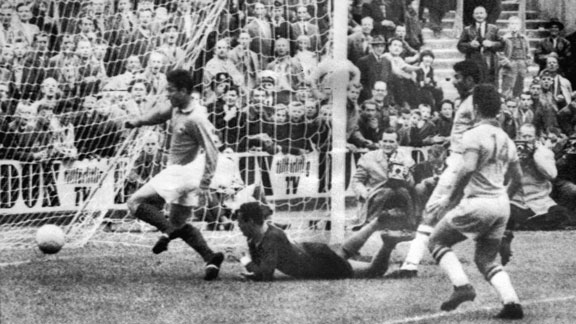 GettyImagesJust Fontaine (L) scores against Brazil in the 1958 semifinal.
4) Just Fontaine

There aren't many records in football that are unlikely to ever be broken, but Fontaine's single-tournament World Cup scoring record is probably one of them. Fontaine was born and raised in Marrakech, starting his career in Morocco with USM Casablanca, and he would later coach his birth nation's national team. However, he moved to France when Nice bought him at the age of 20 in 1953, and he represented Les Bleus for the first time in December that year. Fontaine wasn't guaranteed a starting place in the French side for the 1958 World Cup in Sweden, having scored just once in the previous four years for the national side, but he profited from a partnership with the brilliant Raymond Kopa at the tournament to score 13 in six matches, including four against reigning champions West Germany, admittedly in a third-place playoff that neither side cared much about. "Beating my record?" Fontaine said. "I don't think it can ever be done."

3) Miroslav Klose

One of several members of this great generation of German players who could quite easily have represented another nation. Born in Poland to Polish parents, Klose has a Polish wife and has said his family converse in Polish at home. Yet he has 68 goals for Germany, and could well break Brazil legend Ronaldo's all-time World Cup goal-scoring record (he has 14, the record is 15) at next year's finals. "When I was at Kaiserslautern, their coach at the time took a look at me [in January 2001] and asked if I could imagine playing for Poland," Klose said in 2006. "But I knew I was in line to appear for Germany, and four weeks later I was called into the national squad for the first time."

2) Alfredo Di Stefano

In the 1950s, the Spanish government would basically give a passport to anyone passing through. Well, maybe not anyone -- it helped if you were outrageously good at football, obviously. Di Stefano, Ferenc Puskas and Laszlo Kubala were all born a fair way from Madrid but represented Spain, and it was Di Stefano who made the most impact for his adopted nation, scoring 23 goals in 31 appearances. Indeed, Di Stefano put his international allegiance about quite a bit: Born in Buenos Aires, he represented his native Argentina, then played four times for Colombia after a move to Millionarios (although those caps were deemed "unofficial" because Colombia weren't in FIFA's good books at the time), then turned out for Spain following his move to Real.

1) Eusebio

The man regarded by some as Europe's greatest ever player was of course not born in the continent. Portugal have long mined their former colonies, and it was from one of those, Mozambique (then known as Portuguese East Africa), that Eusebio sprung. While he is of course a Benfica as well as Portugal hero, he very nearly played for their rivals Sporting, for whom Eusebio's first team Lourenco Marques was a feeder club. However, they weren't willing to pay him; Benfica were, and he signed for them despite fears Sporting would try to kidnap him.