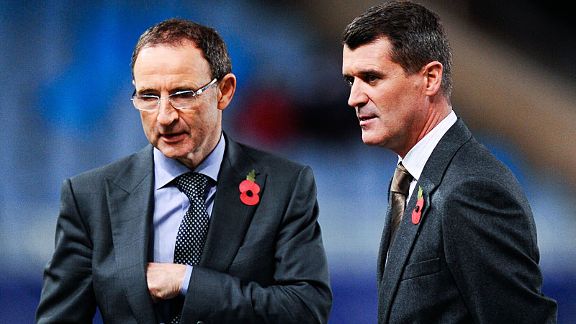 GettyImagesRoy Keane is happy to be Martin O'Neill's understudy.
At the very least, Roy Keane is fully aware of certain perceptions of his personality. Over the 65 minutes he spent talking to different strands of the media in Dublin on Wednesday, the former Manchester United captain referenced his reputation as a "troublemaker," and even that notorious combustibility.

"I know people think I'm a little bit crazy," Keane admitted with the hint of a smile, "but I would have been crazy to turn [this job] down."

That job, of course, is the role of assistant manager to new Republic of Ireland boss Martin O'Neill -- and could create one of the most compelling storylines of the next international campaign. It is enlightening to listen to Keane discuss the more extreme portrayals of his character, given that it is exactly the way he thinks that ensures he is such an enduringly fascinating figure.

That mentality made him one of the greatest players of his era, gives him such a thoroughly unique viewpoint, and has brought him more attention than his new boss.

It also gives rise to the grand question about the appointment: how will a man as forceful as Keane serve under a manager as famously hard-edged as O'Neill?

"I'm the bad cop, and I think he's the bad, bad cop," O'Neill joked last week.

If that raises a universal dynamic, the root of the entire issue is relevant right across the football world: what does a smaller nation have the right to expect in international football, and what they can realistically achieve?

It was that very question that was at the core of one of the most notorious flashpoints of Keane's career, and which continues to give rise to all manner of debate in Irish football 11 years later.

On the eve of the 2002 World Cup, and with Keane at the absolute peak of his powers, the captain departed the squad after a debate over what he felt were Ireland's poor preparations and the lack of top-class facilities.

Of course, as ever, it was all about a little more than that -- not least the breakdown of the player's relationship with manager Mick McCarthy.

"I didn't rate you as a player, I don't rate you as a manager and I don't rate you as a person," Keane roared in front of a stunned Irish squad.

On Wednesday, he referenced all of that in a rather different mood.

"We've had a lovely few days, the hotel's been lovely, the food has been excellent, the training ground is lovely -- no pot-holes, we've had footballs, it's been great. Major progress!"

If that has been the case off the pitch, it hasn't quite been the case on it. The Irish team that O'Neill and Keane take over have just dropped to their lowest ever FIFA ranking; endured the worst-ever performance by a team to have reached the European championships; and finished fourth in their World Cup group behind Germany, Sweden and Austria.

Throughout that time, for all his initial success in qualifying for Euro 2012, former manager Giovanni Trapattoni consistently played down the tactical and technical quality of the Irish squad.

Bemoaning the lack of "unpredictable players like Leo Messi and Cristiano Ronaldo," the veteran Italian displayed expert expectation management, allowing him to portray any progress as a significant success.

Keane, needless to say, has never shared such views. It was in 2002 that he first questioned the exact standard of international football, arguing that many of the top nations were loose collections of stars rather than cohesive teams. A similar note was struck on Wednesday. Keane doesn't look to a team's limits; he aims to push them.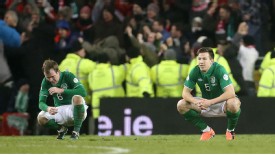 GettyImagesKeane believes Ireland's expectations have been far too low in recent years.
"Hopefully I like to set high standards. A lot of people seem to have an issue with that. A lot of criticism I've faced over the last 15 or 20 years is that I'm very demanding and that I don't settle for second best. Well I'm certainly not going to apologise for that. That's just part of my make-up.

"You want to get into the mindset that certainly you should believe you have a chance of winning a game of football.

"Listen, I'm not saying Ireland can all of a sudden start playing like Brazil or Barcelona, I understand that, but don't have a closed mind to it. Believe you can play some attractive football. Ireland have some good players

"Let's cut to the chase. We're here to qualify ... if we manage to do that, kick on and not just go to tournaments thinking we've qualified and that's great. Let's go have an impact."

It is a mindset that tallies well with O'Neill's history of lifting players and teams well above their level, from Wycombe through Leicester City to Celtic.

The other big question with what happens next, however, regards what happened most recently. O'Neill's brief relative failure at Sunderland first raised concerns over whether the modern game had started to pass him by. Similarly, it is almost three years since Keane last held a managerial job, after being sacked by Ipswich Town in January 2011.

Neither man is particularly technical, nor hands-on or feet-first on the training pitch. Interestingly, despite Keane's willingness to discuss some of the most extreme perceptions of his personality, he was more defensive about his own managerial record.

The former Sunderland boss insisted he "did OK" at both of his jobs. Alex Ferguson was particularly critical of Keane's record in his recent autobiography, but the Irishman said it was not the day to discuss "lies."

Instead, he looks forward to a more positive relationship with his new boss, as he touched on that big question. O'Neill, he said, would not need to rein him in.

"There's nothing to tame, you know. I'm not some sort of ... animal. I'm a footballing man. There are areas I need to look at, particularly now I'm the assistant, when to step back, and hopefully I'll get that right as well.

"There's a way of getting that message across, how you put the demands on them, you have to treat people with respect and, as I said, hopefully the players from the last days will appreciate, as I said, knowing I need to step back and let Martin run the show. I'm just here to help.

"Hopefully the players are in for a pleasant surprise, particularly the lads who've not worked with me."

Ireland will certainly hope to surprise many opposition sides. And, for all the questions, it is that charge of electricity that is seen as the greatest positive to the dual appointment. The arrival of O'Neill and Keane has created a new energy around the team again. That fire could be crucial in an international calendar that sees such "heavyweight boxing match gaps" between fixtures.

Towards the end, Keane was asked about the future, and potential plans to eventually replace O'Neill. By then, he was much more jovial, his demeanour very different from the "tunnel glare" put on when he first entered the news conference.

"Just enjoy the moment," he laughed.

You get the feeling that will only be the case for Keane himself if he also helps change perceptions of his country.