Scotland's eyes fixed firmly on the road ahead
He still had five games and five months remaining as Scotland manager, but last year's 5-1 humiliation at the hands of the United States in Florida was the beginning of the end for Craig Levein.

At the time, he shrugged it off as a mere "disappointment," but the result was the first step down a slippery slope for Scotland that eventually culminated in his sacking.

Of course, there were a number of factors beyond Levein's control that contributed to the heavy defeat in Jacksonville. For a start, the game came at the tail end of the domestic season, with Levein dragging a squad of players across the Atlantic for an ultimately meaningless friendly after a grueling club campaign.

A trip to the Sunshine State probably reminded a group of weary players just how close it was to the summer holidays. It's not too difficult to imagine Charlie Adam shooting glances at the poolside bar he had to walk past to reach the training pitch at the team hotel, trying to make out the cocktail list. And indeed, Scotland looked devoid of motivation or even will against Jurgen Klinsmann's side.

That was all understandable given the scheduling of that particular game, except when Scotland regrouped after the summer, they looked just as insipid, unimaginative and frankly dreadful. From a group Levein claimed could "win every game," Scotland took two points from their first four fixtures. On Bonfire Night, Nov. 5, 2012, the Scottish Football Association finally cut its losses and set fire to Levein's contract with two years remaining.

Just over a year later, the green shoots of recovery are beginning to appear through what had looked like fallow ground. Gone is Levein, taking with him the worst record of any Scotland manager since 1954, and in has come Gordon Strachan.

The former Aberdeen and Manchester United winger had been considered for the Scotland job before, but after sitting in front of the selection committee in 2004, he was overlooked in favour of Walter Smith. Following a sluggish start, suffering defeats to Wales and Serbia, Strachan has started to impose his personality on his new team. Home and away wins over Croatia, as well as three points in Macedonia and encouraging displays against England and Belgium, have given the Tartan Army reason to be optimistic.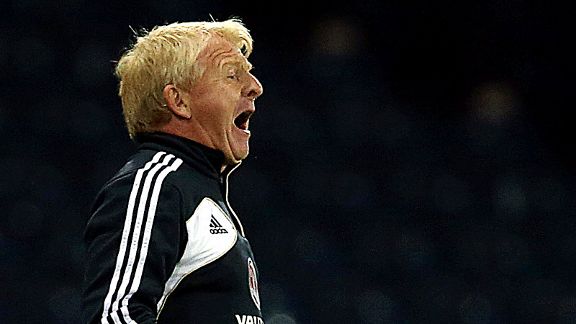 Ian MacNicol/AFP/Getty ImagesScotland has had the look of an improved team since the arrival of manager Gordon Strachan.

However, this surge of enthusiasm and buoyancy only continues the insipid cycle Scotland teams tend to follow. It's easy to forget that Levein once had the Tartan Army giddy with excitement after a positive end to qualification for Euro 2012. Scotland took two wins and a draw from their final four games in that cycle, losing the other fixture away to world and European champions Spain 3-1. The U.S. defeat was viewed as a mere blip as Scotland wound up for another qualification campaign. Yet after four games of the World Cup slog, the Scots lay slumped at the foot of Group A.

The concern is that while things have improved over the past six months or so, Scotland will once again bottle it when those games start taking on some competitive context. There is precedent for it, after all.

There were questions over Strachan's capacity as a tactician. Sure, he was entertaining sitting alongside Adrian Chiles and Roy Keane, but would Strachan possess the train of thought and presence of mind needed to survive in international football? Yet the 56-year-old has allayed some of those fears by overhauling Scotland's on-field identity, settling on a 4-3-2-1 formation (which can slide into a 4-2-3-1 in transition) and often opting to field a mobile attacker to run the channels, like Steven Naismith.

The former Celtic and Middlesbrough manager has focused on giving Scotland more presence in the centre of the pitch and moving the team's passing platform closer to the opposition goal.


Robert Snodgrass and Shaun Maloney have become midfield talismans under Strachan, keeping their best form for the international stage this season. The introduction of Watford winger Ikechi Anya into the national team setup has given Scotland a directness and threat that they have lacked for years.

It has taken Strachan eight months to achieve, in terms of FIFA rankings points, what Levein did over 18 months. But there are demons to dispel. Once considered a fiery fortress of European football, Hampden Park has become an awkward arena for Scotland. Last month's dead-rubber win over Croatia was their first competitive win at home since a turgid 1-0 victory over Lithuania in September 2011.

In fact, Scotland has recorded just two competitive wins at Hampden in the past three years -- against Lithuania and Liechtenstein. As such, there is little for the U.S. to fear as they prepare to play at one of Europe's most famous and storied venues.

Just as Harry Redknapp is with the English press, Strachan is a darling of the Scottish media. Regardless of results, Strachan is unlikely to be treated with the same severity Levein was, but his charm could become less endearing if Scotland chokes once again when Euro 2016 qualifying kicks off in September.

Friday's rematch against Klinsmann's men has been billed by the Scottish FA as an opportunity for Tartan "redemption." However, while the U.S. are looking to next summer's World Cup, the Scots are casting their gaze much further than that.