Looking into the Magic 8 Ball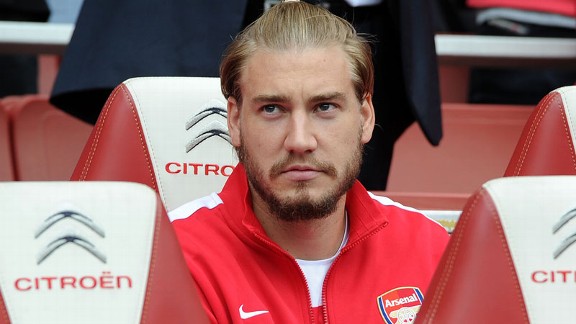 GettyImagesNicklas Bendtner is back in the Arsenal fold.
Arsenal, Liverpool and surprise package Southampton are the Premier League leaders after 11 games of the season, while other traditional powers Manchester United, Manchester City and Chelsea -- the last three winners -- trail behind.

Richard Jolly assesses the chances of all the main contenders, who are separated by just six points, to determine who has the best chance of title glory come May.

Arsenal

What has worked well so far? Most things. Aaron Ramsey has been the player of the season to date and free agent Mathieu Flamini a contender for the title of best signing. The midfield, a traditional area of strength, has been ever better with Mesut Ozil's arrival. More surprisingly, Arsenal have defended well, with the pair of Laurent Koscielny and Per Mertesacker at centre-back proving a marked improvement. At either end of the pitch, Wojciech Szczesny and Olivier Giroud have exceeded most expectations. As a team, they have displayed more of a winning habit than anyone else.

What has to improve? As Arsenal have beaten Liverpool, Tottenham, Napoli and Borussia Dortmund already this season, it may be harsh to criticise them for their record in big games. Nonetheless, defeat to Manchester United meant it remains an issue. To win the title, Arsenal will surely have to do better against Chelsea and the Manchester clubs. In terms of the squad, the sight of Nicklas Bendtner coming on at Old Trafford highlighted the weakness: They are desperately short of cover for, and alternatives to, Giroud.

Who should they target? A striker. Javier Hernandez would be excellent, though it is unlikely United would sell him, let alone to Arsenal. Real Madrid's Karim Benzema has also been linked, though he may not be available until next summer. But another attacker is required, even when Theo Walcott and Lukas Podolski are fit again.

Overall mark for season so far: 9/10

Liverpool

What has worked well so far? The attack. First Daniel Sturridge flourished as a lone striker, then he and Luis Suarez have combined profitably when the Uruguayan returned from his ban. With two of the league's three top scorers, Liverpool are prolific again. They are also winning home games, often comfortably, which was something they long struggled to do. Steven Gerrard remains a force to be reckoned with, Jordan Henderson is improving and Brendan Rodgers is looking more at home at Anfield now that there is less of a focus on possession and more on penetration.

What has to improve? Rodgers' record in the transfer market. Simon Mignolet and Kolo Toure have been solid additions, but 22 million pounds was spent on Iago Aspas, Luis Alberto and Tiago Ilori, who have made negligible contributions so far, and on-loan Aly Cissokho does not inspire confidence at left-back. Rodgers is yet to settle on one formation and while Liverpool deservedly beat Manchester United, the loss at Arsenal raised questions about their pedigree: Some of their players may belong in top-eight teams, but not top-four sides.

Who should they target? As the summer bids for Henrikh Mkhitaryan, Diego Costa and Willian show, Rodgers wants another match winner, preferably one who can operate as an attacking midfielder or on the flanks. Sporting Lisbon winger Diego Capel has been linked.

Overall mark for season so far: 8/10

Southampton

What has worked well so far? Mauricio Pochettino's pressing game. Southampton have been a revelation with their high-energy midfield, where Morgan Schneiderlin and Adam Lallana have been the standout players. Centre-back Dejan Lovren has been a superb signing and is a major reason why they have the Premier League's best defensive record.

What has to improve? Pablo Osvaldo hasn't always hit the heights and Gaston Ramirez, formerly the club's record signing, remains a disappointment while Saints, who drew at home to Sunderland and lost to Norwich, can be faulted for their results against some of the lesser lights. But the true test comes in the spell before Christmas when they face Arsenal, Chelsea, Manchester City and Tottenham.

Who should they target? The key issue is which of their players will be targeted: keeping hold of talents such as Luke Shaw is crucial. In the long term, Saints could require a better centre-back than Jose Fonte, a survivor from their League One days, but given the success of his partnership with Lovren, it would be a risk to drop the Portuguese now and bring in a newcomer.

Overall mark for season so far: 9/10

Chelsea

What has worked well so far? Oscar has been terrific and is justifying Jose Mourinho's faith in him. John Terry and Gary Cahill have formed a fine partnership in the centre of defence. Their home record is excellent, even if their point against West Brom was somewhat fortunate. There are signs that players like Fernando Torres and Willian have improved in their brief time under Mourinho.

What has to improve? They have been strangely inconsistent for a Mourinho team and their away record -- one win in five -- is unusually poor. Juan Mata has been underused and while both Torres and Samuel Eto'o have been in fine form of late, Chelsea still look short of a world-class striker. For all their many wingers and attacking midfielders, their title rivals have more potent forward lines.

Who should they target? A world-class goal scorer, which is easier said than done, given that Wayne Rooney was Mourinho's only summer target before he moved for Eto'o. There is also a need for a holding midfielder who can be both destructive and constructive.

Overall mark for season so far: 6/10

Manchester United

What has worked well so far? Wayne Rooney has been revived and has returned to his best. Robin van Persie keeps on scoring goals, David Moyes was rewarded for gambling with the teenager Adnan Januzaj and, after a torrid start under the new manager, United have gone nine games unbeaten and claimed the scalp of Arsenal.

What has to improve? Their record in the major games: They have five points from as many matches against the rest of the top eight. Many of Moyes' squad players -- Ashley Young, Nani, Shinji Kagawa -- have not played to their potential and his only major buy, Marouane Fellaini, has been a disappointment. Put simply, they have lost the knack of winning games easily.

Who should they target? Central midfielders. Moyes remains interested in Ander Herrera, has scouted Sami Khedira again and has been linked with Miralem Pjanic. It is no secret that they have a pressing need for reinforcements there or that they expected to bring in another midfielder in the summer. While it is less of a priority, some expect him to make another move for left-back Everton's Leighton Baines. Southampton starlet Luke Shaw is another full-back who could attract Moyes' attention.

Overall mark for season so far: 5/10

Everton

What has worked well so far? Two of Roberto Martinez's deadline-day recruits, Romelu Lukaku and Gareth Barry, have made a major impact. The Spaniard's passing ethos is being adopted and the first 45 minutes against Newcastle brought some of the best football Goodison Park has witnessed for years. By beating Chelsea, Everton have shown they can win major matches and Martinez has been a game-changer with some effective substitutions.

What has to improve? It is a familiar criticism but they draw too many games, particularly against some of the weaker sides. Once again, it could cost them a place in the Champions League. There is a concern that some of their defensive solidity may be sacrificed as they look to play better football. And Lukaku's deputies, Nikica Jelavic and Arouna Kone, have been wasteful and ineffective.

Who should they target? Another club whose prime concern is keeping players, not signing them. Retaining Baines is vital. Many an Everton fan would like to see Martinez's funds being spent on making the loan move for Lukaku permanent, but it is unlikely Chelsea would countenance a sale.

Overall mark for season so far: 7/10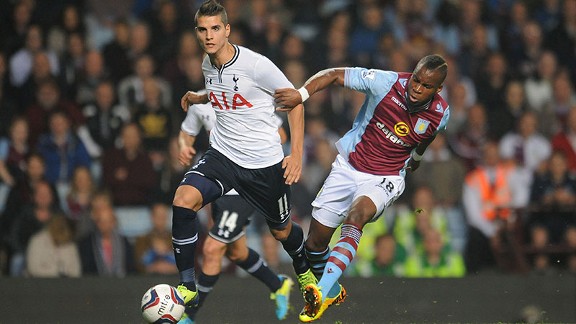 PA PhotosErik Lamela has to prove himself to Andre Villas-Boas.
Tottenham

What has worked well so far? The defence has been watertight, as a total of 13 clean sheets in all competitions suggests. Paulinho has established himself as a forceful presence in the midfield and Andros Townsend is having a breakthrough season on the right flank. They dominate many games in terms of pressure and possession.

What has to improve? The goal tally. Only Sunderland and Crystal Palace have fewer than their nine league goals. The expensive lone striker Roberto Soldado has only one in open play. Andre Villas-Boas seems to be struggling to find his best team, especially in midfield, and while Spurs have had plenty of shots, they haven't been inventive or incisive enough.

Who should they target? No one. They spent 110 million pounds on eight summer signings and have a huge squad. Spending shouldn't be the answer, especially as Erik Lamela, the club record buy, has played only 68 minutes of league football. Instead, Villas-Boas has to get more from a talented team and find combinations of players who jell together.

Overall mark for season so far: 5/10

Manchester City

What has worked well so far? City have the only 100 percent home record and have been prolific, especially on their own turf. Sergio Aguero and Alvaro Negredo have been a potent partnership, while Yaya Toure, David Silva and Samir Nasri have all impressed as attack-minded midfielders. The 4-1 demolition of Manchester United was the outstanding performance of the season by any team.

What has to improve? The away form. They have lost four times already on their travels, which is unacceptable. Partly because of goalkeeping errors, their defensive record has deteriorated and some of those who have played at the back -- Gael Clichy, Javi Garcia, Joleon Lescott and even Matija Nastasic -- are not having great seasons. Manager Manuel Pellegrini may have to improve his own team selection and tactics on the road, too.

Who should they target? Unless Pellegrini believes the error-prone Joe Hart will return to his best, a goalkeeper is required. City have been linked with his former Malaga shot-stopper Willy Caballero. The other great concern is caused by Vincent Kompany's increasingly regular and lengthy absences. City desperately miss their captain and Martin Demichelis is yet to prove he is a suitable replacement. Porto's Eliaquim Mangala has been scouted in the past but, having spent 90 million pounds in the summer, even City may be reluctant to fork out much more.

Overall mark for season so far: 5/10