Pochettino on 'Rosario road' of coaching greats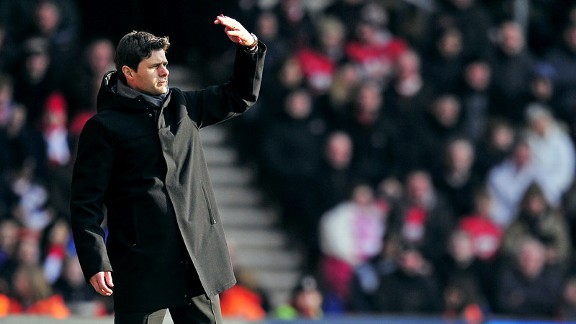 AllsportMauricio Pochettino has adjusted with ease to the rigors of the Premier League, yet his coaching career is just beginning.
The man from Murphy has come a long way over the past few years -- and he looks set to travel much further.

Mauricio Pochettino grew up in a tiny town in Argentina's provinces, but at the age of 41 has now established himself as one of the most promising coaches in the global game. Enveloped in a cloud of criticism when he came to England in January to take charge of Southampton, he has since managed not only to lead the club to safety last season, but with almost a third of the 2013-14 campaign completed, his team are extraordinarily in third position in the Premier League.

It is almost too good to be true. And if it's accurate to say that many of the Saints youngsters are now in the shop window, the same is true of the coach. Far bigger clubs than Southampton will surely be keeping a watchful eye on Mauricio Pochettino.

This is a story, like so many coaching careers, that starts in Rosario, Argentina's second city, some 200 miles away from Pochettino's little home town. Rosario has a bohemian reputation, and usually likes its soccer with a swagger. It was the home of Cesar Luis Menotti, the fascinating footballing philosopher who coached Argentina to their first World Cup win in 1978, and it is also the birthplace of Marcelo Bielsa, one of the most influential coaches in the modern game.

- Cox: Southampton, Pochettino worth studying

Bielsa's influence is incalculably bigger than the number of titles his teams have won. Most striking about him is his commitment to an idea. Juan Pablo Sorin, who played under Bielsa for Argentina, described the coach as "obsessed with attack." His teams play high-tempo, high-energy football with plenty of width and lots of pressing -- they seek to keep the opposition strangled in their half of the field. Before he stepped up to the job of coaching the Barcelona first team, Pep Guardiola made a point of consulting Bielsa.

And Pochettino was in there at the start of the story. He made his way up through the ranks with the splendidly named Rosario club Newell's Old Boys at the very moment when Bielsa was cutting his teeth as a coach with the youth teams. They both were promoted to the seniors at around the same time; in 1990, Bielsa took charge of the Newell's first team and Pochettino was his 18-year-old centre-back.

It was the start of a glorious era for the club. With a youthful coach and a team full of youngsters, Newell's broke the monopoly of the Buenos Aires giants and won two league titles in addition to reaching the final of the Copa Libertadores, where they lost on penalties to Brazilian giants Sao Paulo.

Newell's stadium is now named after Marcelo Bielsa -- not just because of the titles won, but for the way the team played. Many of his players -- and others who watched with admiration, such as current Chile boss Jorge Sampaoli -- have been inspired to become coaches and work with a similar philosophy. Pochettino is one of them.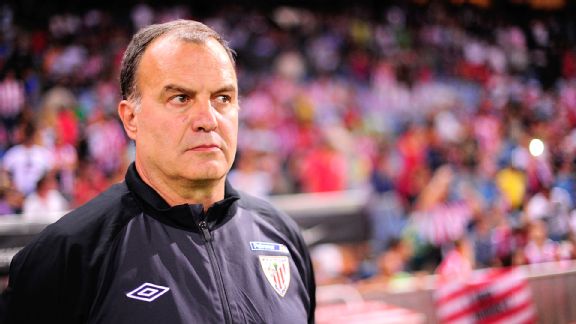 Gonzalo Arroyo Moreno/Getty ImagesThe Rosario connection links Pochettino to Bielsa, two men who worked together at Newell's Old Boys.

These are his foundations -- Southampton play swift, aggressive football, pressuring the opponent, and are keen to develop a group of young players. All of this is straight out of the Bielsa manual. But Pochettino is not just a Bielsa clone. He has more to add to the mix.

In 1992, player and coach went their separate ways -- Bielsa to Mexican football and Pochettino to Espanyol in Spain. Six years later Bielsa took charge of the Argentine national team, and Pochettino was one of his squad stalwarts. Bielsa, too, had been a defender, but although he represented Argentina in the 1976 Olympics, he soon came to the conclusion that he would never be a top-line star and hung up his boots to concentrate on coaching.

Pochettino, then, was the better player, and his time in European club football (with Paris Saint-Germain and Bordeaux in France as well as Espanyol) has given him a cultural and footballing baggage that has come in very useful in his current function.

Perhaps the most striking statistic in this amazing start to the Southampton season is the club's defensive record. Pochettino's men have conceded just five goals in their first 11 Premier League games -- the tightest defence in the competition. This is so astonishing because there are inherent risks in the team's high-pressure pressing game -- those gaping spaces that are left behind the defensive line. Bielsa's teams, for example, frequently had problems coping with the pace, physicality and skill of the Brazilian counterattack. And in a league where some of the other teams have much greater financial resources, it might be expected that Southampton's bold approach could occasionally misfire and lead to a heavy defeat.

The fact that the team are defending so well is clearly a testament to Pochettino's ability as a coach, for this is a game
plan with no room for passengers. For the pressing to be effective, everyone needs to participate. Pochettino -- who almost certainly speaks more English than he is letting on to the press -- has clearly won the most important battle. He has managed to convince his players that if they follow his ideas, there is a good chance of success.

It is no mean feat to walk into an alien environment in difficult circumstances and make such a quick, dramatic impact. The success story of Mauricio Pochettino's coaching career would seem to be just beginning.