Fellaini's future uncertain after stuttering start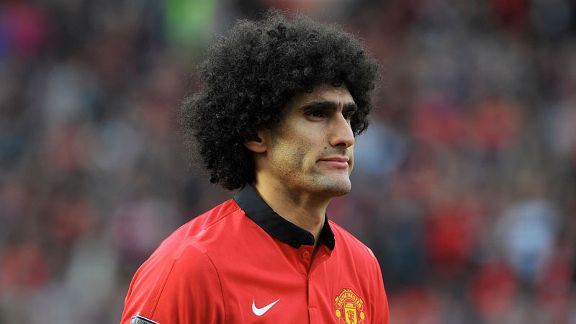 PA PhotosMarouane Fellaini signed for Manchester United from Everton in the summer.
It was both utterly irrelevant and yet sadly symbolic of Marouane Fellaini's start to life at Manchester United. As the ball went out of play and the Belgian hoped to delay an Arsenal throw, he found himself dispossessed by a spindly 64-year-old. If being overpowered by Yaya Toure was worrying, being tackled by Arsene Wenger was altogether more embarrassing.

It was one of two notable elements of Fellaini's five-minute cameo against Arsenal. The other was his station: the first central midfielder United have bought since 2007 operated in his Everton role, just off the main striker. It marked a far cry from the September day two months earlier when David Moyes' flagship signing was unveiled at Old Trafford, when the Scot referenced Fellaini's buccaneering performance in the middle of midfield against Arsenal in April as part of his rationale for recruiting him.

Fast forward a few weeks and, for much of the match, football's most famous afro was only visible to the spectators who had their view of the game blocked as Fellaini limbered up on the touchline. The fourth-most expensive player in United's history is now their fifth-choice central midfielder, behind Phil Jones, a defender by trade, and Ryan Giggs, a converted winger who is almost four years older than one Premier League manager, as well as Michael Carrick and Tom Cleverley. Fellaini has started one of United's last six games, against Real Sociedad, and he was sent off then. Once again, he looked clumsy and cumbersome.

And so it is worth revisiting Moyes' initial appraisal of Fellaini as a United player. "You can't miss his technical ability and his presence," he said. "We could have a really top player on our hands. He will be an asset in a different way; a different sort of player at Manchester United."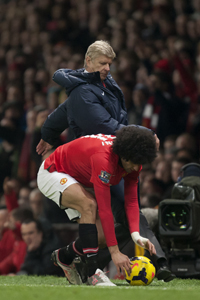 AssociatedMarouane Fellaini is tackled by Arsene Wenger during Manchester United's win against Arsenal.
That may be where the principal problems lay; his duties have been too different. Fellaini reinvented himself at Everton as an auxiliary attacker, a giant deploying his physicality in a role where others rely on technical quality. His arrival at United came with the suggestion that he prefers a deeper role. Just how deep, however, is a pertinent point. Fellaini has made two league starts for United; in both, he has been forced back by opponents with a high-energy pressing game. First it was Toure and Fernandinho for Manchester City, then Victor Wanyama and Morgan Schneiderlin for Southampton.

The tactical question is whether Moyes instructed both Fellaini and Carrick to sit in front of the back four or if speedier opponents seized the initiative from the United newcomer. The stylistic issue is whether Carrick would prefer a partner with more pace, a player like Paulinho or Ramires, or someone who brings the drive of Steven Gerrard or Aaron Ramsey. It ties into a broader theme in his quest to win over a sceptical United support: Fellaini is being damned for who he is and damned for who he isn't.

He has none of the stardust of more glamorous targets like Cesc Fabregas, Daniele de Rossi and Sami Khedira. Even the lower-profile Ander Herrera would have been a more exotic addition than a familiar face from the other end of the East Lancs Road. The late nature of the deadline-day deal made him look like a last resort, the man who replied yes when all others said no.

That Fellaini has been jettisoned from the first-choice team so quickly suggests the derby humiliation brought a rethink from Moyes. And yet, while the manager is expected to renew his search for a world-class midfielder in January, it doesn't necessarily bode as badly as that suggests.

Moyes is not a manager who displays nepotism towards his new signings in a bid for reflected glory if they excel. If anything, he can go to the other extreme and reward long-serving loyalists with a place in the team at their expense.

The principle of fairness matters to him. While it is an indictment of Fellaini that Jones was preferred to bring power against Arsenal, the indications are that Moyes feels the 21-year-old and Cleverley merit their loftier places in the pecking order. It is worth remembering that Joleon Lescott and Leighton Baines cost sizeable sums by Everton's standards, but both served their apprenticeships on the bench before graduating to the team. As Lescott established himself at left-back, it meant Baines' introduction was delayed because the occupant did not deserve to be dropped.

The situation with Fellaini is slightly different -- he does not deserve to start -- but last week Moyes suggested the Belgian, like his former Everton colleagues, would benefit from gradual integration to the side. "We had to put him in a bit earlier than I'd have liked," he said on Friday. "My plan was to put him in much slower and bring him on and give him a chance to settle in but we put him in early because we needed it and I didn't think he was quite ready."

So the Southampton and City games suggest. Yet it does highlight the subject of how long the acclimatisation process will take and whether the player who emerges will be one capable of taking on Wenger or the Arsenal midfield.