Arsenal's fab five reach new levels
Arsenal have stepped up so far this year that if the Gunners were to have a Most Improved Player of the Season award, it would be the toughest field in history. Let's take a look at the main candidates.

Aaron Ramsey

It's hard to believe now that there were legions of Arsenal supporters desperate for Arsene Wenger to cut his losses on Aaron Ramsey. Fortunately for them, their manager kept the faith.

The Welsh midfielder has had a difficult time since the career-threatening injury he suffered versus Stoke in 2010, the physical effects of which he got over long before he overcame the mental repercussions.

You can see the change in him now in everything he does. He passes the ball forwards, he moves up with the frontmen, he chases everything, he's always looking to have an effect on the game rather than aiming simply to survive it without doing anything wrong.

From a man who could easily have ended up farmed out on loan, he's become one of the most in-form players in Europe.

- Mangan: Role reversal?

Olivier Giroud

Perhaps too much was expected too soon of Giroud. After all, even Didier Drogba, one of the Premier League's most devastating strikers, needed more than a year to settle in at Chelsea.

After a debut season from the Frenchman that demonstrated only flashes of power and poise, Wenger was urged by supporters to upgrade. They're certainly not urging that now.

Giroud has been outstanding this season, not because he's suddenly learned a new set of tricks, but because he's playing with such abundant confidence. He smashes into defences now, when he used to prowl nervously around them. He uses what little pace he has to rumble into the 6-yard box to put the finishing touch on passing moves.

In short, he leads the line as a bullish lone striker should do.

Per Mertesacker

It was hard to know what to make of Per Mertesacker when he first arrived. It didn't help that he looked like an Ent, fresh from Middle-earth.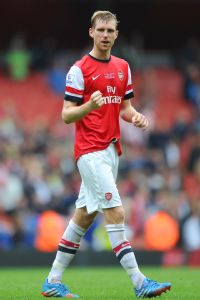 Stuart MacFarlane/Getty ImagesPer Mertesacker's form has been a key reason for Arsenal's success.
But while the big, gangly German improved markedly last term, he's stepped up further this campaign. His performance against Borussia Dortmund in midweek was as impressive as you would have seen anywhere in Europe, but it came as no surprise to Arsenal supporters.

From a clumsy centre-back with limbs like a child's drawing of an octopus, a calm, measured and utterly indomitable leader has emerged. With Laurent Koscielny maintaining his excellent form from last season, Arsenal suddenly have one of the most secure defensive pairings in the league.

And yes, that felt weird to type.

Bacary Sagna

It's quite possible that it was the lingering effects of two nasty injuries that led to Sagna's annus horribilis last season, but there were times when it seemed more than that.

There were times, as Arsenal's season disintegrated around their ears, when you wondered whether Sagna might have simply had enough. Here he was, one of the most dependable full-backs in Europe, and once again he was going to end up without a medal. That may not be an issue if he continues to play as well he has this season.

Poor Aly Cissokho didn't know what hit him last weekend and he owes Brendan Rodgers a debt of gratitude for hauling him out of the firing line at half-time. In that kind of mood, Sagna can break the spirit of anyone.

- Cox: De Gea vs. Szczesny

Wojciech Szczesny

Like so many of Arsenal's players, Szczesny's problems came from a crisis of confidence, which can can sometimes be far worse in players whose natural personality setting is somewhere to the far side of "arrogant."

These kinds of players believe that they can simply power through their slump, hoping that swift redemption lies on the other side. Szczesny became impulsive and rash and after a string of mistakes he ended up so skittish that he couldn't even do the simple things properly.

Even he admits that Wenger was right to drop him, and given the way he's bounced back to the top of his game this season, you can see why. Joe Hart would do well to take note.