Chaos comes before a financial fall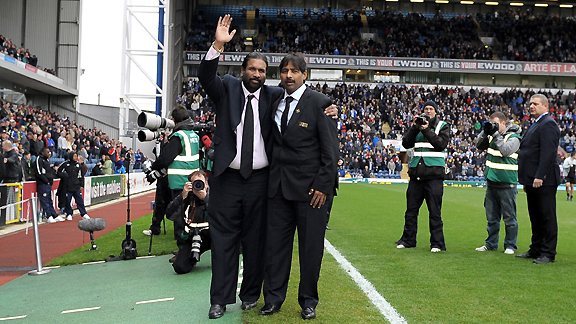 GettyImagesBlackburn Rovers owners Indian brothers Balaji Rao (L) and Venkatesh Rao (R)
The owners of Blackburn Rovers appear to be distancing themselves from the problems the Championship club faces. The one-time Premier League winners are losing more than three million pounds a month, and have a devastated commercial operation and collapsing attendances.

Rovers were not the first club this week to announce a heavy deficit after relegation from the Premier League, but they are perhaps the first not to seem to have a plan in place, or appearing capable of helping themselves out of the financial mess they are in.

The latest results make alarming reading: the wages to turnover ratio has ballooned to 136.1 percent -- meaning Blackburn have to find just under ten million pounds a year more than they make just to pay the players. Turnover in the year to June was 26.9 million pounds, but wages came in at 36.6 million pounds, and that does not include the cost of running the club in general -- an extra 14.6 million pounds for the year.

Wages have come down 13.4 million pounds from 50 million pounds the previous year, a healthy drop for a relegated club. But it has made no difference to Blackburn's bottom line.

Since taking over, owners Venky's have employed five managers and been taken to court for non-payment of wages to one of them (Henning Berg). In court in April, Blackburn's lawyer admitted the club was a "shambles". Rovers were ordered to pay Berg 2.25 million pounds in compensation and 20,000 pounds in court costs.

But while the sacking of three managers in a year has been a high-profile strain on finances, the real concern is the total breakdown of the marketing side despite the best efforts of businesses in the area, which have been the lifeblood of the club built up by local steel magnate and lifelong fan Jack Walker.

Revenue from Blackburn's commercial side has halved in the year to June 2013. That led to local businessmen involved in Rovers Trust, a supporters group, offering to help rebuild the commercial side -- at no cost -- in return for a more open dialogue between fans and owners.

"The trust has the leaders of some of the biggest companies in the north-west in its membership," spokesman Neil Thornton told ESPN. "We said to the club that in return for bringing the trust into the club a little bit, we will help build the commercial side of the club, which has been decimated.

"They have lost huge amounts from the business. We made a detailed, positive proposal -- and we received nothing in reply."

Other elements of Blackburn's figures make baffling reading. While attendances have dropped by more than 33 percent, according to published results, matchday revenue has fallen by only 25 percent even though there has been a drop in ticket prices.

But despite the alarm bells ringing in Lancashire, the silence from Venky's base in Pune, about 100 miles south-east of Mumbai, continues.

Balaji Rao -- the football fan among the Venky's entourage considered the main driving force behind the 23 million pound takeover of the club in 2010 -- said in a rare interview with Goal.com India in March that the family's commitment is "lifelong", suggesting stability is the primary goal.

That should provide fans with some solace, particularly as parent company VH Group has plenty of money to burn. Indian financial newspaper The Economic Times says it has a turnover of one billion pounds over its 28 companies, and recorded a net profit of 100 million pounds last year.

Most importantly, it has historically shied away from debt, preferring to expand through cash acquisitions. However, that debt-free policy has changed since Venky's arrived in Lancashire. In the past year, they have increased their loan facility with State Bank of India by ten million pounds to 13.6 million pounds and have more than 33 million pounds of loans becoming payable in the coming year. The club owes the owners 36.1 million pounds.

January will bring a better idea of the owners' motives: while newspapers are reporting that Blackburn managing director Derek Shaw has insisted key striker Jordan Rhodes will not be sold, he has said no such thing. "There has been no discussion about selling our best players," he told The Mirror -- very different from an assurance that that there will be no fire sale.

What all this boils down to is that unless Blackburn find 15 million pounds, either from player sales or the owners' or parent company's pockets, it is possible that they will struggle to see out the season. The 12 million pound parachute payment due to be paid by the Premier League in May will not be enough on its own.

The "lifelong commitment" spoken about by Rao is about to be thoroughly tested by the cold, hard truths on Blackburn Rovers' chaotic balance sheet.