Wimbledon and Coventry connections go beyond history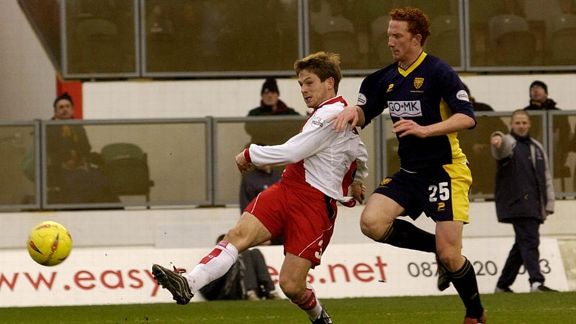 PA PhotosCoventry and Wimbledon (as they were then) last played in 2004.
If there was to be something embodying a classicist's idea of an FA Cup first-round tie, this is surely it. Friday's meeting between AFC Wimbledon and Coventry City transports us back to a bygone age when the old trophy really did have that extra sprinkle of stardust.

It pits the 1987 and 1988 winners against one another, reminding us of a pair of classic finals that were part of the Wembley showpiece's status as a captivating, unmissable moment in the English football calendar. They were era-defining finals in very different ways. Despite sealing the triumph with a Gary Mabbutt own goal, Coventry were participants in a classic match against a dazzling Tottenham Hotspur side, with Keith Houchen's second-half diving header from Dave Bennett's cross the most representative moment.

Wimbledon, in contrast, ground their way to victory a year later against Kenny Dalglish's all-powerful Liverpool on an intensely hot mid-May afternoon. This was no watercolour of a match but was simply a remarkable achievement given the limited resources of Bobby Gould's side and the widely acknowledged sense that these Reds were probably Europe's finest side of the time -- something impossible to prove as fact given the European ban on English clubs.

What Wimbledon and Coventry had in common -- apart from winning the FA Cup for the first and only time -- is that they both invigorated the competition with the sense of the exploit and with the feeling that, in the FA Cup, anything was possible.

It is an aura that it has struggled to rediscover since. Many claim that Manchester United's withdrawal from the 1999-2000 edition is responsible, but it ceased to be essential long before. Post-Wimbledon, only Everton's 1995 win over Manchester United and Portsmouth's 2008 victory (although not the act itself of beating Cardiff City in the final) can really be described as surprises. Incidentally, AFC Wimbledon host Pompey in their next League Two game in a jarring twist of fortune.

Yet the bond between Wimbledon and Coventry is greater than a mere peek through rose-tinted spectacles. The Sky Blues -- like Wimbledon, a founding member of the Premier League -- inhabit a strange netherworld at the moment, exiled 34 miles southeast to play "home" matches at Northampton Town's Sixfields Stadium since the summer. This followed a protracted row over rent between the club's unpopular owners, Sisu, and the Ricoh Arena's landlords, Arena Coventry Limited (ACL).

Wimbledon fans know only too well where "temporary" relocation can end, from the unhappy decade at Selhurst Park after being forced to leave their true home, Plough Lane, that preceded the infamous upheaval to Milton Keynes. That signalled the death of the club to all intents and purposes as their name was changed to Milton Keynes Dons, with AFC Wimbledon emerging from the ashes way down the non-league pyramid.

Sky Blues fans are not quite at the point of having to start from scratch again just yet, but with Sisu having signed a three-year deal to play at the 7,653-capacity Sixfields, the threat to their club's future is very real. Most supporters are voting with their feet, and just 2,693 attended last Saturday's 3-0 win over Notts County. Last season's average at the Ricoh was just shy of 11,000.

Resolution to the satisfaction of all parties is still possible. The Coventry Telegraph's Les Reid, who has covered the story in all its gory detail as it has unfolded, suggested a few weeks back that Sisu could buy the Ricoh for around seven million pounds from ACL as the "lose-lose situation" (as Reid put it) begins to wear down both sides. With Sisu's aim being "a return on funders' investment by adding value to the business," local businessman and potential sale facilitator Michael Byng has claimed that only selling the Ricoh to Sisu would convince the owners it had an asset of saleable worth, thus enabling all stakeholders to move on and put this destructive deadlock to bed.

There is one other major difference between Coventry and Wimbledon's predicaments, of course -- on the pitch. While the shell of Wimbledon eventually couldn't defy gravity in 2003-04 after the fans started anew with AFC Wimbledon, tumbling out of the Championship and then morphing into MK Dons as the squad was stripped bare, Coventry are not in the same boat at all. Manager Steven Pressley is doing a fine job in circumstances that are far from straightforward, but he has a good squad at his disposal, and his team are potent. City have scored 34 times in the opening 15 league games -- only leaders Leyton Orient have more.

Without the ten-point penalty received for going into administration, City would be firmly seated in the playoff zone. They are probably the strongest League One side carrying a points handicap through a season since Alan Pardew's Southampton in 2009-10.

It is for this reason that AFC Wimbledon face an uphill task on Friday, despite a significant improvement under a year of legendary former player Neal Ardley's management. They ended a worrying six-match winless run with victory at Rochdale last weekend, and are only three points from the playoff places in a ridiculously congested League Two mid-table. Still, Ardley -- in partnership with his assistant, former Bolton and Aston Villa right-back Neil Cox -- is still shaping the personality of a largely youthful side.

There are other, happier, shared threads between the clubs. Both striker Terry Gibson -- who scored prolifically for City before arriving at Plough Lane in 1987 and playing in the 1988 final -- and Gould will be guests of honour on the night. So this really is an occasion for celebrating everything the FA Cup is and was. It is also, however, an occasion to remember that a club's relationship and interaction with its local constituency is a vital central tenet of the English game.