The majesty of the minnows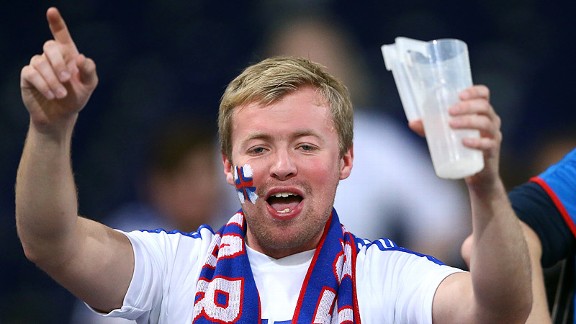 Christof Koepsel/Bongarts/Getty ImagesDon't tell fans like this Faroe Islander that his team is irrelevant. After all, there's more to it than the winning.
It's never a horrible thing to be an underdog. The world needs them. No one enjoys facing seemingly insurmountable odds, but the reduction of pressure that comes with lowered expectations can be an inspiring, liberating force. "Dewey Defeats Truman." Broadway Joe Namath stunning the Baltimore Colts in Super Bowl III. The Miracle on Ice. Greece winning Euro 2004 with its "souvlaki-naccio."

Yet the sad (and obvious) truth is that many underdogs never get close, simply serving as steady fodder for the fire or grease for the machine. UEFA, in particular, has a stubborn clutch of minnows -- the Faroe Islands, San Marino, Andorra and Liechtenstein to name just four -- that fit this billing to a tee. Small, soccer-playing nations that simply don't have the resources or manpower to be anything more than a footnote.

Though these teams never make it anywhere near a major tournament -- to date, they're 0-38 in World Cup and Euros qualification -- they're the best part about these otherwise arduous international breaks. It's not what they do -- take time off from day job, lace up boots, get thumped by Spain -- but what they stand for. Team spirit. Pride. Respect. A naked love of the game. Ciphers for hopeless part-time football players like us.

And all those who would marginalize these scrappy nations if given a chance should find another cause to champion.

First, the physical stats. Collectively, the quartet boasts a population one-twelfth the size of Brooklyn. (On Friday, San Marino will play in front of an estimated 90,000 against England, a crowd nearly three times larger than the population of its landlocked "enclaved microstate" within Northeast Italy.) You could fit the four nations comfortably into Rhode Island with nearly half the state to spare. Liechtenstein, at a positively roomy 61 square miles in territory, is still smaller than the District of Columbia.

Beyond their infinitesimal size, there's the quality of football. The combined competitive record of the four countries is grim reading by any standard: 494 games played, 31 wins, 44 draws and 419 defeats for a "success percentage" (we'll include draws to be kind) of just more than 15 percent. As for goals, 161 scores weighed against 1,534 by the other team, meaning an average game involving a minnow is likely to end in a 3-0 defeat.

And despite their utter irrelevance when it comes to on-field results, what's strange is how these fledgling nations and proud, parochial principalities inspire the full spectrum of emotion.

Most fans admire the passion and their will to rearrange personal lives in order to be humiliated by a France or a Netherlands. Secretly, we wish it was us getting a phone call the day of the game, begging us to suit up and face Sweden. (It happened to San Marino reserve goalie Federico Valentini last year.)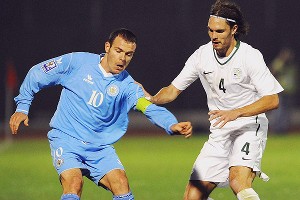 Giuseppe Bellini/Getty ImagesAndy Selva is an icon among minnows, having scored eight of San Marino's 19 goals all-time.
The Guardian's Paul Doyle reported last year on Luxembourg midfielder Fons Leweck, who had to hand over the reins to his clothing shop so he could play against Belarus and France. The minnow lost both games 2-0 but, as Leweck says, it's never really about the reaching the World Cup: "We strive to honor our country even if it's small."

That sentiment was echoed by Giorgio Crescentini, president of the San Marino football federation in an interview with the New York Times last October: "Basically, our main goal is to demonstrate that we have dignity... I think we are on track."

It all feels like an underdog movie stereotype only with a snuff film ending. Imagine watching "Ferris Bueller's Day Off," only Matthew Broderick gets successfully caught and punished. Oh, and Cameron's dad's sports car ends up stolen and sold instead of accidentally dumped out of a garage. As fans, we can empathize with the emotional crush.

And yet there is an groundswell of irritation toward those nations unable to underdog against Europe's best. One element was raised by The Guardian's Amy Lawrence as she mused on the life-sized, teeth-gnashing hassle of taking an international break in which the Three Lions must travel to -- gasp -- Moldova. You know, as if the very thought of playing such teams couldn't be more beneath the likes of Ashley Cole and Wayne Rooney. Nuisance, maybe. But part of the process, absolutely.

The follow-on argument involves a bloodless, bureaucratic coup: why not "simplify" an already labyrinthine qualification process with preliminary rounds? There, the continent's pabulum can win a game or two against fellow minnows in a bid to decide which one gets pummeled by Joachim Low's Germany C team on a bitingly cold Thursday in Frankfurt.

But such suggestions ignore the important point: these qualifying rounds are all about the minnows, not Steven Gerrard's comfort or Franck Ribery's accruement of air miles. Though the bulk of attention invariably fixates on the minor dramas of big players, niggling injuries or monotonous news conferences, the minnows and their stories enliven normally drab, perfunctory bouts of football.

It's about Andy Selva, the 35-year-old Sammarinese striker with a lifetime spent in Italian soccer's doldrums and scorer of eight goals for San Marino, a country that has scored just 19 in 112 games dating back to 1990. Davide Gualtieri versus England, 1993! Or Leweck scoring in a 2-1 WCQ win in Switzerland, one of the biggest shocks in recent memory.

How about Mario Frick scoring the game winner for Liechtenstein against Latvia in 2007, prompting their opponent's manager to quit the following day? When Steve McClaren's England was harassed by fans for taking nearly an hour to score against Andorra -- the Three Lions eventually won 3-0 -- the abuse prompted the first of many strained news conferences for "The Wally with the Brolly."

These moments are the fun amid the flat atmospheres and disinterested superstars -- for that we can thank the menagerie of minnows. Without them, we'd only be forced to tolerate more John Terry stories.

James Tyler is an editor for ESPNFC.