What does the future hold for 'San' Iker Casillas?
"San Iker" was back last night. Make no mistake about it.

Real Madrid keeper Iker Casillas returned between the sticks for the club's visit to Juventus, a place where he had never won, and this time he made all the difference.

Three huge saves of the kind that turn games.

Three decisive stops that allowed Madrid to effectively book a place in the knockout stage -- it would take a "bizarro world" sequence, including defeats by five-goal margins to FC Copenhagen and Galatasaray for them not to make it -- with two games to go.

Three moments that, after another so-so performance by the team as a whole, will help his manager Carlo Ancelotti avoid some of the criticism directed his way of late.

Three instances that make you feel a little more confident that, with him between the posts, Spain might yet make history and win next summer's World Cup, making it four major tournaments in a row for La Roja.

Yet come Saturday and Real Sociedad's visit to the Bernabeu, Casillas will almost certainly be back on the bench, playing as a reserve to Diego Lopez. He hasn't started a Liga game for Real in nearly 10 months and the drill now seems clear: Lopez starts in the league, Casillas in Europe.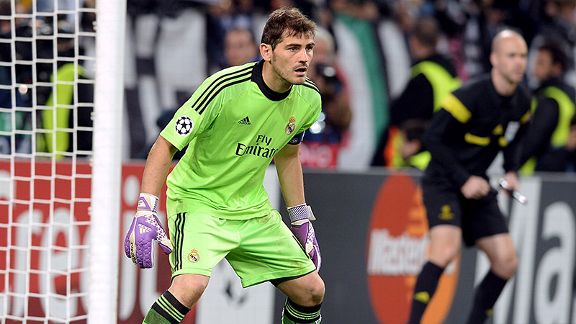 Claudio Villa/Getty ImagesIker Casillas' fine effort vs. Juventus showed that he's worth all this hassle over the starting goalkeeper spot.

It was Jose Mourinho who first benched him last season, but on that occasion there was a back story as tension between the Special One and several dressing-room leaders -- notably Sergio Ramos and Casillas -- was well-documented. Many read it as a political decision as opposed to a technical one, not least because the manager played one Antonio Adan ahead of him. Mourinho argued that it was simply based on Adan being a better option at the time. That Adan, at 26 years old, hasn't been picked up by anyone after his release this past summer rather indicates otherwise.

Mourinho acquired Lopez in the January transfer window and, to be fair, he has performed well. So well, in fact, that Ancelotti kept him as the starter in the summer. And Casillas, who clearly harbored hopes of regaining the number one jersey with Mourinho out of the club, had to accept his role as a backup.

- Murphy: Three things from Turin
- Train: Real's draw feels like a win
- Rzouki: Courageous Juve earn their point
- Hislop: Ronaldo, Bale lift Real
- FC TV: Assessing Juve's UCL chances

This deference isn't easy. Not when you've played 658 games for the club you first joined at the age of 9, plus another 151 games for your country. Not when you've won five league titles, two Champions Leagues, two European championships and a World Cup. Not when you're still 32 and entering the prime of a goalkeeper's career.

It is often said that footballers need to feel confident, and keepers especially so. Maybe in his mind Casillas could write off being dropped last season as a function of his poor relationship with Mourinho. He could tell himself that his starting spot was a victim of the larger conflict unfolding at the Bernabeu, the one that ultimately swallowed up the Special One and left deep wounds at the club.

But now that Ancelotti, too, has unofficially anointed Lopez as his first choice, it's harder to buy into that thinking. After all, he and Mourinho are -- in so many ways -- polar opposites. Yet both made the same goalkeeping choice.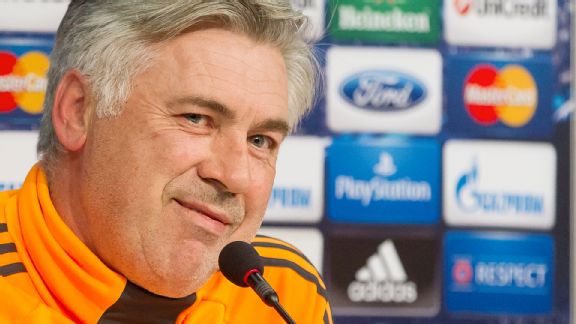 Angel Martinez/Getty ImagesIt's tough to know what Carlo Ancelotti's endgame is with Casillas and Lopez. Or why he stuck with the choices Jose Mourinho made last season.

All Casillas can do now is play so well that he, once again, becomes the undisputed number one. In that sense, Ancelotti's decision to keep him as the starter in Champions League games was a canny one. It gives Casillas playing time in high-profile games. It offers him constant feedback on his form. It's clever politically in the sense that he's not freezing out one of the club's historic leaders. And it keeps him in the frame for the Spain job, at least for now; when Spain coach Vicente del Bosque dropped Casillas for the recent World Cup qualifier against Belarus, he justified it by saying he could not field a guy who "had played just once in the past five weeks."

That's the challenge though. Maintaining your level while knowing you will only step onto the pitch every so often. It's difficult for any player, but probably more so for keepers.

"Every time I'm given the opportunity to do so, I'll do my best to win the manager's confidence," Casillas told Spanish TV after the game on Tuesday night. "But obviously it's not easy when you only play every few weeks. It's hard to maintain the focus and I'm grateful my teammates helped me."

We've seen rotating goalkeepers before, but usually in different circumstances -- usually a loss-of-form situation or a younger keeper gradually supplanting a veteran -- and in any case, not for long. Yet Lopez and Casillas are both 32. Both have long-term contracts; both are top-drawer keepers.

Curiously, it's a situation Ancelotti has experienced before, albeit as a player. Between 1989 and 1991, AC Milan played Giovanni Galli, who had won the European Cup the season before, in cup competitions, and their newly acquired keeper, the late Andrea Pazzagli, in Serie A. It was an experiment reportedly dreamed up by the club's owner, Silvio Berlusconi, and it didn't end well, though Milan did become the last team to repeat as champions of Europe in 1990.

After the Mourinho rows of last season, Casillas has gone out of his way to say the right things in public. He insists he will "definitely" stay at Madrid until the end of the season. It's not a public pronouncement to take lightly, either; he knows all too well that with limited playing time and so much competition for the Spain number one shirt (Victor Valdes, Pepe Reina, David De Gea and possibly Lopez himself), he could be jeopardizing his opportunity to defend the World Cup title. That said, he's also been clear in saying that you don't know what the future will bring, for better or worse.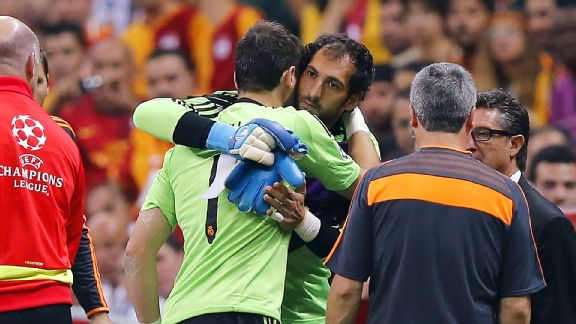 Angel Martinez/Getty ImagesNo matter who ends up keeping Real's goalkeeping job, Casillas is doing everything right with regard to Lopez and his future.

In some ways being 32 makes it easier to try to ride out the storm. If Casillas doesn't play regularly the rest of this season, he still has plenty of time to resurrect his career elsewhere. Yet equally, it seems bizarre that a guy with his record and in his circumstances should find himself on the bench. Yes, he had a dip in form and yes, Lopez is a very good goalkeeper. Had Mourinho not brought him to the club in January, it's highly likely that Ancelotti would simply have handed the starting job to Casillas and we wouldn't be talking about this.

Yet it's not as if Lopez is Manuel Neuer, Peter Schmeichel and Godzilla rolled into one. And against Juventus, Casillas proved he can still be a difference-maker. But that's where we are. And that's what Casillas must wrestle with between now and the World Cup in Brazil next summer.

Ultimately, he's been here before. Back in 2001-02, his third season as a starter, he lost his job to his backup, Cesar. He rode the pine for the last three months of the campaign, watched Cesar win the Champions League final and then started for Spain at the World Cup.

Could we get the same ending this time?