Irish pride drives O'Neill on to new challenge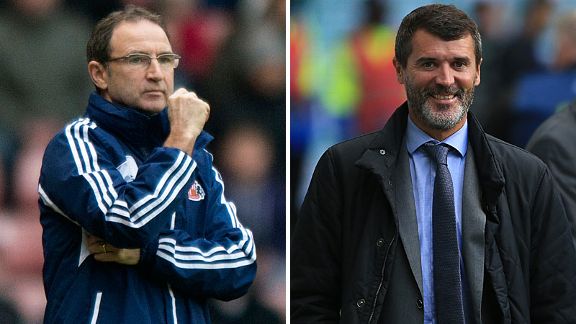 OtherIreland are close to the appointment of Martin O'Neill and Roy Keane.
The prospect of a man who proudly wore the national team colours of Northern Ireland taking over a manager of the Republic of Ireland is remarkable in so many ways, yet Martin O'Neill has made a habit of bucking trends throughout his compelling career.

A European Cup winner under Brian Clough's guidance at Nottingham Forest in his playing days, O'Neill's management career has been even more eventful and colourful, and now he is set to attach this additional entry onto a CV.

Only a figure of O'Neill's stature could dare to approach a character with Roy Keane's fearsome reputation and ask him to be his assistant, but the man set to be the new talisman in charge of the Republic of Ireland team has as big a reputation in the game as any of his contemporaries.

Though the 61-year-old has endured fluctuating fortunes during his spells in charge of Wycombe Wanderers, Norwich City, Leicester City, Celtic and Aston Villa, O'Neill is a figure who commands the respect of those around him and that includes, it seems, the notoriously hard-to-please former Manchester United captain Keane.

Yet while few have enjoyed a career as high-profile as that of O'Neill, he remains something of an unfathomable and mysterious figure, though he has spent much of the last 40 years squinting in the full glare of the spotlight.

As only a chosen few have been permitted to enter O'Neill's inner circle, getting to know the real man who lurks under the charming public image promoted by the most famous son of Kilrea in County Derry is not easy, so it was fascinating to hear him speak so passionately about his "Irishness" in a speech to a riveted audience in Dublin in 2008.

While O'Neill has jealously guarded his private life down the years, this was an occasion when he offered a fascinating insight into his sporting life in an address to then-Irish president Mary McAleese and a collection of captivated students.

"My life always been full of anomalies, ironies, paradoxes and downright contradictions and I got many of those qualities from my father," began O'Neill, whose charming personality shone through. "My mother and father gave me wonderful traditions, wonderful culture.

"I was brought up in a strong Gaelic games [GAA] background and we paraded this tradition like a banner of honour. This is why I had such a big decision to make when I was offered the chance of a professional soccer career with Nottingham Forest in 1971. It felt as if my Irishness was being tested by the offer to turn my back in GAA. In the end, I decided to take it.

"As it turns out, I have had a wonderful career, quite wonderful experiences. I loved every minute of my time as Celtic manager and felt so at home within that particular football club. When 'The Fields of Athenry' were sung by 60,000 people on a European night, it was a hair-raising experience. I'm so lucky to have experienced such moment and so many more in my career."

Had O'Neill muttered those emotive words during the height of the "Troubles" in Northern Ireland, they would have been reported as being highly contentious, yet this is a man who never allowed himself to be sucked into the politics of a homeland he cherished and struggled to comprehend in equal measure.

Evidently proud to be Irish, O'Neill has retained his passion for the country that he has never wavered in adoring, yet he suspects his vision of patriotism is different to the man who will assist him in his new role.

"I have always felt that being an Ulster Irishman is a different feeling to being a southern Irishman," said O'Neill. "I haven't sat around a table with someone like Roy Keane to discuss this, but I'm quite sure that his view of Irishness would be different to my own.

"He would have a different set of experiences to me, and while my views have changed in recent years, I often felt the southern view of the north was very cold and distant and something they didn't really want to be a part of. 'There was a problem up there, you sort it out.'

"When it comes to managing Irish players, I've never had a problem with that. I've managed them from both sets of the community and have a genuine empathy with what they all believe in. Irishness for me is something wonderful. I once joked that in another life I would like to have been an Italian because most Italians are handsome, debonair and could get all the women in the world. Well, actually I don't want to be Italian. I'm delighted to be Irish."

O'Neill went on to recall the banter that Catholic and Protestant players in the Northern Ireland side that excelled at the 1982 World Cup enjoyed among themselves, yet that was not reciprocated on the streets of the nation they were representing at the time, but O'Neill believes the tolerance displayed on all sides in recent years should be applauded by all.

In fact, his confidence in the new era of Northern Ireland leads him to promote the idea that there may, one day, be a united Ireland soccer team, just as there is a united Ireland rugby side.

"Who knows, there are quite a number of hurdles to be overcome before that happens, but I believe that those hurdles can be overcome eventually," he added.

A fascinating man with compelling views on the sport he has excelled in and life in general, all lovers of this game are going to have a lot of fun following Martin O'Neill's reign as Republic of Ireland manager.