Zenit's Lodygin chasing Russian dream
GettyImagesYuri Lodygin was in fine form to keep out Porto first time around.
Sometimes low-profile transfers can be more important and effective than the big-money ones. Last year, Zenit St Petersburg shocked the world splashing around 80 million euros on Hulk and Axel Witsel but they were then humiliated in the Champions League, lost their local crown to CSKA Moscow and their dressing-room simply fell apart.

This summer, with Andrey Arshavin's return from Arsenal making all the headlines, Yuri Lodygin's arrival was hardly noticed. The club only paid 800,000 euros for him but, just a few months later, the 23-year-old goalkeeper has been widely praised as one of the best acquisitions for a long time. His rise from complete unknown to a legitimate rival to Igor Akinfeev in the Russia national team is nothing short of meteoric.

The discovery of Lodygin is a remarkable success for Zenit's scouting system. The keeper only played his debut season in the Greek Super League for Xanthi in 2012-13 and his statistics were very impressive. Lodygin conceded just 16 goals in 23 games, and even more amazingly kept 13 clean sheets -- quite an achievement for an inexperienced youngster playing for an unfashionable club. Xanthi's attack was one of the poorest in the league, but thanks to Lodygin they finished seventh, far away from relegation trouble.

The keeper's fine form didn't go unnoticed and Greece coach Fernando Santos called him into the squad ahead of their 2014 World Cup qualifier against Bosnia & Herzegovina in March. You might wonder why Lodygin is eligible to play for the Hellenic football federation (having already represented the under-21 team) and also Russia? The answer is simple. Lodygin's father is indeed Russian, and he was born not far from Moscow, but his mother is a Georgian-born Greek. The family moved from Russia to Greece when Lodygin was ten. His wife is Greek too, and he considers both countries as his homeland.

Lodygin's childhood was rather tough. His parents worked around the clock to make a living and Yuri sometimes helped his mother to move huge potato sacks in the fields. In a recent interview with the Championat.ru website, he revealed that his dream of becoming a goalkeeper started when watching Cameroon's Carlos Kameni as an 18-year-old at the 2002 World Cup. That is why he asked for a pair of gloves in a local youth team; eventually his talents were noticed at Xanthi. Lodygin even became the first ever keeper from the academy who signed a professional contract with the club, but the way forward was still far from smooth.

When loaned to third division Eordaikos, whose president was a gravedigger, in 2010, Lodygin found himself in a very difficult situation. Players' wages and bonuses were never paid and, at times, they even had difficulties buying basic food. That was less than three years ago and the memory seems to burn strong. With such an upbringing, it is not hard to understand why the keeper is so humble, down to earth and hardworking -- and he does not seem to have changed since Zenit moved for his signature in late May, completely out of the blue.

Lodygin's agent told his client of the Russian side's interest when the keeper was again with Greek national team, preparing to take on Lithuania. Had Yuri played in an official game for Greece, Zenit wouldn't have signed him. They needed a keeper eligible for Russia and the new laws state that even players with dual citizenship are considered foreigners if they play for another country. Thus, Lodygin had to make a very quick decision: ultimately he chose to give up the Greek dream in order to chase the Russian one.

Originally, Zenit purchased Lodygin to fill the role of reserve keeper behind Vyacheslav Malafeev, an established star who had played for Russia at Euro 2012. No fan in St Petersburg had ever heard of him and upon his arrival the only thing that struck everyone was his similarity to Manchester City striker Sergio Aguero.

His Russian was far from perfect after long years away, he didn't always understand every word spoken to him, and the atmosphere and the mentality at his new club were totally different to those he experienced at Xanthi. In short, there were many excuses ready for him if he failed. But he didn't need them.

Thrown in at the deep end, Lodygin took his chance with both hands when Malafeev got injured in the summer and never looked back. The youngster immediately looked like he belonged: confident, cool under pressure, commanding in defence and not shy to shout advice to older teammates. Even the 3-0 defeat to CSKA in the Super Cup on his debut, which could have been a traumatic experience, only made him stronger. With each passing week, fans and press alike sat and took notice of a what was blossoming into a very special talent.

One of the reasons Zenit currently enjoy the best defensive record in the league -- and a comfortable lead in the table after 15 games -- is Lodygin's rise, which was complete when he caught the eye of Fabio Capello and was included in the Russian squad for World Cup qualifiers against Luxembourg and Azerbaijan last month.

With Akinfeev, widely considered one of the best keepers in Europe, making a few uncharacteristic errors recently, there are some who claim there could be competition between them ahead of the trip to Brazil in the summer, with their style thought to be rather similar. Andrei Chervichenko, former Spartak Moscow president, told Sports.ru: "Lodygin is already at Akinfeev's level, and I can see him taking over in the near future."

The man himself, though, is firmly keeping his feet on the ground. "It's a huge compliment for me to be compared to Akinfeev. He has already proved everything, and I am only making my first steps," he told Championat.ru. And while potentially displacing the celebrated keeper from the national team is still a distant dream, the situation at Zenit will soon become extremely complicated for coach Luciano Spalletti, since Malafeev will be fully fit.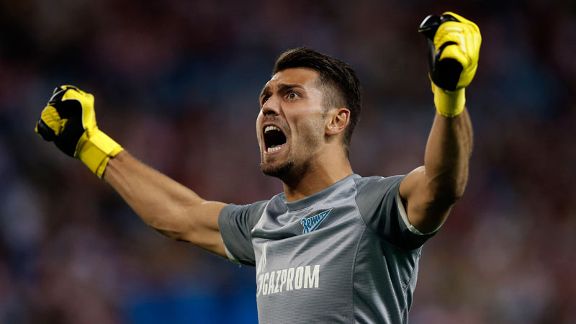 GettyImagesThe Zenit goalkeeper faces a fight for top spot, but has been in great form.
The Italian can probably ask for advice from his compatriot at Real Madrid; Carlo Ancelotti faces a very similar dilemma with Iker Casillas and Diego Lopez and has paid no attention to reputations for his No. 1 choice. Malafeev enjoys similar status to Casillas at Zenit -- he is a one-club man, a local hero born in St Petersburg, who has rarely put a foot wrong since his debut in 1999 -- and, at just 34, the veteran has a few good years left in him yet. But Spalletti will find it extremely difficult to bench Lodygin after such a brilliant start so, like Casillas, he may have to wait his turn.

In the meantime, Lodygin must keep his focus on ensuring his debut Champions League campaign is a success. Zenit started it hesitantly, losing to Atletico in Madrid and drawing at home to Austria Vienna when Witsel was harshly sent off. However, the 1-0 win at Porto changed everything and the keeper was in supreme form in Portugal -- shortly before becoming a father for the first time.

On Wednesday, Lodygin will face Porto again in a crucial home fixture that could go a long way to sealing their place in the next round. Three points will make Zenit's progress almost certain and another clean sheet -- there have been seven for him already in all competitions this season -- would definitely help Lodygin's cause to keep the No. 1 shirt.

As was the case two weeks ago, all eyes will be on Hulk taking on his beloved former team, but don't forget to look at the other end of the field as well. Lodygin's is a very unusual story and it is only just beginning.