Argentina vs. Uruguay headlines next round of WCQ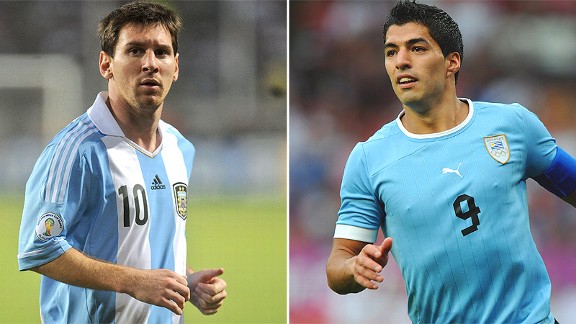 AFP/Getty ImagesHow will Uruguay stop Lionel Messi and Argentina? "We must use their defensive weaknesses," said Luis Suarez.
We're less than two years away from World Cup 2014 – 203 sides attempted to qualify for the 31 spaces alongside hosts Brazil, and the field has already been narrowed down to 127.

This week's international break has served up some enticing qualification fixtures. Here are five stories to keep an eye on before the resumption of club football next weekend.

1. One of the world's oldest footballing rivalries
With Brazil hosting the 2014 tournament and therefore guaranteed a place, Argentina versus Uruguay has become the most anticipated duel of the South American confederation's mammoth qualification process.

"El clasico del Rio de la Plata" is a huge rivalry in itself. The respective capital cities, Buenos Aires and Montevideo, were the major settlements in the viceroyalty of the Rio de la Plata before the former's independence in the early 19th century. Later, the two nations staged the first football meeting outside Britain, in 1901, and they contested the first World Cup final in 1930. This is a truly historic fixture.

More recently, Uruguay knocked Argentina out of their home Copa America tournament last year at the quarterfinal stage, a remarkable victory considering they were down to 10 men for the majority of the match. That game summed up what coach Oscar Tabarez does well – it was a defensive, reactive and highly efficient performance, and Uruguay went on to win the competition.

"Is this a revenge match for us? Of course!" says Argentine goalkeeper Sergio Romero. "That defeat is a thorn in our side that will always be there." Despite last year's disappointment, Argentina are strong favourites to win this weekend's game.

Much focus is inevitably on Lionel Messi, with Tabarez wearily explaining to journalists that Uruguay will attempt to prevent Argentina getting the ball to the Barcelona forward. The veteran coach is forced to formulate an effective game plan despite missing Gaston Ramirez, Abel Hernandez, Alvaro Pereira and Diego Perez.

Luis Suarez might have the right idea. "We must use their defensive weaknesses," he says. "We realise that we cannot make mistakes at the back because they will not show us mercy. But we have the potential up front to hurt them." He's right – Argentina have kept just one clean sheet in their last 14 games and can be vulnerable to quick counterattacks.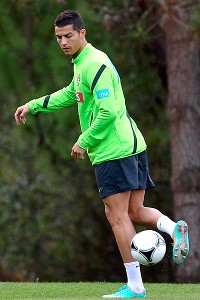 Paulo Cunha/Getty ImagesRonaldo, who suffered a knock during the Clasico, should be fit for Portugal's tough test against Russia.
2. Portugal's character put to the test
For the past two major international tournaments, Portugal have been forced to negotiate a tricky playoff – on both occasions, they eventually got past Bosnia.

Qualifying via the back door isn't fitting for a side like Portugal, though – a country that has reached at least the semifinals in Euro 2000, Euro 2004, World Cup 2006 and Euro 2012 – and under the strict new regime of Paulo Bento, Portugal have a good opportunity to top their group and qualify without any fuss.

Yet ahead of their trip to Russia, their most difficult match of the group, Cristiano Ronaldo and Pepe are both doubtful after picking up knocks in Real Madrid's 2-2 with Barcelona last weekend. That would rob them not merely of two fine footballers, but two of their greatest leaders, and it would be fascinating to see whether the rest of the side would be able to cope.

Ronaldo is likely to be fit – these injury worries are always exaggerated – but either way, we should find out a lot about Portugal's character.

3. France attempt to overpower Spain
It's natural for France to be rather jealous of Spain these days. Les Bleus were the dominant international side just over a decade ago, but now Spain are the best side of this era – and arguably any other – while France's recent record is atrocious. They lost the 2006 World Cup final on penalties, but in 2002, 2008 and 2010 they failed to get past the group stage, while in 2004 and 2012 they were feebly defeated in the quarterfinals.

The latter loss was at the hands of Spain, a 2-0 loss in Donetsk four months ago. Laurent Blanc tried to nullify Spain's threat down their left, playing two right backs in Mathieu Debuchy and Anthony Reveillere. But as Jordi Alba crossed for the opener, the plan unraveled and Blanc was soon out of a job.

His replacement, Didier Deschamps, must learn from that misguided caution, but so far the main feature of his French side is its sheer physicality. His center backs, for example, have been powerful – such as Mapou Yanga-Mbiwa and Mamadou Sakho -- rather than technical like Laurent Kosicelny.

Furthermore, while others are seeking to replicate Spain's obsession with passers in midfield, Blanc has gone for functional players. Newcomers Etienne Capoue and Clement Chantome are defensive midfielders, as is the recalled Maxime Gonalons. Blaise Matuidi and Moussa Sissoko are more energetic but offer little creative threat, while the likes of Hatem Ben Arfa and Samir Nasri are excluded from the squad, primarily for disciplinary reasons.

Still, when Marvin Martin isn't in the squad either, it's clear Deschamps is building a physical side rather than a technical one – can France overpower Spain's midfield of diminutive playmakers?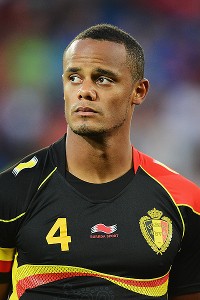 Mike Hewitt/Getty ImagesBelgium has a strong squad led out of the back by Vincent Kompany.
4. Are Belgium tough enough?
Belgium barely had any presence in the Premier League 10 years ago, but now boast the likes of Thomas Vermaelen, Eden Hazard, Maroune Fellaini, Vincent Kompany, Moussa Dembele, Jan Vertonghen, Simon Mignolet, Kevin Mirallas, Jan Benteke and Romelu Lukaku. Add other highly rated players from around Europe – Axel Witsel, Steven Defour, Thibaut Courtois – and their status as the most exciting young international side is entirely fair.

But can they actually play together? Belgium's spine is impressive, but they lack players in certain positions: center backs are often fielded out of position at full back, and the search for a reliable striker goes on. Mirallas is better cutting in from wide, Lukaku is out injured, and so Aston Villa striker Benteke is likely to start instead. He's a big physical presence, holds the ball up well and thrives on crosses, but has yet to prove himself at the highest level.

Of greater concern is the side's collective strength. There are reports of problems in the dressing room, and this remains a young side with no experience of major international tournaments. Travelling to Serbia will test Belgium's mental strength and belief, while a home match against Scotland will examine their patience in possession.

5. Australia try to get back on track
Australia used to continually fall at the final hurdle in qualification: There was the impossible task of getting past Argentina ahead of World Cup 1994, the heartbreaking late loss to Iran for 1998, then the fiery defeat against Uruguay that denied them a spot at World Cup 2002.

After reaching both Germany 2006 and South Africa 2010, however, they've become an established footballing nation, and soccer in Australia is on an upward curve. The A-League is gaining momentum, there's a promising new breed of coaches across the country, a new plan for youth football development from Football Federation Australia, and the glamour of Alessandro Del Piero playing for Sydney FC.

Yet their participation in Brazil is uncertain. In the fourth round of the AFC qualification process, Australia were drawn in the tougher of the two five-team groups and haven't managed a win in their first three games. A draw away in Oman wasn't disastrous, and a thrilling 1-1 draw with Japan – their conquerors in the 2011 Asian Cup final – showed promise.

But an unfortunate 2-1 defeat in Jordan means this week's away trip to Iraq has taken on great importance. It's not the most pleasant fixture for the Socceroos, although the game is at least being played at the neutral venue of Doha, as Iraq are banned from hosting matches in their home country. Australia could be in second place after a victory, or fifth place after a defeat – they must finish in the top two to qualify automatically, while a third-place finish means they'll have to endure two more playoff rounds, including one against a South American side. After previous disappointments, they'll be desperate to avoid those matches.