While Sven tells all, Hodgson endures reality check
It has been, all told, a good weekend for Sven-Goran Eriksson.

Of the three managerial autobiographies released this autumn, the Swede's was the least eagerly anticipated. Harry Redknapp's, we assumed, would be good-humoured, open and whimsical while Sir Alex Ferguson's, we guessed, would bristle with rage and honesty and just a dash of good, old-fashioned spite.

The idea of Eriksson's recollections, by contrast, seemed a little grey. How wrong we all were. Presumably, at some point in "Sven: My Story," the former England manager deals with footballing matters, with the highs and lows of an illustrious career that took him from Sweden to Portugal, Italy, Mexico and Notts County.

For now, though, Eriksson seems to have eschewed the traditional material for a footballing memoir and gone straight to the sex. Ferguson's book may have been the recollections and forthright views of the game's grand old knight, but Eriksson's is the adventures of one of its premier swordsmen.

There's the story of how he seduced Nancy Dell'Olio away from her husband, regretted it, then tried to give her back. There's the details of how he asked Faria Alam, a colleague at the Football Association, out to lunch and booked a hotel room, just to be on the safe side. There's the casual mention of how his first marriage broke down "mainly" because he was having an affair with a dusky, Italian beauty.

That's not journalistic licence, by the way -- that just seems to be how Eriksson talks. His story is full of sultry this and curvy that. The way newspapers present kiss-and-tells always seemed forced, unnatural; nobody says "romping," or declares to friends in the pub that they "bedded" someone last night. Sven does. Sven is probably the first person in history to read a kiss-and-tell about himself and just go, "Yep, that sounds about right. What's the problem?"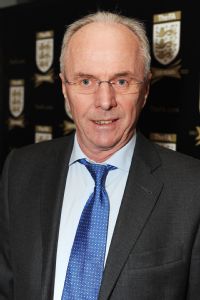 Steve Bardens /The FA//Getty Images Sven-Goran Eriksson managed England from 2001-06.
His autobiography appears to be one long attempt to detail quite how many notches he has on his bedpost. "Sven: My Story" is such a grey title, given the subject matter. He should have called it "50 Shades of Sven," or, in homage to Redknapp, "Always Managing (To Get My End Away)". It is unclear, from his reminiscences, quite when Eriksson found time to do any actual managing.

So, all told, a good weekend for Sven-Goran Eriksson. And a bad weekend for the man who is both his successor and his polar opposite, Roy Hodgson.

- Marcotti: Monday Musings
- Premier League team of the weekend

It is hard to imagine Hodgson's memoir, whenever it is released, including the line, "There were lots of details about our lovemaking, but I did not mind" or, in a hardly unique moment of Russ Meyer-style raunchiness (with a soupcon of Alan Partridge), "Needless to say, we didn't eat very much."

It was a bad weekend for Hodgson because, in quick succession, the current England manager saw the following things happen: Joe Hart, his first-choice goalkeeper, was dropped to the bench by Manuel Pellegrini, the Manchester City manager. John Ruddy, one of Hart's deputies, subsequently conceded seven goals in the same game.

He saw Michael Carrick, apparently now his first-choice midfield player, miss Manchester United's win at Fulham through injury, while Jack Wilshere and Glen Johnson suffered the same fate for Arsenal's victory over Liverpool. Kieran Gibbs, a contender for a left-back berth, left that game an injury doubt, too.

Steven Gerrard, meanwhile, Hodgson's captain, was comprehensively outclassed at the Emirates by Mikel Arteta, a player who is not good enough to make it into Spain's squad, let alone their first team.

Frank Lampard, another cornerstone of Hodgson's team, was informed by Jose Mourinho, the Chelsea manager, that his selection for the defeat at Newcastle was one of 11 mistakes the Portuguese had made.

There is no mileage in suggesting that Hodgson's resources are thin and that he can scarcely afford any injuries, loss of form or unexpected omissions to the core components of his side if England are to do anything noteworthy in Brazil.

Fewer than a third of the players in the Premier League are eligible for the national side, while many of those who are eligible in Hodgson's squad are aging. Gerrard, Lampard, Ashley Cole, Phil Jagielka, Johnson -- none are in the first flush of youth -- and a number of them are not first-choice selections for their clubs anyway. We know, and have for some time, that England's national team is not in a state of rude health.

This has been exacerbated, a little, by the closed nature of Hodgson's squad. There are more players out there who have been in good form over the last year or so -- Adam Lallana, say, or Nathaniel Clyne, or even someone such as Jonny Howson -- but they have been consistently ignored. The England manager has willingly restricted his pool to the same 30 or so names. Even in friendlies, he has barely experimented with his team.

There is a logic to that, of course -- it helps to familiarise the side, to make the pattern of play smoother, to improve understanding -- but it comes at a price. It is always a source of considerable frustration when Hodgson appears at Old Trafford to watch United play Chelsea. What can he learn about Carrick and Lampard that he does not already know?

Shouldn't he be at Stoke against West Bromwich Albion to see if Saido Berahino or Ryan Shawcross warrant a call-up? No, he shouldn't, because he is not going to vary his selections. That is the way he works. It is understandable, but it is not flawless.

Part of the problem, of course, is that England do not play friendlies, the games in which managers traditionally moved away from the tried and tested and gave inexperience a chance to prove itself. England play exhibition games instead, against Spain and Brazil and France and Germany -- though they do deserve some credit for selecting Chile for the first of this month's games -- making it much harder for Hodgson to dare to be different.

The effect, though, is serious. Hodgson is walking a tightrope. He cannot afford to see any of his players lose their form, their fitness or their place in the next seven months.

And here is the final contrast with Eriksson. It is telling that, amid all of the affairs, romps and trysts that the Swede somehow fit into his career, he discusses many of the names who remain at the forefront of our minds when we think of the national team.

Gerrard, Lampard, Rooney, Cole, and even John Terry and Rio Ferdinand are only out of the England team through their own volition. Twelve years on, we are still worrying about these players, still reliant on their good health and their form. That is testament to their longevity and to the dearth of talent emerging to dislodge them.

That is Hodgson's problem. Eriksson need not worry about it. If, indeed, he ever worried about it at all.