Mourinho getting back to his old ways
Confrontation and intimidation have been among Jose Mourinho's most potent weapons down the years, and it seems that old habits die hard.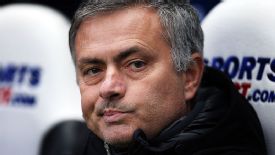 GettyImagesJose Mourinho blamed his own team selection for the 2-0 loss at Newcastle.
Few believed Mourinho when he returned as Chelsea manager last summer vowing to fill the void left by Sir Alex Ferguson as the responsible father figure of Premier League managers, and that scepticism has already been justified.

While Mourinho's explosive temperament was kept under wraps for the first few weeks of the season, his ruthless streak saw him publicly criticise the likes of Fernando Torres, Juan Mata and Kevin De Bruyne, and then he started sinking his teeth into referees and opposition managers.

Sent to the stands for his extravagant explosion of anger directed at whistle-blower Anthony Taylor during the win over Cardiff City, Mourinho then riled Manchester City boss Manuel Pellegrini with a volatile postmatch celebration after his side's win at the Bridge, confirming the full range of his mind-bending tricks are flowing once again.

So when Mourinho said he made "11 mistakes" in his team selection following the 2-0 defeat against Newcastle at the weekend, it's fair to say we have not lost the Jose of old and been left with a mild-mannered imposter. The new calm, polite Mourinho we were promised has been hastily been usurped by the old familiar firebrand who attracts fascination, but don't for a moment believe the recent examples of "Joseisms" were any kind of accident.

This is a manager who has always done everything for a reason, and he confirmed as much when he offered a fascinating contribution to a recently published book entitled "The Manager," as he revealed an ability to invent a persona to fit a particular environment.

"I think that, as a manager, you are always a leader, but sometimes you can be a different kind of leader," he said in the book, which was endorsed by England's League Managers' Association.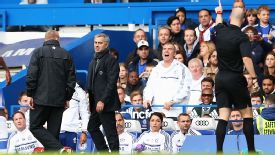 GettyImagesJose Mourinho is sent to the stands by referee Anthony Taylor last month.
"The first time at Chelsea, I was a confrontational leader because I felt that was what the team needed at the time. The guys desperately needed to make the jump from potential to reality, and I think they needed the kind of leader I was.

"I called it confrontational leadership: confrontation not just inside, but also outside the group. We were not afraid to say we are the best, we were not afraid to say we are going to win, or we are special, we are going to prove that we are –- so it was perfect.

"That season [2004-05] was a season for them to say, 'We are the best in this country', and it was the season for me to say: 'I'm not just very good in Portugal, I'm also very good here'. So it was like an explosion of motivation on both sides."

Mourinho's ability to pick and choose the moments to exert his authority is another of his great skills, with Roy Keane among those who would agree with these sentiments from the same book after his criticism of FAI officials hogging the best seats on Republic of Ireland trips down the years.

"I think there are two ways of travelling with the players in a plane: you travel in business class where everybody goes in business class, or if there is not space for everybody then the players go in business class and you go in economy class with your staff," stated Mourinho.

"Some time ago, a new coach arrived at a club and first thing they did was to travel executive for the manager and his staff with the players in economy. I was thinking 'bad start' and I was not wrong. They were not successful.

"You look after your people and one of the things you must remember as a leader is your people are more important than you."

Ferguson offered an alternative view in his much-discussed autobiography, as he claimed the control he held as the leading figure at United was the secret to his success, yet Mourinho has always been more impulsive as a public figure than Fergie.

In essence, Mourinho uses threatening behaviour as a tactic to fire up his own players and unsettle his rivals, with his aggressive man-management style successful in draining the best out of the players he puts his faith in.

Of course, such a high-risk policy can backfire and Mourinho's methods left a trail of destruction behind him at Real Madrid, with the likes of Iker Casillas, Pepe, Sergio Ramos and the whole Madrid football press among those who rejected their coach's abrasiveness and challenged his authority. He has also been accused of leaving no legacy at any of his previous clubs.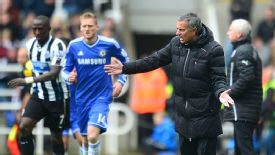 PA PhotosJose Mourinho vents his frustration on the touchline at Newcastle.
Yet the enduring loyalty Mourinho seems to command from his chosen few suggests he knows how to handle the egos of a modern-day soccer superstar, with the likes of Frank Lampard, Didier Drogba, John Terry, Luka Modric, Xabi Alonso and Samuel Eto'o all sworn advocates of the Jose mantra.

His eagerness to take all the responsibility for results, to protect his players from criticism, means those around him are compelled to repay him for the faith he shows in them. He gets into a player's mind and helps him to perform, in a way few before him have ever mastered. It is part of his brilliance.

In addition, Mourinho promotes a notion that you follow his lead and sign up for everything he stands for -- or face being jettisoned and humiliated in less-than-edifying fashion in front of the watching world.

While Ferguson opted to root out the likes of Roy Keane, Ruud van Nistelrooy, David Beckham and Jaap Stam when they became more trouble than they were worth at United, Mourinho takes that ruthlessness to a whole new level.

This master of the mind games would rather keep the banished souls like Casillas or Mata at his club to remind others what could happen to them if they fall out of line. No reputation is too big to take on, no talent too brilliant to drop, and everyone who works under Mourinho appreciates as much.

So when Mourinho took the blame for the loss at St James' Park, his words were designed to resonate with everyone in his dressing room. They may have provided a jovial line for the receptive media to have fun with, but, in essence, those comments were directed within his own ranks.

FALLING FOUL OF JOSE
Jose Mourinho has regularly used the media to convey messages to his players in a bid to enhance their performance, with this cast of star names all being subjected to the "Jose treatment."

Joe Cole
Mourinho was quick to criticise Cole in his first stint as Chelsea boss, as he used press briefings to urge the diminutive playmaker to up his game. He ended up emerging as a key figure in the club's title-winning teams.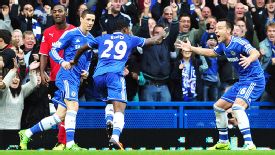 GettyImagesChelsea celebrate after Samuel Eto'o fired them into the lead against Cardiff City.
Samuel Eto'o
The Cameroon striker recently admitted his opinion of Mourinho grew from "one of hatred to one of love," with the pair now reunited at Stamford Bridge after they rebuilt their fractured relationship at Inter Milan.

Mario Balotelli
Mourinho did everything he could to try to defend the maverick Italian striker, but he eventually gave up trying to tame Mario and off-loaded him to Manchester City.

Iker Casillas
Dropping the Real Madrid talisman and captain created political shockwaves across the Spanish capital, but Mourinho cared little. He was making a point that no one was bigger than the team and Casillas' replacement, Diego Lopez, proved his worth with some outstanding displays.

Sergio Ramos
The Spanish centre-back was one of Mourinho's less obedient pupils during his time at Real Madrid, and as a result his place in the starting lineup was not always assured.

Cristiano Ronaldo
Mourinho and Ronaldo are said to have had a blazing row after a King's Cup tie against Valencia last January, with the manager later suggesting his star player "didn't want to take advice on how he could improve."

Juan Mata
Mata was viewed as the main man at Chelsea prior to Mourinho's arrival, yet rumours quickly began to circulate this past summer that he was surplus to requirements, and then came the public statements from the boss urging him to "do better." Unless he gives his manager what he wants, Mata will warm benches this season.

Fernando Torres
Many have tried and all have failed to get a tune out of Torres since his mega-money move to Chelsea, but Mourinho appears to be cracking the code. He has got the Spanish striker angry on the pitch again and that is resulting in marked improvements in form ... for now.

Kevin De Bruyne
One of Chelsea's big summer signings is getting the "must do better" treatment from Mourinho right now, as the Stamford Bridge taskmaster tries to draw him into line. If De Bruyne fails to live up to his billing, he faces a long, cold winter.

Romelu Lukaku
Mourinho gave Lukaku every chance to prove his worth in Chelsea's preseason games, but he decided he was not ready for his first team and sanctioned a loan move to Everton. Many disagreed with the decision, but Mou insists he has no regrets despite the Belgian striker's fine form with the Toffees.