Brief respite for floundering Marseille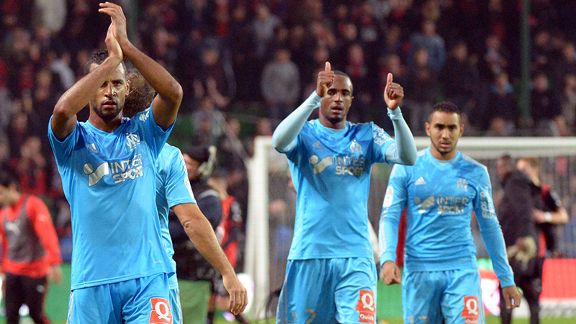 GettyImagesMarseille put a halt to their recent slump with a gritty 1-1 draw against Rennes.
Plenty can change in nine months. Just ask Steve Mandanda, who effectively let slip two valuable points for title-chasing Marseille in last season's game at Rennes when he fumbled Abdoulaye Sane's cross-shot and Romain Alessandrini knocked an equaliser into the open net.

Captain Mandanda was the toast of the dressing room for this season's trip to the Stade de la Route de Lorient, palming away Nelson Oliveira's second-half penalty to secure his side a draw. This time, stopping the haemorrhage had been the priority rather than chasing Paris Saint-Germain. Mandanda's save finally brought Marseille's dire run of consecutive defeats to an end at five.

"I know my job," their coach Elie Baup told beIN Sport with apparent sanguinity after the game. "It can depend on a ball hitting the post or not, or a penalty going in or being saved." There was certainly the feeling that Mandanda had provided a significant psychological boost to the camp, with experienced defender Souleymane Diawara telling journalists after the game that he had tasted that familiar sinking feeling when referee Alexandre Castro pointed to the spot.

No matter. In the end, the goalkeeper's heroics -- or Oliveira's profligacy, depending on your point of view -- meant that Jordan Ayew's greedily gobbled equaliser was a point-earner rather than a footnote. It was a red-letter day again for Ayew junior too, as it was his first goal in Ligue 1 since he struck a double in the corresponding fixture back in late January.

While big brother Andre has been all but fighting a one-man battle to keep OM afloat during the wretched spell of form, Jordan had been a key protagonist in the build-up to the Rennes match for very different reasons, after he nearly came to blows with Mathieu Valbuena in Thursday's training session.

It was, as RMC pointed out while relaying the information, something that happens at clubs all over the world most days -- but those clubs aren't necessarily locked in such a disastrous run. Despite Diawara's claim that "it's a good sign," showing the players still had fire in their bellies, it was an unwelcome reminder of a tense atmosphere around the club's La Commanderie training ground.

Falling well short of the standard required by a devilish Champions League group containing Arsenal, Borussia Dortmund and Napoli has arguably been the aspect of the campaign so far that has done most to drain the collective confidence. Marseille have not looked entirely hopeless in any of their three opening-group game defeats, but they have looked worryingly naive in all of them.

The way Marseille heads dropped after Jeremy Morel's error allowed Theo Walcott to open the scoring at the Velodrome in the European opener has almost turned into a template for the season. On paper, Baup has a better squad of players than the one that finished second last season. In practice, they are unrecognisable from the doughty unit that rarely dazzled, but ground out 14 1-0 wins in the last league campaign.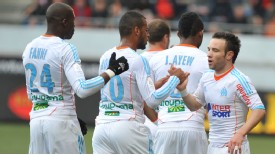 GettyImagesMathieu Valbuena has been one of the few bright sparks during Marseille's form struggles.
That was a minor miracle, and one for which Baup deserves an enormous amount of credit. Yet despite an extensive and ambitious recruitment programme being undertaken in the summer, Marseille seem woefully underprepared for such a busy schedule. "Physically, we've known better spells," said Valbuena with some understatement after the Rennes game, "but we mustn't hide behind the amount of matches we're playing."

That is, perhaps, easy for him to say. Valbuena is the best player at the club, used to fulfilling expectations for club and country, but the same can't be said of some of his teammates -- notably the new boys. A figure not far short of 25 million euros (21.2 million pounds) was spent on sealing the signings of a pair of coveted young talents, midfielder Giannelli Imbula and winger Florian Thauvin.

The principle of the policy was a good one, recruiting quality youngsters to make the team dynamic in the short term and give the club the security of sell-on in the future. The profligacy of OM's past weighs heavily on the mind of owner Margarita Louis-Dreyfus, who inherited the club from her late husband, Robert. She is not as indulgent as he was, and made clear that the club would have to pay its way. Vincent Labrune was brought in as president in June 2011 with that in mind, and with the brief to oversee the redevelopment of the Velodrome.

Yet in reality, the paper-thin squad of last season -- few will forget the stout B team amateur Fabrice Apruzesse huffing and puffing through an unexpected cameo at Bordeaux -- has not been strengthened much by the new arrivals. The athletic and gifted Imbula has plenty to learn about playing without the ball, while the protracted and ugly efforts to bring Thauvin from Lille took their toll on the player himself. The 20-year-old winger came back from France's victorious Under-20 World Cup campaign to striking to force the move, and his physical condition in the season's opening weeks has betrayed this upheaval.

Baup has taken his own share of flak for recent failures. What was lauded as caution last season is derided as lack of ambition this; never more so than when OM failed to take the initiative against PSG in the Velodrome classique, despite being 1-0 up and having a man advantage.

History tells us that commuting from a minimalist approach to something more expressive can be problematic, with Roberto Di Matteo having recently come a cropper at Chelsea attempting it. Yet Baup has arguably lacked the tools as well. Rather than paying such a hefty fee for Thauvin, the coach might have preferred to have been furnished with another defender or two. "With Benjamin Mendy disastrous against Reims," wrote L'Equipe's Raphael Raymond, "he [Baup] even put Morel back in, who was hardly any better at Rennes. Is it his fault if his directors put two average left-backs at his disposition, rather than one good one?"

It looks like the coach will again be attempting to limit damage at Napoli on Wednesday. If it is impossible to dream of last-16 qualification, it is not much easier to imagine gaining a Europa League spot. If progression was always going to be hard, Marseille's fans at least wanted to compete. For a club with their Champions League history, that is the minimum required.