Taxing the rich leaves Ligue 1 poor
"I feel like a shopkeeper in Robin Hood who has just been the victim of extortion by the Sheriff of Nottingham." That quote, memorable and not entirely unjustified, came from the lips of Marseille president Vincent Labrune on RTL radio this week with regard to the proposed 75 percent rate of income tax French president Francois Hollande wants to slap (the French newspapers are -- regrettably -- far too highbrow for tabloid verbs, but I'm not) on high earners.

It is unlikely the OM grand fromage used such emotive language when he came face-to-face with Hollande at the Elysee Palace on Thursday as one of a group of assorted Ligue 1 presidents and football authority notables who were attempting to, if not completely force a U-turn, at least gain some concessions from le President de la Republique. Given the unfavourable end to the meeting, at least as far as Labrune and chums were concerned, perhaps he should have.

As it seems most of the French public do not understand the issue beyond: "Yeah, tax those footballers as they've got loads of money," perhaps a few basic points on the matter should be made first. Not all income will be scythed into at 75 percent, "just" the part over one million euros, and it affects all companies, not just football clubs. What is interesting is that it is the employer who pay "salaries at such a level," as a presidential office press release stated after Thursday's meeting, not the employee -- in football's case, the player -- who has to dig deeper into their pockets. For Marseille, that will mean finding an additional eight million euros. "Peanuts" says the vox populi. "Not so," claim the men in charge of the game in France.

"It's a defeat for French football," said Labrune after the hour-long meeting with Hollande in which the president was clearly "not for turning," to quote Margaret Thatcher, having already conceded ground on other tax issues earlier in the week and needing a boost in the polls. "It's not that we don't want to pay this tax; we can't," he added. "We're going to have to sell players. The clubs, which are for the most part companies that are sucked dry, have to foot the bill. Not the players."

If the cumulative debt of clubs in France's top two -- and only professional -- tiers has rocketed from 20 million euros in 2008-09 to around 100 million euros now, then those at the head of the clubs have only themselves to blame, at least in part. Labrune reacted angrily to comments made by sports minister Valerie Fourneyron earlier this week when she compared those running clubs to those heading the reckless banks that provoked global financial meltdown. However, she had a point for some clubs, if not necessarily for Labrune himself, who has worked hard -- and successfully -- to bring OM's accounts into line.

But the 2009 removal of the DIC, an image rights niche, cost clubs 50 million euros per year, while they already contribute 700 million euros in income tax revenue annually and give amateur sports some 130 million euros every 12 months. Claims that they should show more solidarity with the travails of the French public are not entirely fair. Also, the clubs have made it clear they will pay up, but that Hollande has to show some flexibility first or face irreparably damaging the sport in France.

The point of Thursday's meeting was for football to make its argument for its own specific situation, which is employing players on fixed-term contracts. The details of those contracts -- notably the salary -- have already been agreed upon prior to the existence of this proposal, which was one of Hollande's biggest headline-grabbers during last year's election campaign. It is a fair point as the tax would apply to 2013 and 2014 revenue, which could not have been factored into a club's budget when, for example, a three-year deal was negotiated in 2011. "It only takes for it to be applied only to new contracts. That means that clubs who want to bring in a player on a salary of more than a million euros know that when they sign him, there is a tax to be paid," said Jean-Pierre Louvel, president of both Ligue 2 side Le Havre and the UCPF, the French clubs' union.

The clubs' position makes sense, and they will boycott Ligue 1 and Ligue 2 games on the matchdays of Nov. 29-30/Dec. 1 in an American-sport-style lockout, instead inviting the public to come to events inside stadia across the country during which they will state their case in an attempt to sway popular opinion, which in turn could soften Hollande's stance.

For the moment, however, with public support for the move still strong, the political will holds firm. "There's no possibility for accommodations to be made for football. This tax has to be applied in an identical fashion to all companies," came the unequivocal public response from economics minister Bernard Cazeneuve, which must have echoed that made in private by Hollande on Thursday. "The president heard us, but absolutely did not listen," said Frederic Thiriez, the French Football League (LFP) president. The speed with which Hollande's office put out their press release stating the proposal would go ahead as planned suggests the meeting was little more than window dressing.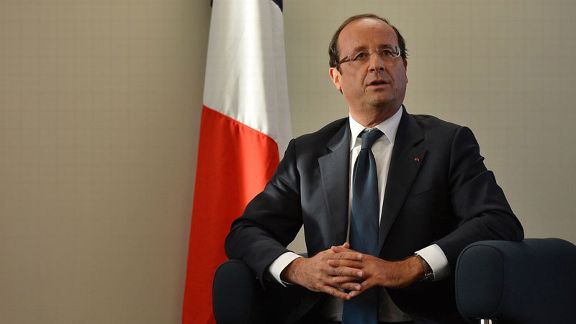 PA PhotosFrancois Hollande looks likely to get his way, but will it benefit Ligue 1?
In addition to not listening, Hollande perhaps did not read the full-page open letter to him from the UCPF published in Sunday's L'Equipe, despite presidential aides insisting France's man in charge religiously scours the nation's main sports daily at breakfast. As Labrune also warned, the letter stated: "To pay this tax, Ligue 1 clubs will have to sell their best players, benefitting other European clubs, and weakening the French league."

The consequences of that would not only hit the 15 top-flight sides directly concerned by the tax, but -- club presidents rightly claim -- also the other professional clubs who feed off the TV rights of L1, which would necessarily be lowered if the quality of the top flight dropped, putting into jeopardy some 24,000 football-related jobs within France. Having been overtaken by Portugal and fallen out of the top five of UEFA's coefficient ranking, making life harder for the third-placed L1 team to reach the lucrative Champions League group stage, as Lyon found out -- literally -- to their cost this season, further financial attacks on the French game would clearly not be beneficial. And all that for what is a relatively paltry additional 44 million euros from clubs the tax would net Hollande.

Of course, two clubs do not have this problem. Paris Saint-Germain will be the main contributors with their millionaires costing them an additional 20 million euros in each of the next two years, but -- as their president Nasser Al-Khelaifi pointed out when the issue was first raised -- they can afford to pay anyway. Zlatan Ibrahimovic will see no dents in his 15 million euros-after-tax pay packet; his employers will barely see the slightly bigger scoop taken from their almost inexhaustible coffers. Monaco are not affected by French tax laws, though even if they are forced into Hollande's fiscal jurisdiction by the end of the season following the LFP's threat to expel them from the league if they are not, their Russian owner, Dmitry Rybolovlev, was the world's 119th-richest billionaire according to Forbes last year.

Those two clubs already occupy the top two places in Ligue 1, and Hollande's tax -- which would take the legs quite literally from under their rivals -- would merely strengthen their position. Monaco and PSG will be able to continue forging potential Champions League-winning squads while the remainder of the top flight scrabble for survival and wait for their own sheikh/billionaire saviour to arrive. Ligue 1 already looks like being a two-horse race for years to come; if Hollande has his way, which it looks like he will, they may be the only ones left running. "Mr President, don't let French football die," was how the UCPF open letter ended. Just like on Thursday, it seems Hollande is not listening.