Striking up a lethal partnership
The English press can be a bellicose beast. A military metaphor is always within reach. It is especially keen to make mention of the SAS, the elite Special Air Service regiment that reassures that, despite a fading global influence, Britain still retains a group of hard blokes that can kick ass whenever they are called upon to do so.

The 1990s saw the football press hit on the idea of using SAS as an acronym for footballing strike partnerships. Thus were Blackburn Rovers' expensively-assembled duo of Alan Shearer and Chris Sutton labelled. At international level, Shearer and Teddy Sheringham formed their own SAS. The militarisms did not stop there. At Liverpool, Ian Rush and Robbie Fowler formed an RAF.

This season has seen the SAS revived as a force in football. Daniel Sturridge's burgeoning partnership with Luis Suarez at Liverpool has been writing headlines through slick interchanges and a selection box of sweet finishes.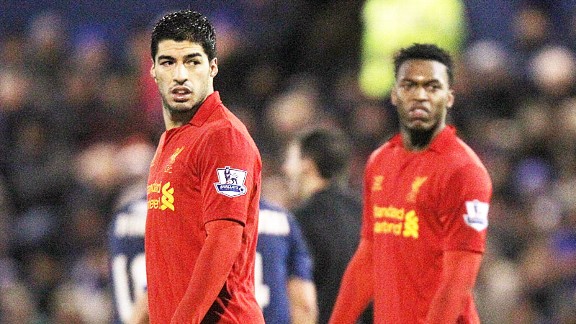 PA PhotosLiverpool's Luis Suarez and Daniel Sturridge are the latest lethal combination.
A lone striker has been the norm for Premier League managers for some years. That, according to former England and Arsenal forward, and current ESPN FC analyst, Paul Mariner, is a practice borne of a defence-minded tactical necessity.

"You can understand why managers don't play two strikers because generally, and particularly away from home, they don't work hard enough off the ball," Mariner says. "With Bayern Munich last season, the way they dropped into shape, with [Arjen] Robben and [Franck] Ribery shielding the defence was remarkable, and that's the way the modern game has gone."

Liverpool, though, are instead playing a midfield formation that allows them to keep both strikers on the attack.

"It's very brave of Brendan Rodgers to play a pair," explains Mariner. "Some would say that he's playing 3-5-2, but there are other components that are key to the success. Lucas is an absolute kingpin. He gives Steven Gerrard the space to move forward and supply. If you look at the really good teams, if you play with that diamond three in the middle of the park it really makes things tick. It's the personnel that you've got and it's working a treat for Liverpool."

Last weekend, after beating West Brom 4-1, Rodgers, never shy of using complicated technical discourse, defined his triangular philosophy.

"When you flip the triangle and play with the one controller, it pushes the other two midfielders up the pitch more, so they can press it better," he told a post-match news conference, though bemused hacks may initially have believed he was talking of some form of computer games console. "Then when the ball does get switched, they're in position to press again."


Amid the jargon, Rodgers had explained that he has tried to switch the shape of his team to provide his pair of prolific strikers with a better supply.

However, much of Sturridge's recent success, suggests Mariner, is also down to defenders being driven to distraction by Suarez. "Generally, with a player that good, he's drawing away two defenders," he says.

By contrast, Manchester United's stuttering campaign so far has seen them struggle to accommodate what seems as if it should be a truly devastating pairing: Robin Van Persie and Wayne Rooney. Both have been in the goals, but neither has looked wholly comfortable with the other.

Mariner believes that, converse to Liverpool, the problem lies in the supply line from midfield, United's now time-honouredly weak department.

"I don't think they are set up to be a partnership," suggests Mariner. "I think Wayne is set up to be underneath and Van Persie off the shoulder. Most of the time because United are scratching around for that central midfielder it falls on Rooney to drop back, with Van Persie playing off his full back."

In Mariner's heyday of the late 1970s and early 1980s, the strike partnership was a fixture of any team. "For me, the best partnership when I played was Kenny Dalglish and Ian Rush at Liverpool," he says. "The work they did with and without the ball was second to none."

At Ipswich Town, Mariner, a traditional English-style target-man, played alongside a partner in Alan Brazil whose fleet-footedness would surprise most of those who now listen to his radio show on talkSPORT. The pair won the UEFA Cup together in 1981 and Brazil's keen sociability helped forge a bond.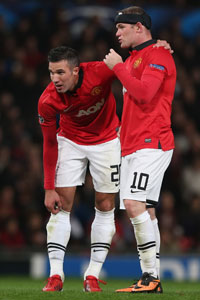 GettyImagesRobin van Persie and Wayne Rooney have not formed the ideal partnership, despite their individual brilliance.
"We were mates, really good mates. We tended to bring different things to the team. I was a traditional English centre-forward but Brazil would run off me," he says. "It's all about talking and sometimes coaching each other. Having a chat with the midfield players. It's those sort of nuances that happen over a beer or a lunch and the coach is the glue with it all. With partnerships, you have to get on, on and off the field."

Manchester United fans might be heartened by grapevine reports that Van Persie and Rooney were seen dining out together last weekend. That said, Teddy Sheringham and Andy Cole used to play well enough as a pair, even if they did not speak to each other throughout their time together at Old Trafford, continuing a feud that began during an England international in 1995.

Cole, though, linked far better with close friend Dwight Yorke. "Their partnership, their friendship was phenomenal," recalls Sir Alex Ferguson in his new autobiography. "They just gelled. In training they would work on runs together, little dummies, one-twos. They synchronised beautifully."

Indeed, they scored 53 goals together during United's 1998-99 Treble season, and even found the time to share some lurid tabloid-making antics together, before Ferguson in 2001 signed Ruud van Nistelrooy, a striker he felt best employed as a lone striker. A trend of attacking midfielders supporting a single frontman has since developed to the point of the "false nine", best shown off this season by Bayern's Thomas Mueller's destruction of Manchester City.

Still, as shown by Suarez and Sturridge, a partnership can still capture the public's imagination.

"It's extremely enjoyable for the players, and for fans to watch because you've got that double threat," says Mariner. "But I understand why managers are afraid to play it. You need that willingness to work on both sides of the ball and drop in."

Rodgers currently believes that he has a formation that provides the ideal jumping-off point for his SAS vanguard to blast away defences. A tough campaign of imminent fixtures, which begin with Arsenal on Saturday, and takes in Everton, before a Christmas corps of Tottenham, Manchester City and Chelsea, will test whether his elite force can sustain its big push. There go those military metaphors again ...