Top Tenner: Arsenal-Liverpool clashes
10 -- Arsenal 1-1 Liverpool, April 2011

Or, to be more accurate, injury time of Arsenal 1-1 Liverpool, April 2011. Arsenal had vague hopes of winning the title in 2011, going into this game seven points behind Manchester United but with a game in hand. As 90 minutes came around, the game was scoreless but there would be plenty of stoppage time after a head injury to Jamie Carragher held the game up. Arsenal thought they had won it in the 98th minute after Jay Spearing felled Cesc Fabregas, and Robin van Persie slotted in the penalty, but in the 102nd minute, Emmanuel Eboue committed a hilariously clumsy foul on Lucas Leiva, and Dirk Kuyt stepped up to equalise from the spot. Thousands of Gooners shook their heads and reached, with resigned sighs, for a bottle.

9 -- Liverpool 3-0 Arsenal, August 1994

With a shade under 200 career goals, an FA Cup, two League Cups, a UEFA Cup and 26 England caps, Robbie Fowler had a pretty good career. However, when this skinny kid from Toxteth, teenage acne lingering on his face and with a preternatural ability to find the net, broke into the Liverpool first team, it looked as if he would be one of the greats. Scoring an impressive 18 goals in 1993-94, his first season with the senior side, including his first hat trick, Fowler was picked to start the 1994-95 season, and in Liverpool's first game of the season, Fowler casually slotted away the fastest hat trick in English football history, a four minutes and 33 seconds that barely seems possible.

8 -- Arsenal 2-0 Liverpool, May 1950

Football was a simpler place back in 1950. Not least because there were some professional players for whom football was not their primary occupation, such as Denis Compton, who played in this FA Cup final a few months before representing England against New Zealand across town at the Oval. Compton reportedly favoured a half-time 'livener' of whiskey, and it seemed to do the trick, with a couple of Reg Lewis goals enough to give Arsenal the win.

7 -- Arsenal 2-1 Liverpool, May 1971

In the days before footballers were supremely fit, highly-toned athletes, a high-temperature (both literally and figuratively) clash like the FA Cup final would inevitably lead to straggly play, cramp and rolled-down socks, as the teams struggled to cope with the pressure of the situation and the late-May sun. No more evident was this than in the 1971 final, summed up by the image of Charlie George, exhausted and exhilarated, lying on his back after scoring an extra-time winner for Arsenal.

6 -- Liverpool 4-4 Arsenal, April 2009

The last time Liverpool had a serious chance of winning the league title, the visit of Arsenal had a seminal feel. Liverpool were a point behind Manchester United at the top of the table, having not long humiliated them 4-1 at Old Trafford, though United had a game in hand. A truly insane night of football ensued, with Arsenal taking the lead through Andrey Arshavin, who would go onto score three more, frustrating Liverpool despite the best efforts of Fernando Torres and Yossi Benayoun. "The positive thing is we have scored four goals against Arsenal and it was a good game," said Rafa Benitez, desperately searching for a bright side. As it turned out, United won the league by four points, despite Liverpool winning every game after this one, so this draw probably wouldn't have made a difference. Probably ...

5 -- Arsenal 0-0 Liverpool, May 1972

A 0-0 draw might look like an odd choice for a list of top games between two such famous and storied clubs, but 1989 (spoiler alert: that one features on this list at some stage) wasn't the only time Arsenal and Liverpool were involved in a hugely dramatic end-of-season clash. The most frequently told story of the 1971-72 season is how Brian Clough's Derby beat Leeds to the title, but it is often forgotten that there was a third horse in that title race (four, in fact, with Manchester City), a horse that would have won it had they beaten Arsenal on the final day. Liverpool had the better of the game, and John Toshack had the ball in the net on 88 minutes, only for it to be disallowed on an offside call, much to Bill Shankly's chagrin.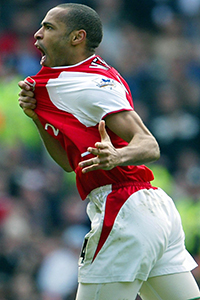 GettyImagesThierry Henry was at his brilliant best in a classic clash between Arsenal and Liverpool in 2004.
4 -- Arsenal 4-2 Liverpool, April 2004

A game often regarded as the test of Arsenal's resilience in the 'Invincibles' season. Despite being unbeaten, there was a vague sense that the campaign would be a disappointment for Arsenal, since in the week preceding this game they had been beaten in the FA Cup semifinal by Manchester United and the Champions League quarterfinal by Chelsea. A patched-up Arsenal twice went behind to Sami Hyypia and Michael Owen goals, but stormed back, inspired by Thierry Henry as they so often were in that campaign, as he scored a hat trick to seal the win and preserve the unblemished record.

3 -- Liverpool 3-2 Arsenal, August 1964

In the early 1960s, a bright spark at the BBC had an idea. How about a weekly show, on a Saturday evening, showing highlights of a football match, thus allowing the masses to see football beyond their local team? Match of the Day was born, and they chose quite a game to open up with. Liverpool, under Bill Shankly, were reigning champions, and while Arsenal were relative also-rans having finished eighth the previous season, they were managed by England and Wolves hero Billy Wright. Liverpool took an early lead through Roger Hunt, then George Wallace doubled the advantage just after half-time, only for Arsenal to roar back with two goals in a minute from Geoff Strong and Joe Baker. However, in the 87th minute Wallace bore down on goal. "It's there!" exclaimed Kenneth Wolstenholme. "Wallace has scored! Oh what an ending! What an ending to a magnificent match!"

2 -- Arsenal 1-2 Liverpool, May 2001

It's almost forgotten these days that Michael Owen could be capable of some quite extraordinary things, given the way his career basically started winding down from the moment he joined Newcastle in 2005. His most celebrated moments were for England, but this, when he basically won the FA Cup for Liverpool on his own with two goals in the last seven minutes, securing the second leg of what would perhaps unfairly become known as the 'Plastic Treble' -- the League Cup, the FA Cup and the UEFA Cup. "The little fella worked wonders and got us back with two goals," said Steven Gerrard after the game. Indeed he did.

1 -- Liverpool 0-2 Arsenal, May 1989

For obvious reasons, it's easy to forget how soon this game was after Hillsborough, which Arsenal recognised by handing bouquets of flowers to fans in the Kop before the game. Arsenal looked to have the title all wrapped up at various stages of the season, at one point being 15 points clear at the top, but a draw with Wimbledon and an inexplicable loss to Derby in the closing weeks of the season, combined with Liverpool's astonishing 24-game unbeaten streak and a 5-1 hammering of West Ham days earlier, meant it all came down to this one and Arsenal had to win by two goals. Arsenal hadn't won at Anfield in 15 years and Liverpool hadn't lost by more than one goal there for three years, so The Daily Mirror's 'You Haven't Got A Prayer Arsenal' headline wasn't that outrageous.

"We were all pretty jovial. It was almost like a day out, as no one was expecting us to win," said Perry Groves, an Arsenal substitute on the night, of the journey from London to Merseyside. George Graham picked a pretty conservative side -- a 5-4-1 with David O'Leary as a sweeper and Alan Smith the lone striker, with the intention of "keeping it tight" and scoring as the game opened up in the second half. Smith got the first in the 52nd minute, then as the clock ticked down ... well, you know what happened next. Perhaps unusually for the era but unsurprisingly given what had occurred six weeks earlier, there was no adverse reaction from the home crowd. "I looked out and saw the whole crowd clapping," then-Liverpool chief executive Robinson told The Guardian. "I think the Arsenal players and their fans were stunned by that." Football, even in a moment as extraordinary and ostensibly heartbreaking as this, was in correct perspective.