Now Moyes has settled, Man United must kick on
Sir Alex Ferguson was very clear. As the most successful manager in the long history of British football addressed his adoring public for the last time on the pitch at Old Trafford, he told Manchester United's fans what he expected of them. "It is your job, now," he said, "to get behind the new man."

They have done as they were bidden. David Moyes's face adorns a banner hung from the Stretford End, along with his appointed epithet: "The Chosen One." He has not endured the most straightforward of starts as he takes to the stage vacated by the greatest act in football, but still they have stood by him.

Payne: United delight in emphatic victory
McIntosh: How to manage Man United

At times he has seemed uncertain, uncomfortable, blinded by the light, referring to his team not in the first person, but the third. It has not always been "we're a great side" but "they are", not us but them, as though his position is still somehow foreign to him, as though he has not grasped the full ramifications of all that has happened to him in the last five months, as though he is just an understudy, keeping the seat warm, filling the role until the great man returns.

None of that, though, has mattered. The support has been steadfast, and for that United's fans deserve immense credit, even if at times it has seemed as though it is borne more of a desire to be perceived as exempt from football's kneejerk culture, its short attention span and its endemic impatience, rather than of any genuine belief, any real conviction. Still they sing Moyes's name, still they show him the reverence his post, and his references, deserve. They are doing their job.

Over the last week or so, it has seemed as though they might be getting their reward. For a manager who was regularly undone by the vagaries of European football at Everton - he admitted, in private, on more than one occasion to an uncertainty about how to handle the away game in a two-legged tie - he has taken to the Champions League with consummate ease, seeing off Bayer Leverkusen and Real Sociedad in his first two home games and earning a creditable draw at Shakhtar Donetsk on the road.

The Premier League has seemed rather more alien, more unfamiliar, but coming from behind in that time-honoured, stirring United fashion to beat Stoke City calmed nerves and quelled fears and seeing off Norwich City in the Capital One Cup this week made it three wins in seven days.

Moyes will hope that he has ridden the storm, that his ideas are starting to bed down, that this is becoming his United. He will feel, doubtless, more that this is us, not them.

Whether it is or not, though, is impossible to gauge. Watching United against Stoke was to watch a team playing by rote, going through the motions, rather than with the imagination, the inspiration and the verve which Ferguson's sides could call on. They would work the ball out wide, and cross it.

When that didn't work, they would try their luck from range. When that didn't work, the ball went out wide again. It was a team playing from memory, more mechanical than spontaneous.

The best example, perhaps, is Michael Carrick. Carrick is unfortunate, because he is a player who lives and dies by the work of others. He has become something of a cause celebre in recent years, a player feted by those who seek to claim a greater understanding of the game than the suckling majority by insisting they, and only they, can see his unseen effect on a match. He controls the game, they say, he manages space, he dictates the tempo.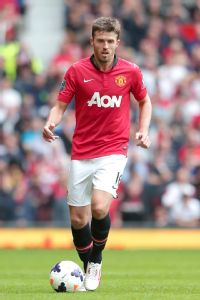 Tom Purslow/Getty ImagesMichael Carrick remains the most consistent feature of United's midfield.
A truer assessment is to say that he can. Carrick is capable of controlling and managing and dictating. But to do it -- or to do it well -- he needs those around him to provide him with options.

He needs Wayne Rooney dropping deep to collect the ball. He needs Nani, Antonio Valencia, Adnan Januzaj or Ashley Young racing down the line, pushing their opposing full-backs back towards their own goal, opening the field up.

He needs Robin van Persie playing on the shoulder, darting diagonally between the central defenders, pulling the massed ranks of the defence apart. Ideally, he needs a bundle of energy next to him, but in the laconic, bruising Marouane Fellaini, the elegant Ryan Giggs or Anderson, who is essentially just a bundle, he all too rarely has it.

When none of that happens, there is little Carrick can do. It is often said the England midfielder only excels when United are on top, that he shines in a team that is gleaming, and to some extent that is true, but it should not be used as a criticism of him, but of his team-mates. If their excellence allows him to play, then necessarily the converse must be true. Their failures prevent him doing his job.

The problem Carrick has -- and that Moyes must solve -- is that all of that movement, that whirling, sweeping, constant running, has been conspicuous by its absence. The players, like the fans, are doing their job, just as Ferguson told them they must. It is just that they look like they are doing a job, rather than indulging in their passion. That is what is missing. They are going through the motions.

Just as the impression of the fervent support of Moyes in the stands is that it comes from a sense of obligation, because it is the right thing to do, so with the players. They know what they must do, and they do it, but few of them look like they believe in doing it.

That is the effect of empire. United's players are sated by success. They have won all the battles there are to win. There are, to some extent, no more worlds left for them to conquer. And now their general, to whom they swore unyielding loyalty, has departed.

Ferguson is a keen student of history. He will know what happens in such circumstances. Rome knelt at Augustus' feet because of all he had done; they obeyed those who followed because they had to, not because they wanted to.

It is in the moment of succession that uncertainty sets in, when the plots and the power games begin, when knives are gripped under cloaks, when sleep does not come easy at night.

That is what Moyes has to manage. United can win games from memory; that much was clear against Stoke. They will enjoy some modicum of success because of the echoes of what went before. If the Chosen One is to build his own empire, though, he needs to wake them from that nostalgic reverie.

United need to believe again. It needs to be more than just a job.