Roberto Soldado aiming to fight for his Spain future with Tottenham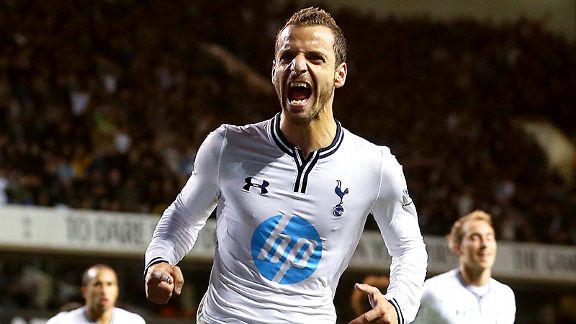 Julian Finney/Getty ImagesRoberto Soldado hopes that he can earn a consistent spot with Spain with strong performances at Tottenham.
The past four months haven't been easy for Tottenham striker Roberto Soldado.

The former Valencia standout, who scored 59 La Liga goals in 101 appearances for Los Che, hasn't found the same goal-scoring touch in England yet, as he only has four goals in his first nine games -- three of which have come off penalties. In a World Cup year, some have questioned whether the 28-year-old's move to England was a smart decision as a drop in form could see him lose ground in securing a ticket with Spain to Brazil next year.

Soldado insists he made the right choice.

"My ambition is high here with Spurs," Soldado told ESPN FC in a phone interview. "I want to grow as a player and that's why I went to another country, another league with a team that has another project in mind and trusts in me."

"I hope that I can only hope that I can win a title here like I did with Real Madrid, although I didn't have much of a chance to enjoy that one [he only made three appearances with the 2007-08 title winners] ... I hope this is the year that I win another title."

Facing heavy competition at the striker position at Spain with Fernando Torres and David Villa, Soldado knew he had to do something drastic to break in and assure a position with the national team.

While he arguably had better seasons in Spain compared to his counterparts, the two can boost much more success in the club level.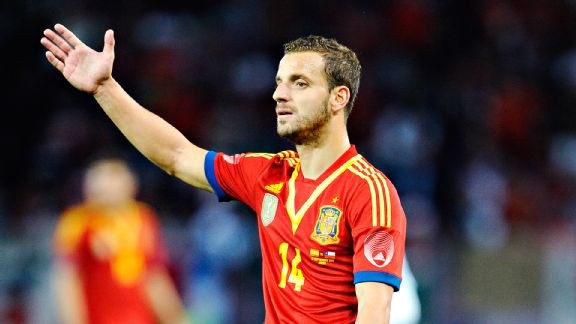 Alain Grosclaude/AFP/Getty ImagesDespite strong club performances in La Liga, Roberto Soldado has only played in 12 appearances for Spain.
Both Torres and Villa have won the Champions League, with the latter also winning numerous other trophies during his time at Barcelona. At Valencia, Soldado didn't have those opportunities. Crippled by debt dating back to Rafa Benitez's title-winning side in 2004, Valencia has had to sell its star players year after year -- with Villa, Juan Mata, David Silva and Raul Albiol all departing -- just to stay afloat. While Soldado wasn't forced out the door like the stars that proceeded him, the club's new president, Amadeo Salvo, wasn't convincing regarding the club's expectations moving forward.

"I was comfortable with the people who were there, and then in a short time and with the conversations I had with the new president he didn't show any trust or credibility in me, so I had many doubts," Soldado explained.

"My time there was not going to evolve based on what I saw were the new expectations of the club. ... I didn't trust what they were telling me and promising me so I decided to go."

Since Soldado's 30 million-pound departure from Valencia, the team sits 11th in La Liga, 18 points behind league leaders Barcelona after only 10 games.

Now with a much more ambitious Tottenham side, Soldado believes he has a much better chance at trophies in the England than he ever did in Spain. When asked to compare La Liga with the Premier League, Soldado quickly pointed to all the competitive sides in his new league.

"I can say that this year, the Premier League is more open, there is more opportunity for more teams to opt for a title, and everything is closer," he said. "In La Liga, what we are seeing is that there are only three teams -- Real Madrid, Barcelona and Atletico Madrid are the only three teams that can be strong and can stay up there in the end."

Now, Soldado knows he has to live up to his price tag.

"It hasn't been easy for me, every time I've changed teams, it taken me time to adjust and perhaps this has been the biggest adjustment in my entire career and maybe that is why it is taking me more time," he conceded.

Despite being one of three record-breaking transfers for Tottenham this summer, Soldado understands that he has to earn his place.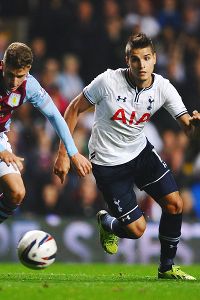 Laurence Griffiths/Getty ImagesErik Lamela has struggled to see playing time in his first year at Tottenham.
Erik Lamela, Spurs' biggest purchase this summer at 25.8 million pounds, has only played in one Premier League game this season. That's after coming off of his best season at Roma in which he scored 15 goals. Head coach Andre Villas-Boas' message is clear: It's not about past accomplishments, it's all about what you provide at Tottenham.

"Regarding Erik, maybe at his position it is tougher for him to adjust but we are all desirous of seeing the Erik we saw in Roma because he is a player who all you have to see is his training to know that he is a great player who is going to give us a lot in the short term," Soldado said.

It would be easy for Soldado to be one of the many stars at Tottenham and settle for being a rotation player with Jermain Defoe at the club. But it's clear that his ambition is much higher.

"That is the main reason I would return to the national team, it has to do with my performance at Tottenham," the Spanish striker said. "That is why my main goal here is to feel confident, work hard and give my best performance each day and score as many goals [as I can] because that is the only way I will return to the national team.

"It is true that my return to the national team will be difficult because of all the players you have mentioned [Villa, Torres] but that's why I have to do a great job here."

Soldado's interview with ESPN FC was conducted in Spanish and his comments were translated.