Will Hughes catching the eye at Derby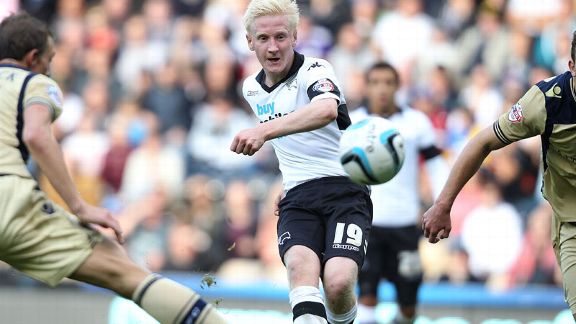 PA PhotosWill Hughes is one for the future, with Liverpool watching his progress.
Catch his former manager Nigel Clough in a quiet moment and the assessment of Will Hughes could have tumbled from the lips of his father Brian 30 years earlier.

The withering humour passed down through the Clough genes would go something along the lines of: "He can't run, he can't tackle and he can't head it." Clough senior would have thrown something more into the mix about the ghost-white Hughes spending all his holidays in Reykjavik and barely eating enough to keep a rabbit alive, judging by the frame which suggests the teenager could struggle to bench press 50kg.

Prime physical specimen Hughes is not. So why have Barcelona been monitoring him since he caught the eye playing for England under-17s in Portugal over two summers ago?

Why do Manchester United, Arsenal, Liverpool and Chelsea scouts all have season tickets at Pride Park? Why does Derby County's chief executive Sam Rush confidently expect he will be able to prize 15 million pounds out of the hands of one of Hughes' many suitors, either in January or at the end of the season? In fact, even if, at that price, he is over budget for most, why has virtually every Premier League club sent representatives to check on him?

It's fairly simple when one agent who witnessed Hughes, covered in factor 50, for the first time that summer in Portugal reveals: "He was the name every scout and agent had on their lips when they went home from the tournament. He was that good. He stood out above everyone else."

That particular agent spent the next two years trying to get the mandate to represent Hughes, but was barely allowed through the electronic training ground gates at Moor Farm. Clough junior, like his father, had a glowering dislike of agents, but a love of pure footballers. So what is the attraction? Surely it is more than the shock of blonde hair and the pop-art boots.

Clough, and anyone who has worked with the teenager since he entered the Derby County academy at the age of 12, will say that there are a few outstanding qualities which make Hughes stand out and spike the interest of expert observers.

In no particular order, the ever-expanding Hughes appreciation society will hit you with the list: Courage, the ability to pass the ball and a 360 degree appreciation of everything which is happening at 100mph around him on any given pitch in the Championship.

"Courage comes in all shapes and sizes. Sticking your head in when you know you will get hurt. Going in for a 50-50 tackle, or taking a penalty when the chips are down," said Darren Wassall, Derby County academy director. "There is no greater courage in football than the courage to constantly be willing to accept the ball in any area of the pitch, whether you are having a good game, average game or a shocker and whether you are un-marked or have three opponents on you."

"They are talents you cannot coach -- certainly not coach to that level. He was born with those god-given abilities. They are the attributes all managers and coaches want players to have, but he is a freak in the way that he has them already."

They are the qualities that made him England's second youngest ever England under-21 representative and won him his Derby debut at the age of 16. They are the qualities Greg Dyke wants his new FA Commission to un-earth and nurture in the players of the future.

It is little wonder why Clough identified with Hughes the moment he walked into the club in 2009. Anyone that ever saw Clough play for Nottingham Forest -- before the tackle from behind was outlawed -- will struggle to remember a braver man and still wince at the memory of Tony Adams and Steve Bould taking turns to leave stud marks on his achilles, calf, or the backs of his knees.

Clough junior was derided for having no pace and his inability to head the ball, but he could pass it with a blindfold fitted and could even calculate what was required to reach an intended target at precisely the correct velocity. It was footballing love at first sight.

He has been in football since sitting in the dug-out at the old Baseball Ground as a school boy. Clough knows there are few certainties in the game, but Hughes making it to the very top of the English game is not a matter for conjecture for him. It is not a matter of if, but when and more importantly where? Hughes style dictates that he will only fit into a small number of teams, even though he could play at the base of a diamond, dictating play from deep, at either side of the diamond, because of his abilities on both sides and at the attacking point of the diamond, to thread passes into dangerous attackers.

Last season Manchester United were thought to be the leading admirers and probable destination for Hughes. The comparisons between Hughes and Paul Scholes, without the wonderful shooting from distance, are obvious. Arsenal would be a better fit, however, with their meticulous build up, love of passing the ball almost like it is an addiction. Hughes would be tuned into the wavelength immediately and completely at home exchanging triangles with Jack Wilshere and Mesut Ozil.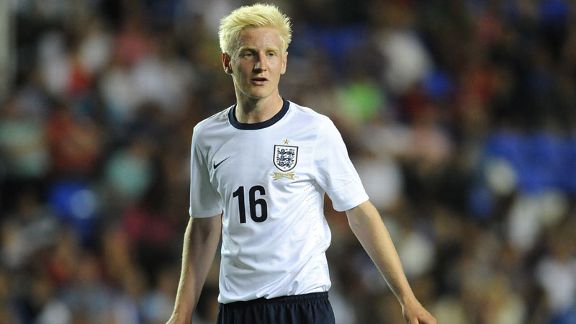 PA PhotosHughes has made the break into the England U21 setup, but how long before the seniors come calling?
Barcelona seems a fanciful destination, despite the dossier which has a place on the hard drive of the master computer that monitors talent across the globe, in the search for the new Iniesta or Xavi.

In recent months the smart money has been placed on Liverpool as the most likely destination, for a number of reasons, enhanced by the recent decision made at Anfield to loan Andre Wisdom to new boss Steve McClaren ahead of the first opportunity to test Derby's resolve on Hughes in January. As yet, despite all the chatter, no one has registered an official offer.

Liverpool have an edge for another reason. Hughes is a Liverpool supporter and idolises Steven Gerrard. It is believed Hughes has made it clear that Anfield is his preferred destination, when the time comes to clear his locker at Moor Farm. Brendan Rodgers' style and determination to pass his way, attractively, back into the real forefront of English football would suit Hughes perfectly and he would suit the Kop too.

He won't be the rampaging, marauding Gerrard in his prime, his passes will rarely travel anywhere near the distance of one of the England international's famous raking diagonal deliveries, but Hughes has the inner strength and courage to succeed where many before him have failed to cope with the expectation. Clough's mentoring and Hughes' intelligent and level-headed approach will see to that.

Before he was sacked, Clough, who fought tooth and nail against selling him last summer, felt more resistance in January would be futile, especially if there was a chance to loan him back like Manchester United did with Wilfred Zaha.

Derby accept they will have to sell their major asset in a bid to reduce a 15 million pound loan they owe to the Co-operative Bank, which is due for repayment in 2016. After posting losses of around seven million pounds in the last two financial years, with another loss expected by Derby's American owners General Sports and Entertainment, view Hughes as their golden ticket to virtually wipe out that debt. He might not look it, but Clough will tell you he is worth every penny.