Mourinho effect takes full control
"People go quickly to definite conclusions," a deflated Arsene Wenger told the gathering press after his team had lost to Chelsea on Tuesday.

He was correct, of course, but Chelsea's last two matches have convincingly suggested that Jose Mourinho's team are looming ominously, and in a fashion that looks rather familiar. The League Cup offers an open road to Wembley, while in the Premier League, Chelsea are two points behind Arsenal with a significantly tougher fixture list behind them than any of the other current top four.

It has taken a little while to piece things together but there is still no one with Mourinho's ability as a quick-fix team-builder in top-level football. October's schedule has been completed with all six matches won -- the relentlessness that all of the Portuguese manager's teams display on their path to silverware.

The manager himself has been at his insolent best, too. After Sunday's suited-up stage-dive into the Stamford Bridge crowd, his Tuesday ensemble was a full club tracksuit and car-coat of the type favoured by the most fanatical and least fashion-conscious of his club's support.

It signalled that he would not be dignifying the competition with any Sunday best, to continue his protest at having to play on Tuesday rather than Wednesday, having played Sunday's late match at 4pm. He sidestepped media duties, too, denying the broadcaster who requested the fixture be brought forward the bon mots that might keep viewers tuned in after the game had been completed.

A threat to play his youth team was withdrawn because, after all, he didn't need to. The Emirates was a reminder that he has a depth of squad that maybe only Manchester City might match. Ten changes made, and an Arsenal not too far short of their own first XI held at arm's length and then picked off; Mourinho's second team looked just as capable of the strengths that make his teams so effective.

Solid through the centre and hard-working in every department has always remained the Mourinho plan. The ideas are no different to those at FC Porto a decade ago.

"The training and Jose's principles of play, that he's been hammering home every day, there has been evidence in a few games now," assistant Steve Holland suggested as he stood in on the mike.

Sticking to his tactical doctrines is what allows Mourinho to have such a rapid effect on his teams. It gives him a quick bridge to concentrate quickly on motivation and morale. The sudden change in Fernando Torres is evidence of the latter, though training has also played a full part in such a positive upsurge and not just in Torres. After Sunday's defeat of Manchester City, Mourinho mentioned how John Terry's new lean physique had returned him to his best.

While the likes of David Moyes and Manuel Pellegrini scrabble around for formulae and the correct personnel while suffering the attendant consequences of mistakes, Mourinho has suffered very little in the way of collateral damage.

He is a believer in breaking eggs to make an omelette, to reheat one of his most overused metaphors. The deep freeze and gradual thaw he put on Juan Mata quickly showed who was boss, even if the Spaniard is one Roman Abramovich's favourite sons.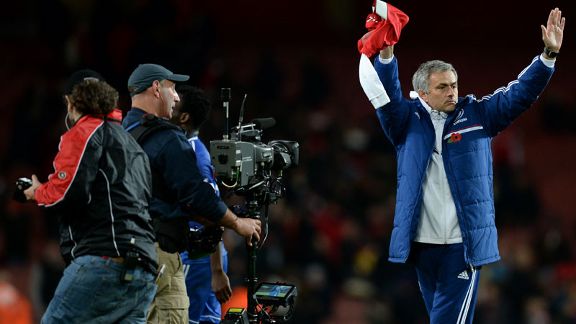 PA PhotosJose Mourinho celebrates on the pitch after defeating Arsenal.
At Arsenal, Mata and Cesar Azpilicueta were the goal scorers, two previously first-choice Spaniards now given a serious inquisition of their worth to the squad. The full-back's goal was a similar triumph of chasing down an opportunity as Torres' winner had been against City. Neither was a true accident: one of Mourinho's prime aims is to never allow the opponent to be settled. Forcing mistakes can be just as effective as attacking creativity.

September's home defeat to FC Basel has been shaken off in a Champions League group that should be completed with minimum fuss, as has the loss at Everton, which actually might never have occurred without some poor Chelsea first-half finishing at Goodison.

Mourinho could not quite hit the ground running as he did on his first coming in 2004, but then he had several strands to pull together. Any squad that has had seven full-time managers in six years will bear the disorganised signs of such frequent regime change.

No longer the rebel upstarts, Chelsea have matured as a club, and Mourinho does not quite have the power of old. Back then, he reported directly to chief executive Peter Kenyon, but an additional tranche that includes technical director Michael Emenalo has since been inserted. Abramovich's influence on football matters has increased, too, while Mourinho's familiarity does not offer an opportunity to work on a totally clean slate, either.

Nine years ago, no other could complete with Abramovich's riches. Now there is Manchester City to compete for talent in England, and the likes of PSG and Monaco in Europe to buy the type of players Mourinho would want in his team. The rest of the established elite spend much bigger now, too.

City, defeated with a smidgen of fortune on Sunday, were a new thing to Mourinho, and his delight at beating them was not hidden. Though he tempered his triumphalism when offering an apology to Pellegrini if he had taken offence at the wild celebrations, there was still a glint of cocksure satisfaction.

Mourinho has arrived back in England at what is looking ever more like an ideal time. None of England's other clubs are at optimum strength, and there is a power vacuum to step into: Arsenal's wobbly resolve must resist the backwash of an optimism drained by a pair of midweek defeats to Borussia Dortmund and Chelsea; Manchester United are undergoing growing pains; Liverpool seem underpowered behind their strikers; City have growing defensive problems; Spurs look leaden as they try to focus a new squad.

Those who make the quickest transition will profit in this Premier League season. The Mourinho effect is now clanking into gear, and the signs are that his usual level of success will be delivered.