Premier League's state of play
It's not often recommended to read too much into the supposed realities of November. The 11th month of 2008 had Chelsea as runaway champions; 2012 had Southampton as near-certainties to go down. Needless to say, neither quite came through.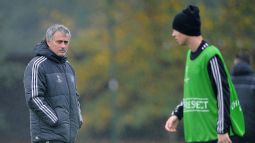 Charlie Crowhurst/Getty ImagesJose Mourinho is yet to exert his influence over Chelsea but has still prompted strong results.


Yet, after a summer that saw so much change at the top end of the Premier League, and removed truths that had stood for far longer than temporary periods of individual seasons -- from Alex Ferguson's enduring will to Arsenal's refusal to recruit genuinely top talent -- it does feel like a good time to take stock.

With a quarter of the season now gone and the Premier League to this week reach the 10-game point that traditionally allows a first fair look at the table, what are the trends of this nascent new era? What currently seems set to condition the final table?

Chelsea are still some way off their 2004-06 best -- but are developing a capacity for doing the least required

For all the understandable fanfare and excitement at Jose Mourinho's return, there has been a surprising flatness to some of Chelsea's performances. There have really been only two games when the coach has touched the coruscating attacking play his Real Madrid offered, and it is no surprise both of those came against Hull City and Aston Villa in the opening week, even if flashes were evident against Tottenham and Manchester City. The feeling does remain that Mourinho is still finding his best team and approach.

In the meantime, however, his side has crucially found the knack for winning games without such peaks. The City game made it five successive victories, seven in eight and those eight all undefeated. Mourinho repeatedly stated in his first months back that he can never accept building for the future without also winning in the present, and he appears to have already had some success in imbuing his players with that relentless type of expectation.

Of course, the win over Manuel Pellegrini's team that sustained this run was born of an extremely fortuitous finish, but was also partly a consequence of the desire Fernando Torres displayed. If it still feels like Chelsea's football is not quite capable of the aesthetic heights of City or even Arsenal, neither of those sides yet seem set to replicate it as regularly as Mourinho's side win.

City's hard edge but soft centre

The facts of Manchester City's current team would appear as obvious as the brilliance of Sergio Aguero and the atrocious errors of Joe Hart. They are currently the top scorers in the division but have seen just eight other teams concede more. It is quite the contrast. While their attack has already looked devastatingly slick, there is a potentially damaging slowness to their defence, exacerbated by Hart's continued loss of form.

If Aguero is also beginning to reproduce the form that made him so globally prized at Atletico Madrid and in his first season at Eastlands, Pellegrini will know he badly needs at least another quality centre-half alongside Vincent Kompany. City's games look set to see a certain amount of chaos, if also a lot of luscious football.

Suarez and Sturridge are covering an awful lot at Anfield -- but it could yet lead to a lot

In the entire chapter Ferguson devoted to Liverpool in his recently released autobiography, there was a lot of respect and praise for the Anfield club, if only because that allowed the odd dig. At the same time, the comment about Brendan Rodgers' side still lacking somewhere between seven and nine players to mount a title challenge does seem fair enough.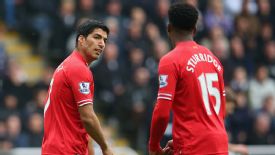 GettyImagesLuis Suarez and Daniel Sturridge are providing optimism at Liverpool.
At present, with Steven Gerrard still re-adjusting his altered role, there are really only two absolutely beyond question on the pitch: Luis Suarez and Daniel Sturridge. That is reflected in the stats. The two have scored 14 of Liverpool's 17 in the league, thereby covering an awful lot of issues. This is not to say the Anfield outfit are poor behind them or that Rodgers is doing an underwhelming job.

There has been clear progress in their play, in the integration and understanding of the coach's ideas, and the Irishman is obviously having a significant effect. The 4-1 win over West Brom was arguably the most convincing performance of the season so far. Things look bright. The point, however, is that the scintillating form of these two forwards has greatly illuminated the side. Liverpool have possibly been lifted to a somewhat artificial position, but such heights are exactly where Suarez and Sturridge belong. The question will be whether they can keep their team there.

Arsenal, Everton, Southampton and Manchester United still pose the most open questions

For certain sides, of course, nine games is still nowhere near enough to even begin analysing their progress. Not unsurprisingly, they are those adjusting to the deepest changes. Mauricio Pochettino has had a full summer to implement his ideas at Southampton; Arsenal finally changed policy with regards to purchasing premium players such as Mesut Ozil; Everton are playing under a new manager for the first time in 11 years, Manchester United -- most obviously -- for the first time in 27 years.

The point with each of these is that either the alterations or reactions have been so extreme that it's going to be difficult to determine anything for some time to come: all of Arsenal, Everton and Southampton are enjoying their best starts in years, United one of their worst. Many may point out that Manchester City are only two points ahead of their local rivals but the big difference is that their strengths and weaknesses are easy to figure out. With United and these other three, it is not quite like that.

Are Arsenal flying so high because Ozil has solved a lasting issue or just temporarily lifted them? Is it just the fixtures? How much of an effect has Roberto Martinez had on Everton? There are signs of evolution in their play, but how much has been covered by Romelu Lukaku and Gareth Barry? Can Southampton maintain this kind of approach without improving the overall quality of their squad?

Then, there's United, where the upheaval remains so dramatic that any kind of proper impression is impossible. It's such a new world, with so little previous evidence to go on. The historically defensive David Moyes has never employed an attack like this before so, even before beginning, it's hard to say whether any issues are down to his conservatism or the possibility the quality of the rest of the squad is not that high. The only thing we can say for certain about all four of these sides at the moment is that virtually everything about them is someway uncertain. Are Arsenal title challengers? Can Everton and Southampton maintain form? Will Moyes adjust to acceptable Old Trafford levels this season? Time will tell.

Even this season, relegation is more open than the title race

The only other area that remains as uncertain is near the relegation zone. Ultimately, it is exceptionally difficult to predict who will go down. Sunderland's win over Newcastle United hinted at a change in their status, after a dismal opening few weeks. At this juncture, it is only Crystal Palace who look anyway likely to be relegated, and that may suck some unexpected sides in, not least Newcastle themselves.