All square at half time in Asian Champions League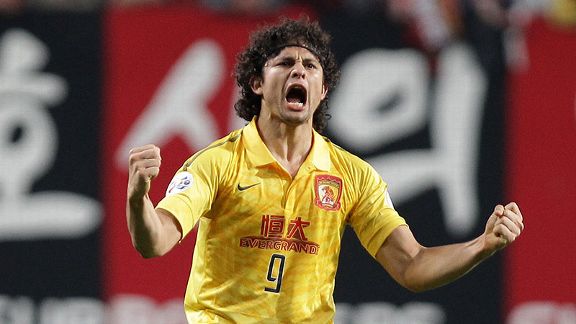 GettyImagesGuangzhou Evergrande's Elkeson De Oliveira Cardoso celebrates scoring in the first-leg of the ACL final.
Saturday night was supposed to be Marcello Lippi's night, a triumphant return to the global stage and the first step toward becoming the first man to coach a team to the Champions Leagues of Asia and Europe. The first triumph came with Juventus back in 1996. The Italian has come a long way in the subsequent 17 years, and so has Asian football. On a cold evening at Seoul World Cup Stadium, the production for the first leg of the 2013 Asian Champions League was as slick as for any big game around the world. Fifty-five thousand fans saw a pulsating 2-2 draw played out between hosts FC Seoul and Chinese visitors Guangzhou Evergrande.

Guangzhou are coached by the Italian World Cup-winner -- just one cosmopolitan example among many. A Spanish-born Japanese attacker put the Korean champions ahead early on only for a Brazilian to cancel out that advantage before the break. A Chinese player actually scored to give the visitors the advantage in the second half until a Montenegrin international struck for Seoul to make it all square with the second leg still to come in Guangzhou on Nov. 9.

If Dejan Damjanovic's late goal, a deserved one for the hosts, left Lippi feeling a little peeved, he didn't show it. After the game, he was asked by one of the army of Chinese journalists who had made the journey across the Yellow Sea why he had not seemed more excited. Lippi has, of course, seen it all before, and there was plenty of excitement generated by others in one of Asia's most impressive arenas, not least by a 10,000-plus contingent of away fans.

Lippi may be searching for another honour in an illustrious managerial career, but these fans and media are desperate for a first-ever China win in the Asian Champions League. The tournament started in 2002 and has been largely dominated by Japanese and, especially, Korean teams. Only once has the Middle Kingdom provided a continental champion, and that was way back in 1990. That's too long for the world's most populous nation, and the present tournament has become something of a holy grail. If Guangzhou can take the title, there will be nationwide celebrations.

There is still a very good chance that it will happen, as Guangzhou are still strong favourites and now have two away goals to play with in front of what will be a sold-out home stadium. But, as they say, and they all said it, this is only half time. There's still 90 minutes to go, still time for more goals, more drama and more incident and much more excitement from two teams that are more impressive going forward than they are defending. As Seoul boss Choi Yong-Soo, 40 and green compared to the experience of his silver-haired counterpart, pointed out, this was what Asian Champions League finals should be.

Choi was annoyed and encouraged at the same time. Seoul finished the stronger after an uncertain first half but conceded two relatively soft goals. Leaving Elkeson, the Brazilian goal machine, virtually unmarked at the far post from a corner does not make his header any less clinical, but it did have the suited Choi with hands in pockets, spinning around in frustration. At times, the Chinese team were given too much space in attack, as was in evidence when Gao Lin poked home in the second half to send the Reds into the lead.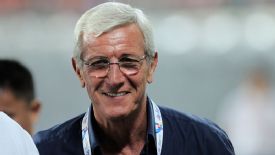 GettyImagesMarcello Lippi is on the cusp of becoming the first manager to win European and Asian Champions League titles.
It was a far cry from the opening minutes, when Damjanovic sent Sergio Escudero racing free through the middle to slot the ball past Zeng Cheng. It was something of a surprise that the Japanese star was preferred to the dynamic Yun Il-Lok, but he made no mistake with a cool finish and, if Choi made substitutions a little late, it was because Seoul grew in strength as the game went on and were enjoying their best period. Classy midfielder Ha Dae-Song was seeing more of the ball and Guangzhou's full-backs were starting to look increasingly exposed.

The Koreans had to fight, and there were some tasty challenges. Guangzhou have been dominant at home and overseas all year. The team strolled to a third consecutive Chinese title with five games of a 34-game season remaining. On the continent, after winning their group, they have scored 19 goals in six knockout games, conceding just three. Dario Conca, the Argentine playmaker signed in 2011, has been the best player in Asia this year and is well supported by Brazilian hotshots Elkeson and Muriqui, much of the Chinese national team and Kim Young-Gwon, the only regular South Korean international in display at Seoul World Cup Stadium.

Guangzhou made the better chances in the first half, with their equaliser coming after 29 minutes, at a time when Seoul were starting to settle. Conca was enjoying the space in front of the Korean backline even if Muriqui was not at his best, running into dead ends. The Chinese champions, full of confidence, pushed forward after the break -- after all, this is a team that tends to come to life in the second half -- and all braced for a more convincing win.

Not Seoul. The Koreans are, unlike their well-rested opponents, in the middle of a fierce five-team battle for the domestic crown, but perhaps more battle-hardened for that, and knew they needed a goal. Guangzhou looked to make hay on the counter-attack as the hosts pushed forward, but it was Damjanovic, scorer of four goals for Montenegro in 2014 World Cup qualification (including two against England), who got the goal Seoul deserved with eight minutes left.

Both teams came close in the closing stages with Seoul defenders twice making last-ditch tackles to deprive the yellow-shirted Guangzhou but as both coaches said at the end, 2-2 was the right result. Seoul feel they have a chance in the second leg with Guangzhou' vulnerable to pace while Lippi's men, aware that they have a game on their hands, are confident they can play better in China than they did in Korea.

"It was a well-fought and well-balanced game between two good teams," said Lippi, who stood, wearing a thick coat on a cold night, unmoving in his technical area for the full 90 minutes. "We created chances that we would usually score but did not take them this time. Some players showed they weren't up to their usual capabilities, they might not have been at 100 percent, but I don't like to call out names. I'm sure when we go back to Guangzhou to play the second leg, they'll be at the best of their capabilities."

That is the worry for Seoul. Guangzhou were not at their best yet still almost collected an away win -- but the Koreans, too, can play better. The second leg should be one to savor, and if Lippi does not manage to complete a unique coaching double he will be able to console himself that it will be an occasion fitting for the Asian Champions League final.