Sunderland must show guts without the promise of glory
"Gutless" -- it's an emotive word and one that was generously spread across the ratings column of one national newspaper this week when evaluating Sunderland's last Premier League performance -- a 4-0 humbling by Swansea City.

• Randall: Message to fans - tribal but decent
• Duffy: Five steps to derby success

The blunt fashion with which it was scattered amongst a number of the Black Cats' first team quickly forged a partition amongst readers. Some saw the comedy in condemning players for whom it seemed the pleasure of playing in the Premier League was not enough of a motivation.

For others -- most notably and ironically, Joey Barton -- it was an exaggerated velvet glove slap to an undeserving group of professionals. The truth perhaps lies somewhere in the middle, and irrespective of which side of the fence you find yourself on, there is a universal acknowledgement: Sunderland are in trouble.

Eight games into the season, and, already, the double sessions former Sunderland manager Paolo Di Canio once conducted at the club's training ground seem like a distant, cobweb-covered memory. The Italian had attempted to orate a revolution while failing to realise that his actions said more than any of his elongated news conference parables on professionalism ever could.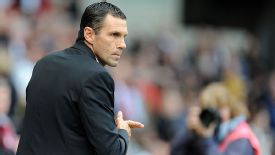 GettyImagesNew Sunderland boss Gus Poyet has a job on his hands at the Stadium of Light.
Admittedly, he was dealt a tough hand. He was forced to forge an understanding amongst a group that required impromptu games of charades just to initiate basic conversation. It told on the pitch with their lack of fluency serving to further highlight his own tactical naivety when using a very open 4-4-2 against infinitely better organised opposition. As the world around him called for calm, Di Canio digressed down a different, altogether more volatile path -- his fate understandably sealed.

Yet, if there was one thing Di Canio understood, it was the derby. He grasped the passion with the confidence and understanding of a man raised in the shadow of the Rome derby. He could recite the history of Newcastle and Sunderland dating back to its beginnings in the English civil war, when the two faced off on opposite sides. And when David Vaughan provided Sunderland's third goal back in April, Di Canio's mud-stained trousers confirmed his place in Sunderland's scrapbook of success.

Six months on and it doesn't seem as if a great deal has changed. It's with a sickening sense of déjà vu that Sunderland once again approach Sunday's game with Newcastle in dire need of points. This time, a spell in the second tier (at least mathematically) is still months from being sealed. However, with just one point to show for their endeavours, their current campaign is already dredging up bitter memories of the 15- and 19-point seasons that saw gaping wounds slashed open at the Stadium of Light.

Manager Gus Poyet would be wise not to focus on those memories. Reading about them will do him little benefit, nor will it help him empathize with the emotion of the day -- one of bitter disappointment at being so inept. This time, the narrative is somewhat different, however. There are internationals and long-standing Premier League players in this side. Take for example: Jozy Altidore, Seb Larsson and Emanuele Giaccherini, all of whom are balancing World Cup dreams with the fact they might be Championship players when they board their respective country's plane to Brazil.

For some of the squad, relegation will prove the catalyst to an exit from Wearside. For others, it might simply mean a pay cut and a stay in the second tier. To Sunderland, it could prove cataclysmic. With a number of the squad nearing the end of their contracts, a reconstructive summer is not often conducive to promotion. Just ask Sunday's visitors Newcastle, who maintained the core of their squad before attempting their ascent to the Premier League.

It is for that reason that Sunderland must avoid the precipice now more than ever. The fact a home ticket can still be purchased shows that some fans have seen enough -- and who can blame them? Talent is constructed on a foundation of genetics. Effort is not. Too often this season, Sunderland fans have seen the latter lacking, and, on Sunday, that will simply not suffice.

That's because Newcastle smell blood. Newcastle manager Alan Pardew has spoken of the scars formed during their April humiliation at home to Sunderland, and it is somewhat fitting that their precursor to Sunday was against Liverpool -- the side that preceded Sunderland in their home schedule back in April and provided six of the nine unanswered home goals that month.

In securing a point last week, Pardew felt the relief of catharsis, and understandably so. The meek, passionless players of six months ago now seem mentally stronger and subsequently further away from the bottom three. That is also in part due to the arrival of Loic Remy, who is showing no ill effects of relegation last season. If the word "gutless" is to be thrown around, it could have been easily applied to Newcastle's performances in April. Sunday also represents a chance for them to appease a fan base and prove they have evolved.

And yet, for all the talk of individuals -- Remy or Altidore, Yohan Cabaye or Lee Cattermole -- it is in fact the best team that tends to emerge victorious. Newcastle are attempting to stitch together a defence that could contain academy graduate Paul Dummett at the heart of it. A local product who revealed he would buy a ticket for the game if not selected -- it is a nerve-whittling task for even more seasoned professionals.

Meanwhile, Poyet has unsurprisingly stated his intention to pick the best team over the best individuals -- perhaps a subtle nod to the inclusion of an English core that includes former pariah Phil Bardsley.

The defender is a polarising individual on Wearside. Lamentable conduct in the midst of a relegation battle last season is unforgivable in the eyes of some. For others, the time for moral stands is not when you find yourself in the quicksand of relegation, and it is for that reason Sunday's game takes on such significance.

With a dichotomy forming between the terraces and the pitch at Sunderland, the club require a display of unity and solidarity. On Sunday, it falls to the players to spark that reunion. If defeat is the outcome, it places Poyet in a position of intense pressure long before a run of bad games under him. And yet, even if he does secure the much-needed points, he does so knowing that it guarantees them only a few dozen yards in their mile-long journey to salvation.