For all the attempts to stoke the rivalry, for all the requests that both managers go into the fine details of their supposedly acrimonious history, Manuel Pellegrini typically put his relationship with Jose Mourinho in more realistic terms on Friday.

"I don't know him," the Manchester City manager simply put it. "He worked in Spain, I worked in another club. We played Real Madrid against Malaga. Nothing more."

So much for any simmering resentment.

• Mooney: Draw with Chelsea acceptable
• Worrall: Mourinho to give Blues the edge

Of course, much of the perception goes back to the summer of 2010, and the fact Florentino Perez sacked Pellegrini to hire Mourinho. Yet, even if much of the drama around that has been manufactured, the decision was also the moment that fully revealed and reflected just how different these two managers are. Arguably more than any other coaches in that top echelon, they are polar opposites in almost every way.

Because, if Mourinho and Rafa Benitez genuinely dislike each other, there is still common ground in their pragmatism. If the Portuguese and Pep Guardiola developed a rancorous rivalry, the Catalan was not quite so above abrasive digs as he made out.

With Pellegrini, however, there are genuine contrasts right across the board -- from approach to demeanour to record.

The Chilean simply will not compromise his attacking style of play; Mourinho will do anything it takes to win. Pellegrini abhors getting involved in personality clashes; the Portuguese appears to relish them. Finally, as Mourinho will doubtless point out should this season's title race come to it, he has won a total of 17 major honours in his managerial career; Pellegrini has won nothing since he came to Europe.

As the City manager did admit, they have "a different way of thinking about life".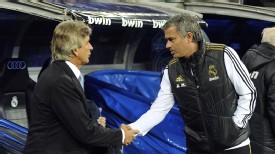 GettyImagesManuel Pellegrini was replaced by Jose Mourinho at Real Madrid; now the pair will do battle in the Premier League.
The Real Madrid decision did not just fully bring to light their differences, either. It arguably deepened perceptions.

Because, while Pellegrini seemingly only had his reputation enhanced despite departing the Bernabeu without winning anything, Mourinho's seemed to be damaged even though he beat one of the greatest Barcelona sides in history to a title.

It is not the only time their careers have overlapped, even if it has generally come in less obvious ways. Both came to prominence on the continent at the same time, with Pellegrini arriving in Europe at Villarreal in the same year that Mourinho won his first Champions League with Porto. Before that, Alex Ferguson had attempted to hire the Chilean as assistant manager, before the Scot struck up something of an older-brother relationship with Mourinho.

Even in the time since Pellegrini left Madrid, Roman Abramovich is understood to have considered him as a potential Chelsea manager as late as April of this year, before finally agreeing a deal with the Portuguese. Shortly after that, City reportedly rushed the dismissal of Roberto Mancini to make sure of hiring Pellegrini before Mourinho's great rivals at Barcelona began considering him.

Those latter developments put something of a different spin on the Chelsea manager's apparent 2011 barb that he would not have gone to a club like Malaga after leaving Real Madrid, as Pellegrini did.

Mourinho attempted to put a very different spin on the comment himself, when asked on Friday why he actually said it.

"Because I wouldn't [go to Malaga]. I wouldn't. Because I'm in a situation where I can choose. Some people can't choose. If in this moment I decide to stop football, I stop football. It's just that. But no offence to him, or to Malaga. Just simple."

For his part, Mourinho also refused to stoke any rivalry on Friday. Other than repeatedly insisting he did not want to talk about either Pellegrini or Real Madrid, he was much more complimentary, even if he couldn't resist the odd edgy implication about the quality of City's team and what that should entail.

"No problems, I have no problems [with him]," Mourinho claimed, before stating Pellegrini is well capable of ending his European trophy drought and winning the title.

"I think so, and he has the most important thing which is an unbelievable squad of players."

There is also the effect of the managers' personalities on those squads. For all the clichés about teams reflecting the men in charge, it does seem particularly true for this game.

City have been an urbane side with plenty to admire about their sophistication, they don't always look too durable in terms of defence. There is a detachment to go along with their manager's.

Chelsea, meanwhile, are well capable of a theatrical flourish and can be engaging -- but are perfectly prepared to mix that with some fire and a considerable degree of pragmatism if it means getting a result.

That is also what it would presently appear to boil down to as regards both this specific game and the broader season. There is a fair argument that City's best football is a higher level than everyone else's, but that they will not be able to produce it as regularly as Chelsea will grind out wins.

At the least, there isn't that much of an argument between the managers before the fixture.