CSKA racism row: The Russian reaction
For a fleeting instance on Wednesday night, the media -- both English and Russian -- looked set to file copy on an impressive and resilient win for Manchester City in Moscow, and yet another majestic display by Sergio Aguero. Then, sweeping away both the prematch narrative of pitch trouble and the game itself, Yaya Toure lamented the treatment he received from CSKA fans, and urged UEFA to step in.

The news agenda in England immediately shifted toward Russia's problems with racism, and a discussion about how effective UEFA's prospective punishments may be. On Thursday, UEFA announced "disciplinary proceedings have been opened against PFC CSKA Moskva for racist behaviour of their fans and for setting off of fireworks," and now the Russian media has been forced to react to yet another allegation of racist abuse from the stands.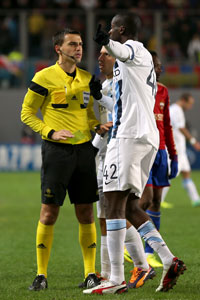 APYaya Toure reports racist chanting from CSKA fans to the referee.
The reports from Russian news outlets, though, and conversations with those in attendance, have muddied the water slightly. James Ellingworth, an English journalist working for Russian news agency RIA Novosti, suggested that the chanting wasn't audible from the press box, yet he says video footage of the incident seems quite conclusive. Ellingworth also points to the fact that Toure himself is a fluent Russian speaker, after spending time at Metalurh Donetsk, so the possibility of him misunderstanding chants is unlikely.

CSKA, on the other hand, insisted that, on review of their match tapes, they could find "no racist insults from PFC CSKA supporters to the guests." The statement was corroborated by CSKA forward and Toure's Ivorian teammate Seydou Doumbia, who said: "I've heard nothing of this [racist chanting] from our fans. Yes, they are noisy and try to put maximum pressure on the opponent, but they make no racist chants."

The emphasis on fans wanting to put "maximum pressure" on their opponents is interesting in this context. Here, chants toward black players during football matches are often seen as 'banter,' with Russian friends comparing it to London clubs singing about northern fans coming from their "northern slums."

Despite this, racism, ethnic tensions and nationalism have been brought to the forefront of the Russian news agenda recently with the murder of Yegor Shcherbakov. An ethnic Russian, Shcherbakov was killed in Moscow's southern working-class district of Biryulyovo, with police detaining a native of Azerbaijan as a suspect. The result was riots in the district with a section of protesters calling for "Russia for Russia," and shouting "White Power." These tensions reflect feelings of Russian nationalism in respect to Caucasian migrants and growing ethnic quarrels within Moscow. But the links to Russia's black community and the events of Wednesday night are unclear.

What is clear, however, is that from a western European and UEFA perspective, any chanting referencing the colour of a footballer's skin is a punishable offence, and quite rightly. In Russia, however, racist chanting is put under the bracket of "offensive behaviour," the same category as lighting flares inside a stadium. The maximum punishment for such an offence is $6,000. This perhaps reflects the view outlined to ESPN by Russian football commentator Vladimir Stognienko, who suggests that some CSKA fans simply cannot fathom why UEFA take such a strong stance against chants of this nature.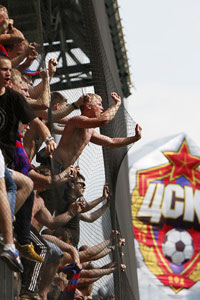 GettyImagesIn Russia, chants towards black players during football matches are often seen as 'banter'.
Denis Romantsov, writing for popular Russian website Sports.ru, offered the melancholic line, "It is a pity," when referencing the allegations made by Toure. Sport-Express counterbalanced the allegations by insisting that the UEFA match delegate had not heard the racist chanting, pointing to the fact that the referee did not act according to the new UEFA guidelines on racist behaviour at football matches. It is perhaps telling of the difference in priorities that, on Sport-Express' round up of comments on the match, only one of their 13 soundbites focused on Toure and racist chanting.

The responsibility, as both Toure and City captain Vincent Kompany have outlined, now falls on UEFA to progress through the disciplinary proceedings. Whatever the outcome of UEFA's hearing, there are going to be disappointed parties, with the different cultures of England and Russia placing different standards on what is acceptable in common parlance and at football matches.

Russian football fans, and by necessary extension Russian society, though, must accept their chanting as unacceptable if Toure and other players feel so aggrieved as to report their feelings to the referee and call for action from UEFA.

Some sections of Russian society, in light of this year's World Athletics Championships in Moscow, aimed criticism at athletes who chose to wear rainbow colours in protest at the Russian law against "gay propaganda." Here, those criticising declared that athletes should respect the laws of the country they are in. If that is truly how Russians feel, they should also respect the spirit of the game of football, and the laws of its governing bodies, with the tacit awareness that any references to a player's skin colour will cause offense and will be punished.