Lamberto Boranga -- the 70-year-old goalkeeper, doctor and poet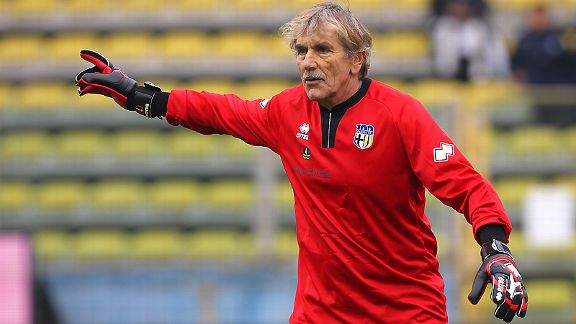 GettyImagesLamberto Boranga: 70 years old and still going strong.
As part of Parma's centenary celebrations, president Tommaso Ghirardi arranged an outstanding event last week. He invited a score of the club's former stars from years gone by for a nostalgic meeting and kick around at the Ennio Tardini stadium. Parma were one of the richest clubs in Italy in the '90s, sponsored by the Parmalat food corporation, and their team was full of marquee players. Last Sunday, the fans had a unique opportunity to meet them again.

There were the heroes responsible for winning the Italian Cup in 1992 and the Cup Winners' Cup a year later, such as captain Lorenzo Minotti, World Cup full-back Antonio Benarrivo and striker Alessandro Melli. Gianfranco Zola played a few minutes, and Faustino Asprilla came along. Massimo Crippa and Fernando Couto were warmly accepted, and so were the illustrious players of the late '90s who won the club's last European title, the UEFA Cup in 1999, such as Lilian Thuram, Fabio Cannavaro, Dino Baggio, Diego Fuser and Hernan Crespo.

On such a historic occasion, it was quite astonishing to see someone who played for Parma in the late '70s stealing all the headlines. And yet that's just what septuagenarian Lamberto Boranga did. The goalkeeper, who will celebrate his 71st birthday on Oct. 30, started between the posts for the centenary celebration match and pulled out an incredible save. Asprilla, the Colombian striker so used to scoring at the stadium, headed at the goal from Fernando Couto's cross only to see Boranga roll back the years to deny him a goal in acrobatic style.



Boranga's save is not too different from what is considered one of the greatest ever -- that of Gordon Banks from Pele's header at the World Cup in 1970. Remarkably, Boranga, fondly known as Bongo among friends, is just five years younger than Banks.

Boranga was born in 1942, just like Italian goalkeeping legend Dino Zoff, who was, and still is, the oldest-ever World Cup winner when he lifted the trophy in 1982 at age 40. Both Boranga and Zoff retired in 1983, but while the latter left the pitch for good, the former made a comeback three times, and now regularly plays in Italy's regional division.

The first time Boranga was asked to put his gloves on again was at the age of 50. Bastardo, a tiny team from a town near his home town of Foligno, had both their regular goalkeepers out injured, and Bongo couldn't refuse. He played well, conceded a single goal, and realised he was still in good shape.

Then, at the beginning of last decade, Boranga started playing for veteran teams. In 2009, Ammeto needed his help when all their keepers were suspended. "I didn't know how to resist the lure of the football field," Boranga said. The 67-year-old's return to the football pitch became quite a sensation in Umbria, and a TV crew was sent to document the occasion.



Boranga played four times for Ammato, but two years ago, he decided it was time to start playing on a weekly basis again. Signing for Papiano, a village team just south of Perugia, proved to be a great success. In January, he signed a contract extension that will keep him between the posts until 2015 -- when he will be 73. And he doesn't have to stop there.

Boranga is successful in more sports than just football. He won gold medals at the World Masters Championships and European Masters Championships in long jump and high jump. A 5.47-meter jump in 2008 brought him a world record for athletes older than 65, and a few days after his 70th birthday, he duly broke the world record in triple jump for his age group, at 10.75 meters. More is expected from him in the coming years.

There is no doubt that Boranga knows how to keep his body in perfect shape, no doubt owing to the fact he is a doctor. In fact, professional aspirations very nearly cut his original playing career short. Bongo was one of a crop of talented young goalkeepers in Italy in the '60s, but, after making his mark at Perugia, he failed to get a regular spot at Fiorentina in 1966. Deciding to drop back to Serie B and play for Reggiana, Boranga started studying medicine and biology at the University of Parma.

While he excelled on the pitch, he was even better in the class. By the age of 30, the dream to return to Serie A seemed to be forgotten.

In 1973, Boranga had just earned a prestigious job at the Institute of Hygiene and Prophylaxis in Reggio Emilia, when Cesena president called him out of the blue and asked, "Would you play for us, doctor?" The offer was impossible to resist, and Boranga, fired by the institute, later said, "I forfeited the professional security and went into the risky and unstable world of football."

Cesena were a respected Serie A team in those days, and Boranga quickly made a name for himself. Not only a very decent keeper, he was also the only player in the league with two academic degrees. He also wrote poetry and participated in amateur writing contests. A footballer, who is also a doctor and a philosopher, Boranga could probably be called the Italian Socrates.

Bongo spent four eventful seasons at Cesena, during which he became famous for some very original antics. Suffering from low blood pressure, Dr. Boranga decided it would be helpful to drink coffee during matches and arranged for the team masseur to bring him cups of the popular drink to sip when Cesena were on the attack. In the winter months, some brandy was added to the coffee to keep Boranga's body warmer.

A keen fan of meditation, Bongo was advised to invent a ritual that must be done every few minutes, in order to keep his concentration. The keeper decided that throwing his cap into the air was the perfect solution, and became famous for doing so. It even helped Cesena gain points in a game against Cagliari, when the famous Sardinian striker Gigi Riva became distracted by Boranga's cap-flinging antics as he was preparing to take a penalty and missed, hitting the post.

A very friendly person off the pitch, Boranga could be very confrontational on it, especially when sensing injustice. He could not stand play-acting by opponents, and the most famous confrontation occurred during Cesena's UEFA Cup clash with Magdeburg in 1976. Jurgen Sparwasser, the striker whose name will forever remain in history for scoring the winning goal for East Germany against West Germany in the 1974 World Cup, was the biggest star of Magdeburg. During the first half, he went down easily in the box, tackled by Giancarlo Oddi. The referee awarded a penalty, and while Sparwasser and Oddi argued, Boranga came running and punched the German star. Bizarrely, the officials sent Oddi off instead of the keeper.

Magdeburg won the first leg 3-0, and the story goes that Sparwasser was afraid to go to Italy for the second leg, unwilling to meet Boranga again. He eventually played and scored the crucial away goal in a 3-1 Cesena win, putting the Italians out. Boranga was at fault that day, and he considers it to be the biggest single mistake of his career.

Cesena were relegated in 1977, and that's when Boranga's Serie A career ended. He moved to Varese, and then to Parma, helping them to promotion from Serie C to Serie B in 1979. The biggest rising star at Parma in those days was 19-year-old midfielder Carlo Ancelotti, but the future superstar and coach was once forced to play in goal after Boranga was sent off. That was not Boranga's only sending off during the Parma days. In 1980, Boranga decided another opponent for play-acting, kicking Verona's young star Beniamino Vignola, who later played for Juventus.

"We played for fun in our day," Boranga said. He was a star in the '70s, but he is a legend now.