Don't blame Redknapp, he's just acting like everyone else in football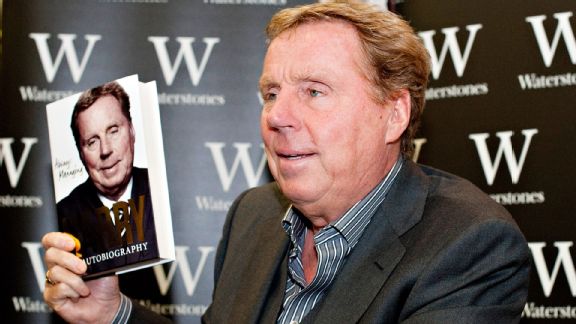 Charlie Crowhurst/Getty ImagesHarry Redknapp's book, "Always Managing", has created a lot of controversy in England.
The first blow came from Steven Gerrard.

The second, dredging the depths of even the most ardent Aston Villa fan's memory, emanated from Shaun Teale.

And then they were all there, questioning, knocking, denying: Julian Dicks and Brendan Rodgers and finally, devastatingly, Billy Bonds. It is safe to say Harry Redknapp's autobiography, "Always Managing," has not been received well by those who feature in it.

Two weeks or so after the book hit the shelves, huge swaths of it have already been discredited. Redknapp has been accused of being "economical with the truth," of misleading his readers, of misremembering and misrepresenting his past, his relationships, his career.

The most serious case is that of Bonds, but possibly the most embarrassing relates to Gerrard. It was just a few hours after the first of four excerpts had been serialised in the Daily Mail that the England captain, who had reportedly sent Redknapp a text offering his fervent support in his campaign to become manager of the national side, denied doing any such thing.

"All the senior players seemed to be up for me to get the job," wrote Redknapp. "I got quite a few text messages at the time from players saying they would love me to manage England: Steven Gerrard, Wayne Rooney, Rio Ferdinand, John Terry."

Gerrard's response was so damning because it was so simple, so laconic and so immediate. "I didn't text Harry Redknapp's personal phone. I have never had his number."

In retrospect, Redknapp's version of events always looked unlikely. He has, as he told a police accountant last year, "never sent a text message." He has detailed his ineptitude in technological matters on countless occasions, seemingly blissfully ignorant of the fact that it makes him look a bit, well, thick.

Still, maybe Redknapp was guilty of nothing more than a slight lapse in memory; as Gerrard admitted, he had spoken to Redknapp's son, Jamie, and asked him to pass on his best to the then-Tottenham manager, assuring him the players would support him if he did replace Fabio Capello. Easy enough to do, after all. Yep, we should maybe cut Redknapp some slack.

But then Teale, a central defender Redknapp had at Bournemouth, opened up a second front. Redknapp had told a story about the player's wife trying to run him over "in a row over about a hundred quid."

"She marched down to the training ground over some minor contractual issue and gave me a mouthful -- the next thing I knew she was reversing out of the car park so fast she nearly took me with her."

There is just one problem with that: "He says my wife tried to run him over," Teale tweeted. "The truth is my wife did not learn to drive until years later."

Ah. Still, maybe she hired a driver. Maybe she hot-wired a car and her lack of expertise behind the wheel was the root cause of the whole unpleasant business.

Except that, well, there are so many more.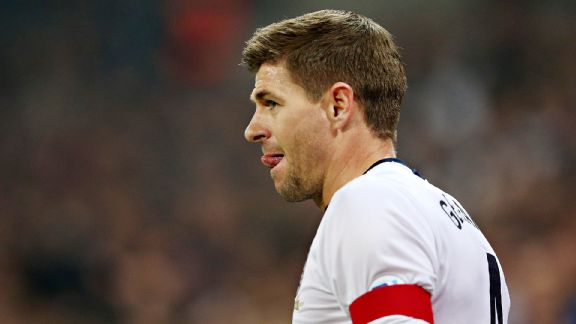 Scott Heavey/Getty ImagesSteven Gerrard is one of many who deny claims from Harry Redknapp's book.

There's Dicks, who denied a claim he turned up for preseason training two days late, insisting it was "a few hours." There's Rodgers, too, whom Redknapp claimed had agreed to be his assistant at the 2012 European championships -- should he have got the England job. But Rodgers doesn't remember it quite like that.

"My version was that in April, when I was manager at Swansea, Harry had asked me after the game when we played," said Rodgers. "He pulled me aside and it was a unique conversation because he was obviously very confident -- as was the nation -- he was going to be offered the national team job. Here was a Premier League manager asking another Premier League manager to come and work with him at the European championship.

"It was a quick conversation. I was aware he was very keen for me to team up with him if he was given the role. There was no decision either way. Out of the respect I have for Harry, I was going to consider it."

And then there was the rather curious case of Carl Richards, as signalled by football365.com, a player signed by Redknapp "from Enfield" for 10,000 pounds. Richards, Redknapp says, was terrible, and when he told the Bournemouth manager that a friend of his at Enfield wanted a trial but was not as good as him, Redknapp understandably spurned the chance. It turned out the friend was Ian Wright, who would go on to present "Live From Studio Five."

It's a typical Redknapp tale, told with great panache -- just as the story of the fan who played for West Ham is, or the one about the Newmarket kitchen-hand who conned him out of thousands of pounds -- but it is simply not true: Richards joined Bournemouth in 1986, Wright signed for Crystal Palace in 1985.

Then there is Bonds, who has described Redknapp's account of his departure from West Ham in 1993 as "pathetic" and "very liberal with the truth." The pair have not spoken for 20 years after Redknapp, Bonds' assistant, was appointed manager at Upton Park and Bonds left the club. Redknapp claimed in his book that Bonds had been offered a director of football role, that he had nothing to do with his departure and that he would swap everything to have his old friend back.

Bonds, though, says all of that is "utter nonsense."

What is the point of this? To prove Redknapp is a liar? To suggest that everything he says should be treated with a degree of distrust? Partly. Maybe. But then, is there any need? This is a man who, after all, has previously called journalists with information, and then -- when asked publicly about the matter -- declaimed: "I don't know where they get this stuff from."

From you, Harry. From you.

But there is a broader issue at stake, too. There is a possibility, of course, that Redknapp may not, in any of the above instances, be lying, not in the sense that he set out to mislead anyone. It may just be that truth is a fluid concept; my perception of an event, my truth of it, may not be the same as yours. This may genuinely be how Redknapp recalls all of these things, or the part he played in them.

And this is the crux of it. There is no football journalist in the world who has not been accused, at some point, of providing unreliable information because of a lack of quotes. It is a common refrain, an easy criticism. Yet it completely misses the point. Football managers, football players, agents, scouts, coaches, whoever, mislead -- willingly or not -- on a daily basis.

Sometimes they do so deliberately, and sometimes they do so accidentally. And make no mistake: they all do it, the good ones and the bad -- the two worst for regurgitating inaccurate statistics, for example, are Arsene Wenger and Sam Allardyce.

It is an inherently dishonest world. That is why Redknapp fits into it so seamlessly, because he is so easily dishonest, whether he means to be or not. It is a world we have all created, managers and media and fans alike, because it benefits us all. Managers get to spin information, or disseminate that which is beneficial; the media get to use what they wish how they wish, and the fans can believe the parts that soothe them and ignore the ones that don't.

Redknapp's detractors do not want to believe what he says. They will see Gerrard's and Rodgers' accounts and all the others as the unvarnished truth. Are they? Possibly. Possibly not. Maybe their memories are playing tricks on them. Truth is a fluid concept. We all believe what we want to believe. It's just that Harry makes it a bit harder than everyone else.