Do you believe in the Gunners?
A strange thing happened to Arsenal this week. They actually lost a football match.

Borussia Dortmund's triumph at the Emirates in the Champions League was the first time the Gunners had been beaten in any competition since the opening day of the season, when Aston Villa left them in shock and awe.

Arsene Wenger's side still sit stylishly atop of the Premier League, yet find that most pundits and British bookmakers simply do not believe they can last the distance and win their first title since the 2004 "Invincibles."

Well, why not?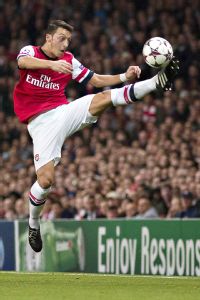 Tolga Akmen/Getty ImagesThe Gunners suffered a setback in the Champions League, but still sit atop the Premier League table.
It is not as if Arsenal's form is a flash in the pan. After all, they finished last season with a run of 26 points from 30 in a sprint finish that took them past Spurs and into the Champions League. The signing of Mesut Ozil has given the club a massive injection of confidence, optimism and belief that this can be a trophy-winning season at last. And it has ended the Emirates "civil war" in which some fans, disillusioned with Wenger's previously miserly approach to transfers, were on the verge of mutiny.

Aaron Ramsey has suddenly flourished into a world-class talent and Olivier Giroud is winning over critics who felt he lacked the touch and class of a world-class striker.

Wenger's problem -- and perhaps it's a good one to have -- is how to fit his vast array of midfield talent into the team with Jack Wilshere, Mikel Arteta, Santi Cazorla, Tomas Rosicky and Mathieu Flamini competing with Ozil and Ramsey. Keeping them all happy will not be easy.

Obviously Ozil has to start, and so surely does Flamini to provide some bite alongside all those wonderful ball-playing poets and dreamers.

Flamini's comeback at Arsenal has been one of the stories of their season. The Frenchman turned up for training to keep fit and stay sharp, but he looked so impressive that Wenger decided to re-sign him and put him straight into the starting line-up.

Perhaps it's no coincidence that with their best "security man" injured, Arsenal conceded a sucker-punch winner to Dortmund.

The problems for Wenger might start if Flamini was missing for any length of time. Arteta can fill in there as he did last season, but playing the enforcer is not his natural role and, putting it bluntly, he lacks Flamini's nasty streak.

The other Gunners' concern must be what happens if Giroud picks up a long-term injury. The alternative is Nicklas Bendtner, who has been so far on the wrong side of the tracks at Arsenal that he could barely hear the train whistle. The only other option up front would be Theo Walcott, who loves playing there but probably lacks the physicality needed for the role on a long-term basis.

Wenger must surely buy some better strike cover in January.

What of a much-maligned defence? Keeper Wojciech Szczesny appears to have rediscovered his form after being taken out of the firing line late last season, but you wonder whether Wenger might be tempted to make a move for someone like the increasingly impressive Aston Villa and U.S. keeper Brad Guzan.

Laurent Koscielny is prone to hot-headed moments and Per Mertesacker is clearly no immediate threat to Usain Bolt's 100-metre world record, but the stats tell you this is a decent pairing at the back for Arsenal. Only Villa have breached that defence more than once in the Premier League so far, and in that storming run at the back end of last season Arsenal conceded just five goals in 10 games.

It is true that the Gunners have not had the most demanding set of league games so far -- though they did beat Spurs -- and the upcoming tests against Liverpool and Manchester United might reveal more about their title credentials.

With 30 games remaining, only the brave or foolhardy would make hard and fast predictions about how this season might pan out, but there is no real reason why Arsenal, with their abundance of flair, cannot stay involved in the argument.

While I still lean tentatively towards Chelsea to win the league, the 5-1 odds being offered against the current leaders are tempting.