Cisse soldiering on with Kuban
"It reassures me. It's the sign that I'm thinking 'I know everything's going well.'" Even if Djibril Cisse arrives at the Liberty Stadium minus the familiar mohawk, there will be no doubting his willingness to scrap and battle every inch of the way as Kuban Krasnodar aim to claw back the six points by which they trail Swansea in Europa League Group A.

The unlikely move to Russia is -- rather than solely a wallet-filler at the age of 32 -- a statement that Cisse is still hungry. Logic might suggest that a return to the France squad is unlikely, particularly given the mixed form of his spells at Lazio and Queens Park Rangers in recent seasons. Yet while he has energy to burn, a right foot to fire with and lungs with which to roar, the pugnacious striker has no intention of giving up.

After rescinding his contract with QPR in the summer, Cisse turned down an astronomical offer to play in China -- reputed to be in the region of €20 million basic salary for two years -- because he still believes in the dream. He clearly has an eye on post-career, as Montpellier president Louis Nicollin chided when pulling out of a possible deal this summer. "What would I want with a DJ at my club?" chuntered Nicollin, after Cisse was interviewed spinning at a local nightspot.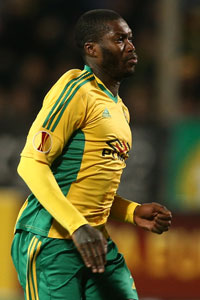 GettyImagesA place in Didier Deschamps' France squad for next summer's World Cup appears beyond Cisse.
Having opened a clothes shop on Newcastle's trendy Lower Bridge Street while on loan at Sunderland, the client list of Cisse's Mr Renoir label now includes celebrities as diverse as American rapper Macklemore and Niall from One Direction. That is, however, a side project for now. Returning to a Premier League ground is a reminder to him of how lucky he is to still be able to play football at all. It was four months into his first spell in England, with Liverpool, that he sustained the horrendous double leg-break in an October away game at Blackburn that could easily have ended in amputation.

Astonishingly, that 2004-05 season ended in triumph in Istanbul, as Cisse not only returned to action but successfully converted in the penalty shootout which sealed the Reds' Champions League final win over AC Milan. Other trials followed, as Rafael Benitez played Cisse out wide before moving him on to Marseille, shortly after he suffered another leg break in 2006, during France's final warm-up for the World Cup, against China.

The latter injury was nowhere near as severe as that sickening blow at Ewood Park, but when one considers the cumulative effect on a player who relies so heavily on physical power, it's a near-miracle that Cisse has continued to appear at the top level. "I know that, technically, I'm not the most gifted," he told French magazine So Foot in a recent interview. "But in terms of striking the ball and in terms of speed, I know what I'm doing."

The latter of those attributes has sometimes seemed like halfway between a blessing and a curse. Cisse's pace encouraged Benitez to use him on the wing, and the situation recurred many years later after his move to Rome, when Lazio coach Edy Reja decided to deploy his man out wide.

"I'd obviously have preferred to play in a front two, with Miro Klose," he told So Foot. "But the coach wanted me to play wide, and put crosses in. I was creating goals, and so it proved him right. The only problem was that I don't play football to make decisive passes. When you're a centre-forward, you need goals. It's as simple as that."

Cisse had piled up plenty -- 55, to be exact -- in the two seasons before arriving at the Stadio Olimpico, spent with Panathinaikos. Armed with their French spearhead, The Greens won the Greek Super League for the first time in six years in 2010, breaking the perennial stranglehold of Olympiakos on the division on their way to sealing a glorious league and cup double.

This was a period in which Cisse returned to his very best. Even those who saw him as a flat-track bully in a second-class competition were forced to admit he had his swagger back, notably when Pana defeated Roma on their own patch in a thrilling Europa League tie. Then-France coach Raymond Domenech was swayed, recalling Cisse to his squad in March 2010, with the striker winning a squad place for the ill-fated World Cup that summer.

It is his previous resurrection in Athens that has inspired the move to Russia now. Cisse believes -- not unreasonably -- that visibility in European competition with Kuban, and scoring goals in that environment, is the only way he has any hope of catching Didier Deschamps' attention. It is an admirable, if devoutly optimistic, point of view, but making a dent in the Europa League is important to him.

Cisse has other reasons to relish this return to British shores. His heart-on-sleeve style always appeared perfectly forged for the Premier League, and he adapted well on a personal level too, meeting his English (now-former) wife during his time at Liverpool, also the mother of his three youngest children. England was also where he famously acquired the title Lord of the Manor of Frodsham on purchasing his country estate in the north-west -- he subsequently garnered plaudits from animal rights groups by banning the Cheshire Forest Hunt from riding on his land.

His best is not so far in the past. While Premier League fans' most recent memory of Cisse might be of Harry Redknapp preferring to go without a senior striker than persevere with him -- then sending him out on loan to Al-Gharafa in Qatar -- the Frenchman's immediate impact at Loftus Road should not be forgotten. His six goals in eight games ultimately helped QPR stay up in 2011-12.

It has not been plain sailing for Cisse in Russia, as he dips in and out of a starting line-up rocked by the rapid sacking of coach Dorinel Munteanu, and arriving in Wales from a defeat at Dinamo Moscow that saw Kuban finish with nine men. Yet if Kuban can absorb their French striker's penchant for the unlikely comeback, Swansea could yet encounter a few bumps on the road to qualification for the knockout rounds.