Moyes still confronted by Fergie's shadow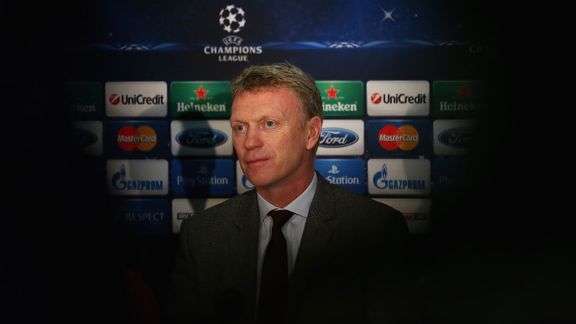 GettyImagesDavid Moyes addressed a less-than-full news conference on Tuesday as media attention was drawn to Sir Alex Ferguson's book launch.
And so to the other Manchester United boss. David Moyes may be the current occupant of the manager's office at Old Trafford, but when his predecessor was holding court at the same time, albeit 200 miles further south, there were empty seats at United's Europa Suite. Moyes was the lesser draw. That is his fate -- to be overshadowed by Sir Alex Ferguson. This one day may be a microcosm of his reign.

It is two months of underachievement versus two decades of high achievement; Moyes' considered comments versus more explosive revelations about some of the game's biggest names in Ferguson's autobiography -- a book that, in time, Moyes will examine himself.

"I don't think it is out yet," he said, ignoring the reality that the manuscript could have been procured. Any thoughts that an advance -- maybe even an autographed copy ("To David, good luck trying to beat my total of 38 trophies and sorry about Bebe, Alex") -- had been given to him were quickly dispelled. "I'm sure when the time arises I will [read it]," Moyes said. "I've not got much time in this job."

Moyes nevertheless cut a relaxed figure, unworried about the impact Ferguson's more strident views might have or the difficulties they could create for him. "Alex Ferguson can do what he wishes," he said, suggesting he is a greater advocate of free speech than Ferguson himself. "He is his own man. Certainly everyone at Old Trafford will love to hear what he can say; certainly the supporters will."

Even if Moyes had months to rehearse his response, it was an impressive answer. Despite United's stuttering form, this was Moyes at his most amenable. He was helped by a switch in scheduling. Normally their news conferences to preview Champions League matches are held at 2pm British time. This one was brought forward half an hour so that, when the embargo on the contents of Ferguson's autobiography was lifted, Moyes had completed his media duties.

Nevertheless, they did include fielding a question about Wayne Rooney. Ferguson said the striker had asked to leave United and had not been fit enough in his final year at Old Trafford. Moyes, who has made a concerted effort to repair relations with the disaffected Merseysider, could not be confronted directly with his criticisms but maintained his policy of praising one of his few in-form players.

"I think Wayne is completely focused on his football," he said. "He has been since the first day of preseason. He is in good form, looking after himself and playing well."

Playing well is not something enough others at Old Trafford are doing. With United eighth in the Premier League, nearer to the relegation zone than the top four on points, Moyes was asked where he wanted his side to improve.

"Results, obviously," he replied. That is the Moyes way: There is no attempt to deflect the truth. Besides that fundamental problem, Saturday's 1-1 draw with Southampton revealed plenty of other issues that require addressing. "We want to improve our performance," Moyes elaborated. "We gave the ball away too much in the last game and we have to do better when we are in possession. We have had periods of good play but not continually."

At least United now encounter another side struggling to repeat last year's feats. Their third Champions League game pits them against Real Sociedad, who lie in the lower half of La Liga and are yet to pick up a point in Europe.

"They finished in the top four in Spain, which is a great achievement," Moyes said. A manager who scouts extensively has examined their tactical switches, between one and two defensive midfielders, this season. "We have great respect for them." Indeed, that is part of the criticism of Moyes -- that he is too deferential to inferior opposition and that United do not play with the swagger Ferguson's finest teams possessed.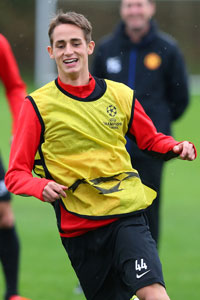 GettyImagesAdnan Januzaj's breakthrough has been a big positive for United during Moyes' reign.
At least one with the potential to excite is now eligible. Adnan Januzaj could not play in United's opening two Champions League games. "He is now available," Moyes said. "He is an exceptional talent." He is hopeful, too, that Tom Cleverley could make a swift comeback to provide another option in midfield and is waiting to see whether Rio Ferdinand and Nemanja Vidic, the twin pillars of Ferguson's defence, will be fit.

Confounding expectations, the Champions League has been the competition to offer Moyes respite. With four points already pocketed, victory would enable them to close in on a place in the last 16 and, at the same time, all but eliminate La Real.

Yet Spanish opposition have had the better of United in recent years. Barcelona eviscerated them in the 2009 and 2011 Champions League finals; Athletic Bilbao overran and overwhelmed them in the Europa League in 2012; Real Madrid eliminated them, albeit in controversial fashion, last season. Which, in a way, may have explained why Moyes was so relaxed. It is a rare area where Ferguson does not cast a long shadow.