The tale of Owen Coyle might just be a parable for the up-and-coming football manager. One minute, he was linked with the biggest clubs in the land and hailed as the latest in a proud line of Glaswegian bosses. Barely 18 months later, he has been cast adrift in the sack race.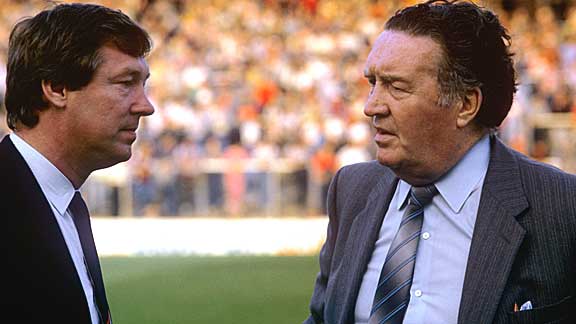 PA PhotosAlex Ferguson and Jock Stein on the night of of Stein's death at Ninian Park

When Arsene Wenger was going through his lengthy crisis in 2011, one angry Emirates attendee took it upon himself to approach the press box and tell hacks that it was time for Wenger to go and Coyle to come in at Arsenal.

Wenger remains and Coyle is now jobless, suggesting that only the best last long, and successfully, in this business. Of course, many would argue that Wenger's greatest success of late has actually been his survival, but a look back through the footballing ages finds a host of bright young managers for whom initial promise faded into disappearance, from Frank O'Farrell to Jimmy Adamson to Howard Kendall to Glenn Hoddle.

A Monday night BBC Radio programme paying tribute to Jock Stein featured Coyle, recorded prior to his sacking from Bolton, sharing his memories of "Big Jock" - "Mr Stein" to the likes of Coyle.

Pat Nevin, a one-time Celtic trainee, detailed his theory that most good latter-day Scottish managers have lineage to Stein. Coyle himself began his playing career at Dumbarton under Sean Fallon, who was Stein's assistant during the time that Celtic won nine titles in a row and lifted the European Cup in 1967.

A glance at recent Scottish bosses in the Premier League suggests all are in Stein's football family tree. Even Steve Kean came through the Parkhead youth system that Stein formulated, as did David Moyes.

Sir Alex Ferguson, the man many expect Moyes to one day succeed, once sat at the feet of Stein as a young manager making his way into the game, sponging knowledge from the master before becoming his assistant with Scotland.

Friday sees Scotland travel to Cardiff in a World Cup qualifier, and such a fixture can only bring back the memory of Stein collapsing at pitchside after a 1-1 draw in 1985 had secured the Scots a play-off place for Mexico '86. Ferguson had been at Stein's side that night, and returned from carrying out media duties to be told by Graeme Souness that the "Big Man" was "gone".

Ferguson approaches 71, perhaps Stein's equal in terms of achievement but still as prey to imminent failure as his mentor once was. On that fateful night at Ninian Park, Stein's mantra to his struggling players had been: "Keep your dignity". With the clock ticking, only a Champions League or another Premier League title, to make it 20 for Manchester United and 13 for him, can stop Ferguson's career ending in some kind of anti-climax.

And if Ferguson is now the godfather that Stein once was to him and the likes of Walter Smith, then those former players of his who became managers provide a list of various flavours of the months who eventually took a wrong turn.

Bryan Robson and Roy Keane both proved that great captains do not always make good managers. Likewise, Steve Bruce has had his moments but serves as evidence that, unlike Stein and Ferguson, a manager's positive impact usually only has a certain shelf-life. Gordon Strachan's career stalled - perhaps terminally - at Middlesbrough. Alex McLeish is linked with the Bolton job, but has relegation with Birmingham and the antipathy of Aston Villa fans as definite cons to his application.

At Bolton, Coyle was by turns unlucky with injuries and serious illness to his key players, lacking in fresh ideas and perhaps a little too keen on PR - who else used the phrase "Barclays Premier League" as often?

He undoubtedly has a future in the game, since just about every manager has been sacked. Sir Bobby Robson began and ended his career clearing his desk, crying to himself on the pitch at Craven Cottage in 1968 and the victim of Freddy Shepherd's admission that he had "killed Bambi" at Newcastle in 2004.

Stein himself ended 44 unhappy days at Leeds United in 1978 to take the Scotland job, the length of his tenure echoing that of Brian Clough at the same club four years earlier. Clough, perhaps English football's greatest manager, ended his career drink-sodden and relegated.

And the young are not protected. Both Brendan Rodgers and Andre Villas-Boas, Coyle's successors as the bright young things of management, neither yet 40, already have sackings on their CVs.

No amount of media friendliness and pledges to play the game the 'right way' can protect from the fact that results will eventually mean that almost all managerial careers will eventually end in some kind of failure. It is a reality Stein lived with until his dying moment.