Key fixtures to reveal much about Mourinho's Chelsea

Toward the end of a surprisingly sedate Friday afternoon at Cobham, Jose Mourinho is thrown a bit of a curveball. The Chelsea manager is quizzed on some of Cardiff City's recent controversies: the change of club colour to red and the eyebrow-raising appointment of Alisher Apsalyamov as director of football over Malky Mackay's head.

Mourinho does fancy himself as something of a traditionalist, after all. How would he react if owner Roman Abramovich changed Chelsea's famous blue? Initially, the answer seems a little supine, until Mourinho makes something of a play for authenticity -- as well as amusement.

"It's his club. Let's go in red," Mourinho says. "Real Madrid are white, but they played in red because it was very important commercially; they needed to make millions in red. But if Mr. Abramovich wanted to change the colour to red or yellow or whatever, we would only be the Blues still. No problem."

And if he appointed a 23-year-old director of football? "Age is not a problem," Mourinho says, shaking his head. "Age is not a problem. The problem is what people can bring. Age is not a problem. If you can be good as 23, you can be bad at 60."

What if that 23-year-old was painting the walls around the club three months ago, as Apsalyamov was at Cardiff? "If he paints well ..." Mourinho cracks a smile, clearly amused, changing the mood. He admits he has become somewhat restless over the past 10 days, thoroughly "bored" throughout the international break.

"I don't like the period," he says. "Four players to train. We trained for the kids, and that's good. It's nice, but from the team perspective, it's bad. You are playing well, winning matches, some consecutively. You want to play again."

He will certainly get to do that over the next 11 days, as they provide quite a contrast to the past 10. On Saturday, Chelsea host Cardiff before traveling to Schalke for a Champions League fixture they dare not lose after the opening-game defeat to Basel. Then, in the space of just three days, it's Manchester City at Stamford Bridge on the Sunday and Arsenal in the Capital One Cup on the Tuesday.

Whatever about always remaining the Blues regardless of the colour, this has the feel of a period that will tell whether this is a true Mourinho team regardless of the personnel. The four disparate fixtures will effectively examine different defining facets of his management over a short period of time.

The Cardiff game will point to this side's capacity to rack up results in routine occasions; the Schalke match their Champions League credentials; the City fixture their big-game quality; and the Arsenal tie their ability to navigate knockouts. These, after all, are qualities that Mourinho has displayed in abundance in his 12 years as a top-level manager -- as two European Cups, seven titles, seven other trophies and a host of points records attest to.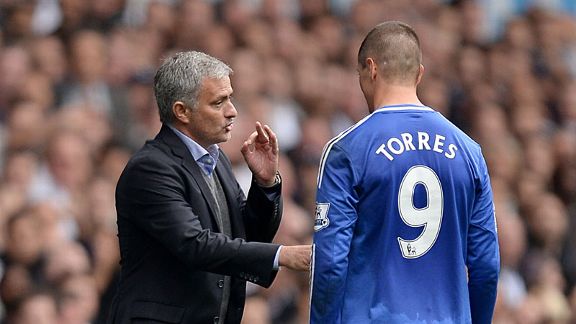 PA PhotosFernando Torres appeared to be finding his form before his red card at Tottenham.
In contrast to the cold certainty of such numbers, this has been a somewhat curious season. Chelsea's exact level has been difficult to analyse. There have really been only two occasions when they have played breakneck attacking football that Mourinho's Real touched at their peak. Both of those were the opening games of the campaign -- against Hull City and Aston Villa -- when all the excitement about the manager's return was at its most rousing.

Once that faded, an odd flatness gripped Chelsea, and occasionally exposed some alarming flaws. The run that saw defeats to Everton and Basel as well as so much controversy over Juan Mata also resulted in Mourinho's mood changing from "happy" to really quite haughty. He admits that was a period that put "some question marks."

And yet, after the most recent -- if fortuitous -- 3-1 win away to Norwich City, his old assurance seemed to have returned. There was a conspicuously relaxed confidence, which was also discernible on Friday.

Mourinho has repeatedly talked about how this is a lower quality league than he encountered from 2004 to 2007 and, in another recurring theme that does not seem disconnected, again mentioned the more difficult opening run that Chelsea have encountered.

"Our first five or six matches away are hard: Everton, Tottenham, United, Norwich, Newcastle, West Ham ... very difficult," he says. "Compare with other teams and we have to be fair and say other teams have a much easier situation. But at the end of the season, everyone will have played 38 matches in the Premier League, so it's not a big deal if you keep a balance and don't let the teams with the easier schedules disappear. We have to keep close, which we are managing to do."

Even if he won't say it, the feeling is Mourinho expects his team to eventually motor.

To do that, though, he does have tangible problems to solve. The absence of a deep-lying midfielder to dictate play has created something of a detachment between the defence and attack, and there is occasionally a lack of leadership. Most notably, there is the striking situation, which Mourinho acknowledges: "Normally, yes, they have to score goals. They have, and they will."

In particular, he is looking to Fernando Torres.

"He will score," Mourinho insists. "He was very proactive against Tottenham, very dynamic, the best people had seen for quite a long time. The fact he recovered so well from his injury is not about the medical department but his feeling. He has the same feeling playing that game against Tottenham as you did watching it. He wants to be back."

The real Torres may also go a long way to revealing the real Chelsea -- no matter what colour they're in.