Three alternative things that made Ferguson great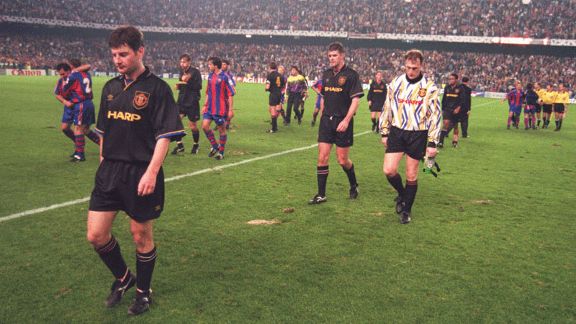 GettyImagesManchester United were given a wake-up call as they slumped to a 4-0 loss against Barcelona in 1994.
The big defining moments of Sir Alex Ferguson's reign at Manchester United are stamped on our collective consciousness. Everybody knows the name Mark Robins; everybody knows about the phone call that delivered Eric Cantona to Old Trafford; everybody knows how Fergie's Fledglings made Alan Hansen eat his words.

Those are the obvious ones. What follows are an alternative three things that made Fergie great -- pivotal events that helped give birth to the dynasties he would rule over. These stories are less often told, but they carry importance to the Ferguson narrative at United because they shaped his leadership and undoubtedly educated the decisions he made.

1. The discarding of Jim Leighton

United's run to FA Cup victory in 1990 will forever be told as the story of a sprightly striker called Robins keeping Ferguson in a job. Then-chairman Martin Edwards has always disputed that fact, but with Ferguson subject to fan frustration -- see "Ta-ra Fergie," perhaps the most famous football banner of them all -- and United's league form the stuff of four losses and two draws in December 1989, it's no great leap to suggest their third-round trip to Nottingham Forest in early January 1990 carried significance.

Robins saw them through and popped up again to score the winner in a semifinal replay against Oldham, but getting to an FA Cup final only gets you so far. A club like Manchester United wasn't built on reaching showpiece matches at Wembley; it was built on winning them. Ferguson's team wasn't ready to dominate England, but to get them there mentally he knew beating Crystal Palace was an essential stop on the road map. Success breeds success, as the old cliche goes, and in the case of Ferguson's evolving United this would be as important a victory as any to come.

It wouldn't come easily. After the first game finished 3-3, Ferguson had serious concerns about his goalkeeper, Jim Leighton -- a man he knew better than anybody else in his playing squad, having worked with him and achieved notable success during his time at Aberdeen. The men were friends, but Ferguson wasn't prepared to let loyalty get in the way of the prize and decided to replace Leighton with Les Sealey for the replay. Sealey kept a clean sheet, United lifted the trophy and Ferguson finally had his first major trophy. The collateral damage was a relationship that will never recover.

It was decision some read as the ultimate betrayal, and many inside United found hard to live with. Leighton played once more for the club and would never be the same goalkeeper again. But while Ferguson regrets it to this day, I'd argue that dropping Leighton established a model of ruthlessness and a level of accountability at Old Trafford that would bear fruit for years to come. The message couldn't have been clearer: winning comes first and nobody is guaranteed a spot in this team -- not even a dear friend.

2. A battering from Barcelona

By the start of the 1994-95 season, domestic success had arrived for Ferguson and the good times were well and truly back. Back-to-back titles had boldly announced his team's intent, as the iconic, combative United team of Peter Schmeichel, Steve Bruce, Roy Keane, Paul Ince, Eric Cantona and Co. -- set up in Ferguson's classic 4-4-2 -- made the statement that they were here to stay.
But for all the relief it brought, the first title in 26 years and a double the next season only partly heralded a return to United's halcyon days of the 1960s. To truly honour the club's legacy, Ferguson would need to achieve success in Europe and winning the newfangled Champions League became his new obsession. At home, Liverpool had been "knocked off their f---ing perch," and now Ferguson was going after the likes of Real Madrid and AC Milan in an attempt to conquer the continent.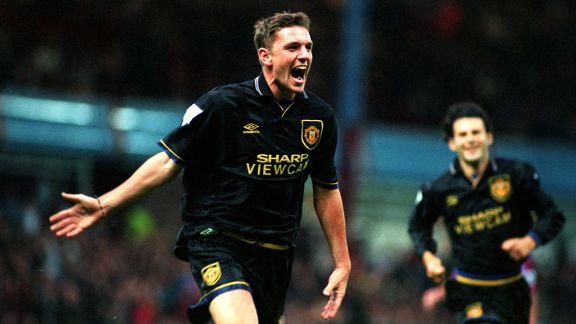 PA PhotosSir Alex Ferguson took a chance on a young Lee Sharpe, and was justly rewarded.
There were many lessons to learn along the way. The one that sticks out, however, is the crushing 4-0 defeat inflicted by Barcelona at Camp Nou in the group stage of the 1994-95 Champions League. This was the Barcelona of Johan Cruyff, featuring the talents of Romario and Hristo Stoichkov, and they cut a swath through United just as United had been doing to their opponents domestically.

Ferguson was handcuffed somewhat by UEFA rules stipulating the number of foreign players in his team, but the outcome was about more than the make-up of his squad. As Bruce recalls, it was United being dealt a painful tactical lesson -- one that Ferguson had until that point ignored, or at least determined was irrelevant to the talented players he had before him. After that night in Barcelona, his mind-set changed, and United set a course that would eventually lead to their Champions League triumph in 1999.

"It was the start of the end of the idea of playing a traditional 4-4-2 when you played against big teams, because it left you far too open," Bruce recalled of that 4-0 humbling to Barca. "You can't play with just a central two in midfield like we always did, with two out-and-out wingers."

3. Lee Sharpe, the first of many

Much is made of Ferguson's faith in youth during his time at United. He prided himself on staying true to United's philosophy and putting teenagers in his starting lineup the moment they were ready. This is the club that gave the world the Busby Babes, after all, and Ferguson honoured that tradition generously during his reign at Old Trafford. Would he have done so liberally, however, if not for Lee Sharpe establishing the standard when was he elevated as a 17-year-old in 1988?

Sharpe's potential was clear when Ferguson signed him from Torquay, but his senior experience was limited and putting him into his United team represented something of a leap of faith. When Jesper Olsen's departure in November 1989 opened up a space on his left flank, Ferguson took that leap and was handsomely rewarded for it.

Sharpe was the embodiment of youthful exuberance -- a precocious, lightning-fast winger who was bubbling over with confidence and never afraid to take on his man. He wasn't overawed by playing for United; he was positively energised by the prospect and quickly became a regular in Ferguson's team. Here was a player to bring fans to their feet and a personality to represent a bold new dawn at Old Trafford.

There would be more impressive teenagers to come on Ferguson's watch -- the likes of Ryan Giggs, David Beckham and Cristiano Ronaldo among them -- but Sharpe was the first to break into Ferguson's team, and his impact must surely have reinforced Ferguson's belief that age should be no barrier to success.