On-pitch success key to Arsenal's financial future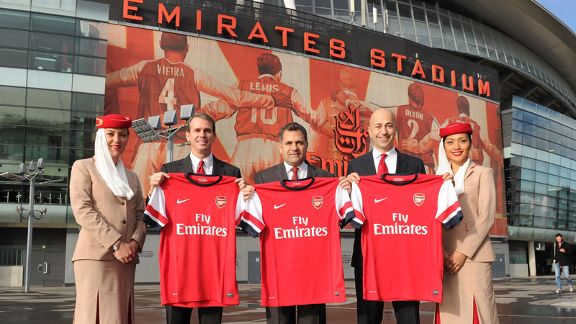 PA PhotosArsenal's commercial deals are growing, but they must continue to do so.
Flash back to the close season, and Arsenal chief executive Ivan Gazidis was in bullish mood despite disquiet among fans about a lack of new signings.

"This year, we are beginning to see something we have been planning for some time -- the escalation of our financial firepower," he said.

Arsenal fans had heard it all before, and their frustration had reached boiling point at last year's Annual General Meeting (AGM) after a seventh season without a trophy had finished. Tempers flared, and there were heated exchanges between minority shareholders.

There was impatience at what was seen as a lack of clarity over the financial position at the club, an issue the board had fudged with opaque promises of good times ahead on the back of a prudent attitude.

In their 2011 annual report, Arsenal's watchword was balance. "Arsenal Football Club strives to strike the right balance between short-term objectives and long-term success," Gazidis said.

A year later, the watchword was momentum. "I am confident about the momentum we are building on our commercial agenda," he wrote to shareholders.

A month ago, questions were still being asked about Arsenal's ability to compete for the top players in Europe. But with the acquisition of Mesut Ozil from Real Madrid for a record-breaking 42.5 million pounds, the Gunners believe they have answered their biggest critics. A quiet AGM on Thursday was their reward.

Is their new-found confidence backed up by the balance sheet? Yes, in part, but there are concerns that need to be addressed if the North Londoners are to realise their claims of being on the verge of becoming a European superpower.

In the last few months, there have been signs that the tight financial structure put in place 10 years ago to fund the complex 400 million-pound move from Highbury to the Emirates is coming to an end.

Notably, two of the long-term sponsorship contracts the club signed to guarantee to banks that lent them money for the move have come to an end. One, with Emirates, has been renegotiated, while the other more punishing contract, with Nike, is about to be terminated.

The new 150 million-pound sponsorship deal with Emirates, which gives the airline their name on Arsenal's shirts until the 2018-19 season and naming rights on the stadium until 2028, equates to an extra 24 million pounds a year for Arsene Wenger to spend on transfers.

Meanwhile, the Gunners are also on the verge of waving goodbye to the necessary but restrictive deal they had with Nike.

They signed a seven-year agreement for 55 million pounds in 2004, but all that money was paid by 2006 to help fund interest payments on the new stadium. Included in the deal was a three-year extension, which Nike took up, and it proved very punitive. While Arsenal were receiving just under eight million pounds a year for the right to make their shirts, the American sportswear giant was paying Premier League rivals Manchester United a reported 23.5 million pounds a year.

Liverpool signed a deal with Warrior Sports worth an estimated 25 million pounds a year in 2011, while in the summer Manchester City negotiated a deal with Nike worth 12 million pounds a year.

Arsenal are rumoured to have agreed to a deal with Puma from 2014-15, which is unlikely to be announced until the present deal with Nike expires but is thought likely to be worth in the region of 30 million pounds a year.

As their finances stand, Arsenal have the money for one Ozil-like signing a season, but the additional Emirates money alongside an improved kit sponsorship deal -- which won't appear on the balance sheet until next year -- could free up an extra 46 million pounds a season to spend on players. So, in those terms, it would mean two Ozils a season from next year, which compares favourably to the other sides in the race for the title, especially when you consider there is no rich owner putting funds in.

But there is potential for more -- much more. While Arsenal have been astute in balancing the books over the last decade, and have shown net profits of 35.2 million, 60.9 million, 12.6 million, 29.6 million and 5.8 million pounds in the last five years, they have done it without getting close to developing their full potential on the commercial side.

In the last two years, the commercial turnover -- not including TV revenue -- has been a paltry 11 percent and 14 percent. Compare that with City, who had figures of 42 percent and 52 percent in the same two years. Manchester United made 36 percent and 42 percent of turnover from commercial activities in that period.

Tom Fox, Arsenal's chief commercial officer, is well aware of the problem. At the end of last year, he admitted: "The Emirates Stadium was a fantastic move for the club financially, but 40 percent of our revenue comes from the stadium, and the people we are speaking to are in a very narrow catchment area in and around London.

"If we want to grow our revenue, it is not enough to think about people who can come in and buy a match ticket."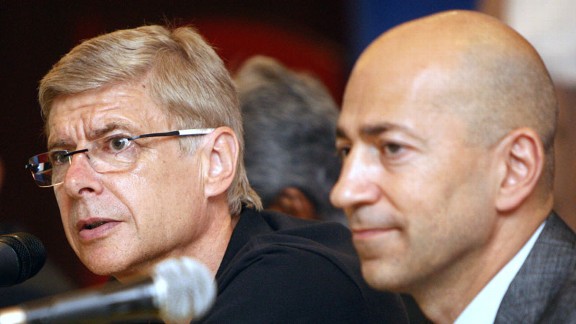 APArsene Wenger and Ivan Gazidis had a productive summer.
Since Fox joined the club at the start of 2009-10, Arsenal have been looking to play catch-up. They have been thinking hard about grabbing fans in the most lucrative markets for the Premier League, which are all in Asia. Their summer tour of Asia saw them targeting Indonesia, Vietnam and Japan.

But there is a lot of competition for the hearts of fans in Asia and, in particular, in Indonesia -- the fourth-largest country by population in the world. Chelsea and Liverpool also toured there in the summer.

China, though, is set to be the biggest battleground as clubs fight to grab a piece of the lucrative Asian market. With more than 538 million internet users in China, Arsenal are banking on social media, more than the traditional touring method, to engage with fans.

"I think that while touring is a great enabler and is important to focus people's time and attention around a specific event, social media has really been the biggest enabler to our ability to engage with fans," Fox explained to GlobalSportsJobs.

"So when we go into a market like China, for example, in the space of two years we are able to go from 35,000 registered users on Weibo [China's equivalent of Facebook] to 900,000. The reason that is important is because the fans aren't just consuming the content, they are actually engaging with the club."

On-field success seems to be the key in Asia. City, on the back of their recent Premier League title, have more than 2.5 million Weibo followers in China. United, who only joined Weibo in the summer, already have 1.3 million. Barcelona and Real Madrid, without any real effort, share 4.1 million Chinese-speaking followers.

But with no major trophy for eight seasons, Arsenal are desperate for some success to help with their marketing.

At Thursday's AGM, Wenger told shareholders: "We have a huge ambition to win this league again. That is the target of the season ... I am confident that, at the end of May, we will all be happy."

If the Gunners are going to make good their promise to compete with the biggest teams on the European stage, that success needs to come now.