Ronaldo and Messi by the numbers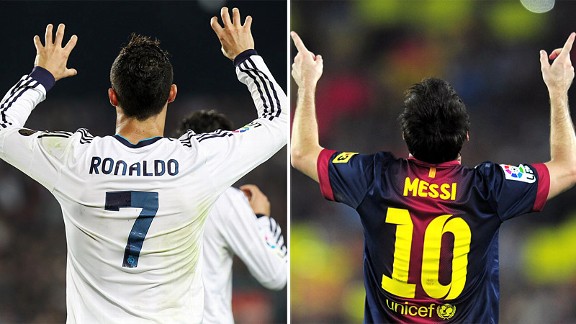 Getty ImagesTwo incredible players, two incredible years ... yet only one can win FIFA's big prize.
I have a friend who is a baseball guy. Or, more accurately, he's a big baseball stats/sabermetrics guy. He lives in a world of acronyms: VORP, DIPS and, of course, PECOTA. He knows very little about football but, like many, is fascinated by the eternal Cristiano Ronaldo-versus-Lionel Messi debate.

Yet he was extremely disappointed to discover that for all the talk of analytics and a statistical revolution engulfing the sport, there really aren't that many meaningful numbers folks like him can play with, at least not when it comes to assessing one guy compared to the other.

By its very nature, football is dynamic; the actions of one player impacts what another can do, and often, the actions of the previous guy aren't even measured.

For example, is it better to play on a great team with a stellar supporting cast because you'll get more goals and more assists? (So the logic goes, your side will score more and the guys you pass the ball to are more likely to score, while you're more likely to receive great service.)

Or is it better to have a somewhat less impressive supporting cast? That way you're top dog, everything goes through you and you'll have more opportunities to shine and score?

(In the Cristiano-versus-Messi debate, the latter point is, fortunately, somewhat moot. Even the staunchest fan of either club would probably recognize that the two sides are comparable in terms of supporting cast.)

Then there's the fact that the statistical sample size really isn't too big. A baseball team will play 162 games in a season; a football club will usually end up playing between 50 and 60. And while the strength of the opposition is fairly uniform in baseball, football (with its myriad cup formats) can offer a much greater variance over the course of a season.

With all that said, there are a few numbers we can go on. With the FIFA Ballon d'Or -- and the inevitable debates and recriminations that are bound to follow -- coming up in just over a month, we're guaranteed to get much more of this. But the international break seems as good a time as any to add up some stats.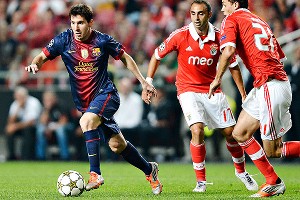 Francisco Leong/AFP/Getty ImagesLionel Messi has more La Liga goals than Ronaldo in 2012, but is that enough to secure him the Ballon d'Or?

Before going much further, let me reiterate that these are just numbers. I'm not using them to support any argument that Messi has been better than Ronaldo in 2012 or vice versa. When it comes to that -- and awards like the Ballon d'Or -- we all have our own personal preferences.

Some value performances in big games, others consider how much silverware a player wins during the season. Some draw up their own criteria based on how subjectively important a guy is to his team, while others are influenced by allegiance to once club or another. Some by whether the guy's handsome or not. Basically, we create a formula in our minds, apply different amounts of importance to different variables and it spits out a winner. Note also that what follows is just an assessment of goals, and while those are important, it's just one aspect by which players are judged.

With that part out of the way, let's look at 2012 for Ronaldo and Messi.

From Jan. 1, 2012, to the present, Messi has played 45 club games to Ronaldo's 43. Comparable numbers. It's also hard to argue with the goal-scoring totals: Messi 56, Ronaldo 48. Messi has an edge that just can't be explained away by those two extra appearances. If you're the kind of person who believes in comparing like for like, you can look at the Liga totals. Messi still has an edge -- 41 to 34 -- consistent with the margin in overall competitions.

OK, but not all goals are created equal. It's one thing to score the fourth and fifth in a 5-0 rout, and quite another to notch the equalizer or winner. When teams are ahead or behind by more than a goal, the game changes, as does the way either side plays. And there might be more -- or fewer -- opportunities, so I assessed the scoring when the game was either tied or Barcelona or Real Madrid was down by a goal.

(Note that I based this on the score at the time, so if Real Madrid goes up 3-0 thanks to a Ronaldo hat trick but then concedes two late goals, only the first one, the tiebreaker, would be counted. Obviously when Ronaldo scored his third, he didn't know the opposition were going to come back. You can debate this methodology and look at the numbers through a different lens, but I thought this could be significant.)

In this category -- let's call it decisive goals -- it's Ronaldo who is ahead, and substantially so: 27 to 23. He is also ahead when you look only at Liga games: 20 to 17. Again, there could be many explanations for this, mainly to do with the respective styles of the two clubs, but hey, those are the numbers.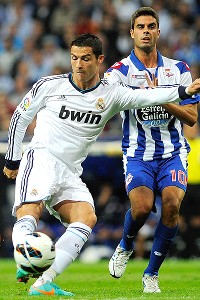 Gonzalo Arroyo Moreno/Getty ImagesIt's in the area of "decisive goals" (and goals vs. "stronger" opponents) that Ronaldo is able to distance himself from Messi. But at the end of the day, it's all just numbers.

Ronaldo also finishes ahead of Messi in another category: goals against tougher opponents in La Liga. I looked at games against opponents who were in the Liga top 10 at the time Real Madrid played them (rather than at the end of the season; the idea being that clubs -- especially those in mid-table -- ebb and flow during the year). Ronaldo also holds a substantial edge here: 18 to 12.

That said, another metric is Champions League performances against teams from the better leagues (Germany, England and Italy). Messi leads here, with eight goals in four games, while Ronaldo has three in three. Three of Messi's eight goals were "decisive" (most came in beating up Bayer Leverkusen last year), whereas two of Ronaldo's three fall into that category.

But what about performances against the toughest opponent of all: the other guy's team, aka goals scored in the Clasico? Both faced each other six times in 2012 and the count favors Ronaldo: seven goals to Messi's four.

You might also choose to throw in internationals. Here many more factors come into play, not least the fact that there are non-competitive friendlies and that Ronaldo plays for Portugal, arguably a weaker side than Messi's Argentina. Messi played six games and scored nine goals. Ronaldo turned out for 11 matches and notched five.

Advantage, Messi? Maybe. But the count in competitive games shows Ronaldo with four goals in seven games, while Messi has two in three games. Ronaldo scored against Holland, the Czech Republic and Luxembourg in his competitive games, while Messi's came against Paraguay (twice). The flip side? It may have been just a friendly, but Messi did score a hat trick against Brazil. Apples and oranges? You be the judge.

One other, non-goal-related, stat: assists. This is the kind of metric that needs to be taken with a grain of salt, because in football it doesn't differentiate between crucial build-up play or a defense-splitting pass and a guy laying the ball off to someone who shoots and scores from 30 yards out in traffic. That said, Messi is ahead with 10 in La Liga to Ronaldo's six. (Numbers for other competitions were not readily available.)

What to make of all this? Up to you. Use this data any way you like, or not at all. The one conclusion I am willing to draw -- apart from the fact that both these guys are freaks who are far ahead of their contemporaries, and easily among the greatest ever -- is that Ronaldo is too often accused of being selfish and padding his numbers with "garbage-time" goals against bad opponents. In fact, the numbers above suggest that, in 2012 at least, he scored decisive goals more often than Messi, and scored more against better opposition.

I'll get out of the way now and let you all mull it over. But not before reissuing my disclaimer: This is just one way of measuring Ronaldo and Messi. It doesn't mean one is necessarily better than the other. I hope my baseball sabermetrician buddy won't be too disappointed, but this is the best I could do.