Case for United clear-out growing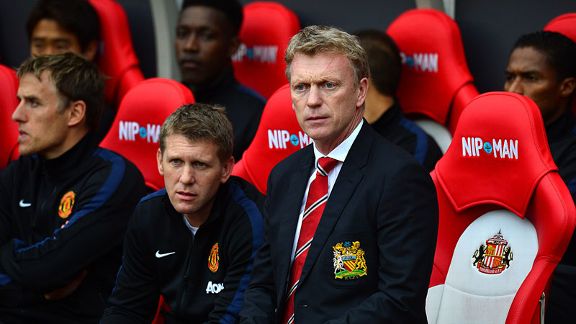 PA PhotosNo-one wants to join David Moyes on the United bench, but there will be some high-profile names taking their place.
It was one of the most mocked attempts at man-management of last season. Captured on camera in "Being: Liverpool," Brendan Rodgers' attempts to motivate his new charges included the suggestion that he had already written down the names of three he thought would let the team down in the coming months. While those viewing the subsequent documentary on high-definition televisions had particular reason to suspect Rodgers' infamous envelopes were empty, little more than a year later, several higher-profile players he inherited have left Liverpool.

Having seen Rodgers ridiculed, other managers may think twice about emulating him. Yet, while his methods should be different, there is a case for David Moyes to deliver a similar message to his Manchester United charges: If some don't improve, this will be their final season at Old Trafford. It is not a case of naming them (in an envelope or otherwise) but of warning them and giving them a chance to state their case to remain a part of his plans.

The case for a clear-out is growing, and not merely to allow Moyes to make his mark on the squad he inherited. It is not just United's stuttering start to the season or the growing realisation that they possess quantity in every position but quality in only some. Having failed to recruit his premier targets in the summer, which gave him less leeway to sell, Moyes has become increasingly open in his belief that more top-end talents are necessary. "To win the Champions League, you need five or six world-class players," he said last month, hinting that he does not have them. But United require not more footballers, just better ones. It means those already on the side could be demoted to the status of squad players.

United have plenty already; Sir Alex Ferguson accumulated them. The only major recent sales were those, like John O'Shea, Wes Brown, Dimitar Berbatov and Park Ji-sung, who were entering their 30s. Others have lingered -- improbably, Nani and Anderson are in their seventh seasons at Old Trafford -- raising the question of whether continuity has bred complacency about their futures.

Both, like Tom Cleverley, Antonio Valencia, Ashley Young, Shinji Kagawa, Phil Jones, Chris Smalling and Jonny Evans, are in a sizable group of players who have rarely been automatic choices and for whom this season should represent a test: They could end it as first choices -- which even then may bring only a place on the bench next year -- or very much on the fringes of the squad and in danger when Moyes comes to wield his ax. Because, in most departments of the squad, there are those who could be looking for new employers in 2014.

Goalkeepers

This is one of the few areas where Moyes should have few concerns. Indeed, there are suggestions that David de Gea's excellence will bring him an extended and improved contract. Providing the Spaniard remains fit and in form, Ben Amos and Anders Lindegaard can continue to alternate as his understudy. Moyes has greater priorities in the transfer market than finding a new backup keeper.

Fearing for their future? No one.

Full-backs

Perhaps only Rafael da Silva can be secure. His brother Fabio has already talked about leaving, and Alexander Buttner was almost loaned out in the last transfer window. Then there is Patrice Evra, who saw his position advertised in United's summer-long pursuit of Leighton Baines and late attempts to bring in Fabio Coentrao. The search for a left-back is likely to resume and while, unlike the substandard Buttner, the ebullient Evra would represent high-class cover for a newcomer, his current deal will expire in 2014.

Fearing for their future? Evra, Buttner and Fabio.

Centre-backs

When Moyes selected Nemanja Vidic and Rio Ferdinand together for six successive games, the old firm seemed to have reasserted its authority. Instead, after twin horror shows from the Englishman, against Manchester City and West Brom, Ferdinand seems to have lost his status as an untouchable. While he has recovered from awkward autumns in the past, this time decline could prove terminal: He'll turn 35 in November and be out of contract next year. Vidic's contract will expire, too, but the captain still seems pivotal. If Ferdinand leaves next year, it may save the younger central defenders. Yet it may be pertinent that Moyes seems keen to give Jones more games in the middle of the defence. Evans, frequently selected last season, has had only two starts this time around while Smalling's progress has stalled in recent years, and, as he showed against City, he can't really provide cover at right-back.

Fearing for their future? Ferdinand and Smalling.

Central midfielders

The area where Moyes is keenest to strengthen, if the summer moves for Cesc Fabregas, Thiago Alcantara, Ander Herrera, Sami Khedira and Daniele De Rossi are any guide. Marouane Fellaini, the sole major recruit, was bought for the long term, so despite a mixed start, he is safe, along with the indispensable Michael Carrick. If Cleverley's destiny is to be a squad player, a decent display against Shakhtar Donetsk indicated he can continue to play a part for Moyes; salvation for him, however, could come from others. Age and injury, respectively, could compel Ryan Giggs and Darren Fletcher to retire, while Anderson, another who has not been seen since a disastrous display against West Brom, looks first in the firing line.

Fearing for their future? Anderson and (not for footballing reasons) Fletcher.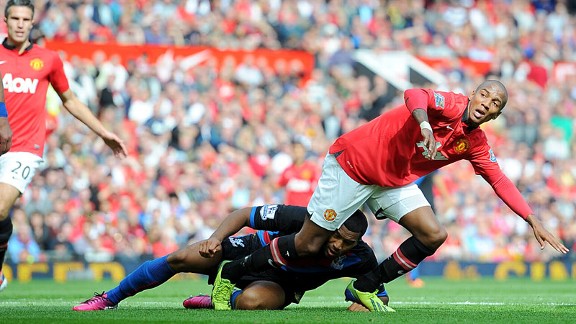 PA PhotosAshley Young hits the deck against Crystal Palace.
Wingers

Umpteen options, no automatic choices: It is a situation that makes virtually everyone vulnerable. It would be something of a surprise if Moyes does not bid for a world-class winger in the next year. As it is, the emergence of Adnan Januzaj has helped illustrate the shortcomings of others, and assuming the 18-year-old is tied up on a long-term deal, means the manager could be more ruthless with lesser players. It is already apparent that Wilfried Zaha is at the back of the queue for places, and while many are bemused that Moyes does not seem to appreciate Kagawa's ability, the Japanese is only on the fringes of the side and has never been used in his preferred position by the Scot.

Of the three senior out-and-out wingers, Nani was recently given a five-year contract and Valencia figures frequently. That leaves Young: appalling in the derby defeat to City, criticised by Moyes for diving against Crystal Palace, having gone 17 months without a club goal and disliked by many fans. The Englishman looks a prime candidate to go.

Fearing for their future? Young, Kagawa and Zaha.

Strikers

A position where there is something of role reversal: Rather than ushering players out of the exit, United must be eager to keep them. Wayne Rooney's current deal expires in 2015, so his situation will have to be resolved while Moyes' persuasive powers may be required to persuade Javier Hernandez, who has been granted only one league start, to remain. Danny Welbeck seems a favourite of the Scot's, while few would discard Robin van Persie. The transfer budget can be spent on other sections of the side.

Fearing for their future? No one.