The crossovers from club to country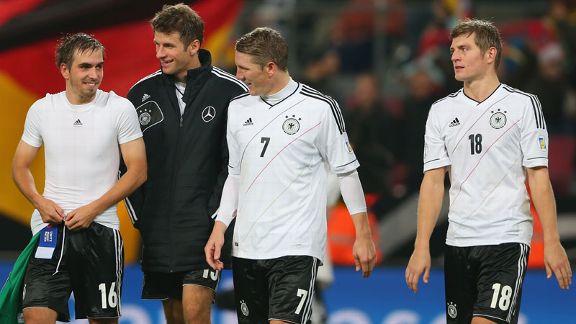 GettyImagesGermany standouts Philipp Lahm, Thomas Mueller, Bastian Schweinsteiger and Toni Kroos all play for Bayern.
Despite effectively trumping Barcelona, Ajax and Bayern Munich at their peaks, the name of Slavia Prague isn't too celebrated these days.

It's been four years since they won a trophy, five since they qualified for the Champions League and a remarkable 13 since they even provided a player to a Czech Republic squad for a major tournament. The country's last four qualifications -- from Euro 2004 through to 2012 -- haven't involved a single individual from one of its most historic football institutions.

That's quite a change from 79 years ago, when the club managed a feat that has yet to be matched. Then, in the final of the second World Cup, Slavia provided an astounding eight players to the Czechoslovakia team that reached the Rome showpiece. It represented the peak of a golden era for the club, with that 1934 tournament coming in the middle of a three-in-a-row success in terms of domestic titles and a 10-year span in which Slavia won a total of seven leagues.

The only problem was that they were playing a side enjoying the benefit of a similar project. The Italian squad that would win that game 2-1 and go on to retain the World Cup started five players who featured in the Juventus team that were themselves in the process of winning five successive domestic titles.

As nascent as the sport still was at that point, these were clearly two -- or rather four -- teams that were exceptionally cohesive.

They also set something of a standard that has stood to this day and may yet decide the next half-decade, just as it has defined the last half-decade. It is no coincidence that the majority of the finest club and country squads of all time involved so much crossover.

Most recently, Barcelona have provided six players to the Spanish starting XI that won the 2010 World Cup and Euro 2012 finals. Between 1972 and 1974, European Cup-winning Bayern Munich offered the same number to the West German side that won the same two tournaments. Of course, the Netherlands team they beat in the World Cup final involved six of the Ajax team who themselves eviscerated Bayern 5-1 in the 1972-73 European Cup quarterfinals.

Between them, these six core sides have won two World Cups, three European championships and eight Champions Leagues over three four-year spans.

You would say it will likely be a long time until we see something similar except, just as in the 70s, one such core seems set to quickly follow another.

As a vibrant young German team prepared for their last World Cup qualifiers in the past week -- sealing progress to Brazil on Friday -- Bastian Schweinsteiger was asked whether the squad is finally ready to win an international trophy for the first time in 18 years. The 29-year-old pointed to the Bayern Munich outfit that has just ended a similar wait for the Champions League.

"You really take a lot out of that," he said. "Now you know how you can reach such success."

Given that the German squad currently features six Bayern players, the hope is that the battle-hardened mentality derived from such a victory can cross over too. It happened with Spain and Barcelona, after decades -- let alone years -- of underachievement.

Of course, the exact effect of this generally goes much deeper than psychology. Just as those core squads develop an almost unmatchable cohesion from playing together so much, they were all effectively born from unique, elaborate and somewhat fortuitous combinations of circumstances.

In the mid-60s, a city as ripe for innovation and inspiration as Amsterdam saw a few like-minded and talented individuals arrive at one club (Ajax) within the city, all at a time when the Dutch game as a whole was finally going professional outside it. West Germany had started the move to professionalism earlier but, with Bayern happening on a similar group of football people who didn't quite synchronise to the same degree, it was no surprise that they would be influenced from ideas just over the border.

Around 20 years later, and directly following on from that, Johan Cruyff was creating a new philosophy at Barcelona at exactly the same time that Spain was overhauling its sporting infrastructure in preparation for the Olympics in that very Catalan city. German authorities would consult the Spanish, among many others, in order to review their own football edifice in 2000, and all while Bayern were committing to such plans but also repositioning themselves to become one of the world's wealthiest clubs.

With Pep Guardiola currently presiding over Europe's finest side, it is perhaps perfectly reflective of the cohesion their teams enjoyed that the man most influenced by Cruyff has departed Barcelona to take over the club of Franz Beckenbauer.

The end product at all of those teams was what those at Ajax used to call "memory football," where the players would start to know what each other would do by instinct as much as integration. In a modern football world where international teams are inevitably becoming so disconnected, that kind of cohesion can be even more crucial.

Of course, selecting entire blocs from individual clubs need not be so total. Many tournament finalists have only selected certain parts of club sides.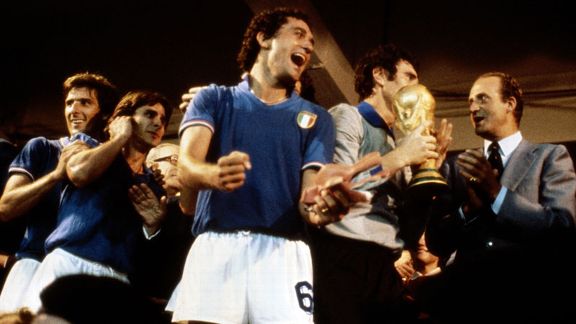 GettyImagesClaudio Gentile was among the Juventus defenders who won the 1982 World Cup with Italy.
Italy perpetuated a tradition by picking the majority of Juventus' cast-iron defence for the victorious 1982 World Cup, before coming close to repeating it with Milan 12 years later. Portugal used basically all of Jose Mourinho's Porto spine in 2004, while PSV Eindhoven's solidity en route to the 1988 European Cup perfectly complemented the stardust of the Dutch side's AC Milan attackers for that summer's continental championships.

It is even less of a coincidence that so many communist regimes fostered such collectivised systems. The most glittering example was the Honved team that provided six players to Hungary's 1954 World Cup finalists, but they were followed by a series of Soviet Union squads with Dynamo Kiev, as well as Czechoslovakia's 1976 European champions following something of a tradition by building on Slovan Bratislava.

The other side of this can perhaps be seen in those national teams who make a surprise choice to break up champions. There are a number of amusing stories from the England camp over the 1995-2006 period of how the Manchester United core used to illustrate a curious siege mentality at training. Yet when it came to it, a series of English managers arguably eschewed that team's sheer tenacity by surrendering to a star system and taking the likes of Paul Scholes out of their best position.

Ironically, it is the United players' manager who perhaps illustrates the most prominent negatives with such club-country crossovers. One of Alex Ferguson's greatest abilities was knowing exactly when to break up a team, and the problem with international sides built in such a way is that they are completely beholden to the development of the clubs.

Spain are possibly on the downside of that cycle now; Germany on the upside. Slavia Prague have seen it from both sides, as well as so much more.

World Cup and European championship finalists with most starters from one club:

8 - Slavia Prague/Czechoslovakia 1934

7 - Dynamo Kiev/USSR 1988

6 - Spain/Barcelona 2010-12, Juventus/Italy 2012, Bayern/Germany 1996, Slovan Bratislava/Czechoslovakia 1976, Bayern/West Germany 1972-74, Juventus/Italy 1982, Ajax/Netherlands 1974, Honved/Hungary 1954

5 - Porto/Portugal 2004, Milan/Italy 1994, Inter/Italy 1970, Botafogo/Brazil 1962, Kaiserslautern/West Germany 1954, Vasco/Brazil 1950, Penarol/Uruguay 1950, Juventus/Italy 1934, Nacional/Uruguay 1930

4 - Bayern/Germany 2008, PSV/Netherlands 1988, Bordeaux/France 1984, Bayern/West Germany 1976, Dynamo Moscow/USSR 1964, PSV/Netherlands 1978, Cagliari/Italy 1970, Dukla/Czechoslovakia 1962, Hungaria/Ujpest/Hungary 1938