Unwelcome distractions at Cardiff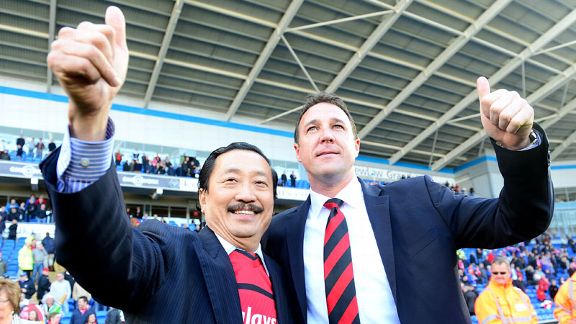 PA PhotosCardiff owner Vincent Tan's running of the club has allegedly led to manager Malky Mackay considering his position.
It's the last Sunday in August and Cardiff City have won their first home game in English football's top division for 51 years. Manager Malky Mackay and his players deserve huge credit for a famous victory over Premier League title favourites Manchester City.

Fans are in raptures, the new stadium is bouncing, but someone else is keen to take centre stage. He is the moustachioed chap who has chosen Simon Cowell as his fashion guru, the belt of his trousers done up somewhere around his chest. Malaysian owner Vincent Tan has made his way onto the sidelines and is lapping up plaudits as he cavorts in front of a bemused -- and amused -- television audience.

Tan saved the club from financial ruin after taking over in 2010. "You should invest and be an angel as this will create employment and give our young people a chance," he said last year of his many projects. As a self-made billionaire, it would appear he sees himself as a similarly benevolent dictator at Wales' capital city club.

Notoriously, last year he changed the club's colours to Malaysian red after over a century of playing in blue. That decision broke the club's support into factions.

"There's a lot of fans who would call themselves 'reluctant reds' who support the team but who would never wear a shirt," says Matt Redd, a Cardiff season-ticket holder for the last decade. "There are certain fans who totally walked away. The thing for Tan now is that every fan that leaves can be replaced with people that want just to watch Premier League football."

The away strip remains blue, and the club is as highly placed as it has been in five decades. As well as promotion, Cardiff only lost the 2012 League Cup final on penalties to Liverpool, yet there is a definite air of discomfort among fans. Tan is undoubtedly a man used to getting things done his own way. The consequences of tradition and sentiment being betrayed are to be damned.

Tan's attempt to rename the club "Cardiff Dragons" has been shelved, but he has refused to permanently rule out that prospect. "I wouldn't say he was a liked figure at all," says Redd of the owner whose money funded a long-awaited promotion. "Ever since Tan has taken over it's been one bizarre thing after another. There is always something ridiculous going on behind the scenes."

This season, there had already been a dispute between players and club about unpaid bonuses from last season. However, the latest caper stretched credibility and patience to such a breaking point that manager Mackay, the beloved architect of last season's Championship title, seemed close to an exit. Head of recruitment Iain Moody, a multilingual former press officer, had been Mackay's right-hand man. They were previously in tandem at Watford. In two years at Cardiff, Moody has travelled the globe in pursuit of new players.

Last week, Moody was suddenly removed from his post. His replacement was the unlikely Alisher Apsalyamov, a 23-year-old Kazakhstani who just happened to be a classmate of Tan's son at a Swiss finishing school. Last summer, Apsalyamov was to be found painting the Cardiff City stadium as an odd-job man on work experience. He has no other known experience in football, though he recently described himself as executive assistant to chief executive Simon Lim.

Unusually for a 23-year-old, Apsalyamov has almost no web presence at all -- not even a Facebook or Twitter page. Kazakh website Univerlife has come closest to getting an interview with him, but states that "Alisher refuses to be interviewed" and "did not want to say big words about his plans." An ESPN request to the club for an interview with either Apsalyamov or Tan did not receive a reply.

Univerlife suggests that Apsalyamov is from a family of intellectuals and has studied in the U.S. His father is "Erbolat Apsalyamov, twice elected to the Majilis of the Parliament of Kazakhstan, has held major positions in business structures." Wild rumours in Cardiff suggest that Apsalyamov's football qualifications stretch only to a strong aptitude for "Football Manager" on his laptop.

Among the players Moody was responsible for bringing to the club have been England centre-back Steven Caulker, Chilean midfield strong man Gary Medel, French right-back Kevin Theophile-Catherine and Denmark striker Andreas Cornelius. He also helped Mackay snap up Fraizer Campbell, Jordon Mutch and Korean Kim Bo-Kyung.

Tan is believed to have blamed Moody for overpaying for summer signings -- the club spent over 30 million pounds. It is suggested that Medel, the record signing at 11 million pounds, had been offered around for far less by Sevilla before heading for South Wales. Then it was found that Lim had signed off the payments, and Moody was thus placed on "gardening leave" before finally being fully paid off.

The loss of such a close ally and confidante plunged a furious Mackay's future into serious doubt. Despite promotion, he is known to have been unsettled in the summer. Mackay had a definite and public interest in the Everton vacancy that Roberto Martinez eventually filled. The Scot is ambitious, and was seemingly mindful of the precariousness of his position under Tan.

Cardiff's rocky recent history bears unfortunate comparison to their rivals at Swansea City, a club hailed for stability and organic forward planning. "To see a bunch of supporters take their team to the Premier League is admirable but it's really frustrating that it's the antithesis of what's going on at my club," says an exasperated Redd, despite his club's relative success so far. Cardiff are currently a point above the Swans.

Monday saw Mackay called into a 9am meeting that was widely expected to decide his immediate future. He had let journalists know that his aim was to seek assurances that he had Tan's full backing. He would not be offering his resignation.

Relatively recent cases at Newcastle and West Ham came to mind. Both Kevin Keegan and Alan Curbishley won employment tribunals after a court found their resignations were forced on them in cases of "constructive dismissal." Football clubs must still abide by the law of the land, wherever their ownership hails from.

Fans of the Bluebirds -- still the club's nickname for now -- spent Monday refreshing the internet and social media for news. After a six-hour wait, Mackay's agent, Raymond Sparkes, confirmed that he would not be quitting. He will take his team to Chelsea on Saturday.

"There is absolutely no prospect of Malky resigning from a job that he loves, a job he's ensconced in," said Sparkes on Monday. The subtext was that the ball was firmly in Tan's court, though at no stage is Mackay believed to have been asked to resign.

A troubled detente for now, then, though few would predict that Mackay and Tan are destined to be working together for years to come. The turmoil has left many Cardiff fans unable to enjoy the novelty of being in the Premier League.