Does international success mean stardom? Not necessarily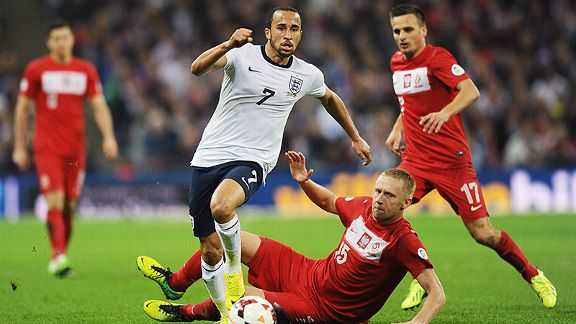 Mike Hewitt/Getty ImagesAndros Townsend has had a brilliant start for England despite not having much international experience.
Roy Hodgson has done it. Michael Owen too. Even Leighton Baines, who is so fashionable now that he is considered beyond reproach and could eat a puppy raw without fear of censure, has been unable to resist. They have all used those dreaded three words.

"When you perform that well at this level in front of 90,000 people," said the England manager, of Andros Townsend, the finest player the world has ever seen, "everyone is going to look at him and ask what has happened."

Owen, to be fair, offered a variety on the theme when eulogising Townsend.

"At international level, you need pace and someone who is going to unlock a defence in tight games, and we have that now," said the horse enthusiast with the "I'm about to burgle your house" smile.

Baines, meanwhile, was banging on about the need to acclimate to international football.

"The more experience you get at this level, the better," said the Everton man.

These three perfectly innocuous, perfectly vapid statements raise just one question. What level? What is this international level that is so revered? Why should a Premier League player -- even one as inexperienced in club football as Townsend -- necessarily have a learning curve when playing for his country?

It certainly is not the quality of opposition. It is not to downplay how impressive Townsend's first two performances for England have been to suggest that Milan Jovanovic, now of Lokomotiv Sofia, the Bulgarian powerhouse, and Grzegorz Wojtkowiak, of German second-division side 1860 Munich, are not the toughest left-backs he will encounter this season, and he will play against Jose Enrique.

Indeed, if Townsend were scientifically minded, he might be tempted to conclude that all the empirical evidence at his disposal suggests that "international level" is quite a lot worse than club football. Now, if he were scientifically minded, he would note that he has quite a small sample size and would be aware that, among international football's elite, things get substantially tougher. In the last eight, perhaps the last 16, of the World Cup, there is an international level worth talking about. Before that, Jovanovic and Wojtkowiak are more the norm than the exception.

Why, then, the reverence? Partly it is born of patriotism, a desire to believe that when two countries go toe-to-toe, it is the best of them against the best of us. Performing with that weight of expectation, of responsibility, on your shoulders does take a special sort of character, that is absolutely true.

If we are to be kind -- and we must always be kind -- it should be noted that international football brings with it its own unique challenge, because no team is as much of a team as a club side. The fact that these players come together for only a few days every couple of months makes it much harder to perform well on either an individual or collective basis. Anyone who can is worthy of respect.

Mainly, though, the concept of international level is an anachronism, dating back to the days when international football genuinely was the pinnacle of the game.

Quite when that was is difficult to pinpoint. The general consensus is that the success of the Champions League has shifted the balance inexorably; football's zenith occurs in the final stages of UEFA's showpiece tournament, not FIFA's.

But that seems a little too convenient, a little too neat. Perhaps the problem is that the great international sides are seared onto our memories -- of the pre-Champions League era teams, Holland in 1988, Maradona's Argentina, Brazil in 1982, the glorious Dutch of Cruyff and Neeskens and Rep and Krol -- like no others.

In football's old world, before 1992, World Cups and European Championships were the only truly communal viewing experiences. They were the forge of legend and the crucible of greatness. The best international teams achieved a fame no club side could ever manage, because they were the only games that everyone watched.

The images they produced were all the more powerful because they were so rare, so precious, and the players so exotic. The world was larger then, and we knew far less. Holland could explode on your consciousness with no word of warning. They were like a new colour on the palette, a new letter in the alphabet, and everyone shared in the wonderment and the awe.

Were any of those sides better than the best club teams of their day, though? Probably not. Would Michels' Holland have beaten Sacchi's AC Milan? You'd tend to back the latter, on the rather unromantic grounds that they played together every day. Patriotic fervour is all well and good, but it's unlikely to be a match for exceptional organisation.

Besides, those great sides were always the exceptions. The vast majority of international football, until the vast improvement in the lower-to-middle order sides in the early 1990s, was appalling. Jovanovic and Wojtkowiak would have walked among even teams like Turkey as though they were somehow more than men. The fabled "international level" may never have existed. It may always have been in our minds, a dream and a delusion.

With every passing year, every passing season, it becomes more and more absurd to hear people say it. It will rear its head next summer too, when the pieces come thick and fast to explain why Lionel Messi can never be considered the equal of Maradona and Pele until he has had "his" World Cup, why this is the ultimate stage, the final test.

The World Cup is still the most-watched sporting event in the world -- whatever those Wall Street shysters from the Olympics tell you -- and it still provides a unique thrill. But it is no more a gauge of a footballer's greatness than CD sales are an assessment of a band's popularity.

The World Cup, two decades ago, was theoretically the only time the best in the world faced each other (and it is theoretical, because Maradona played in Serie A with van Basten and Gullit, who played in the European Cup with Butragueno and the rest).

It is definitively not now, though. Now Messi faces the best of his peers -- if not quite week-in, week-out in the Champions League -- then certainly on a regular basis throughout February and March. The knockout rounds of the Champions League mean fixtures like Barcelona against AC Milan seem somehow passé; the thought of Mesut Ozil meeting Robert Lewandowski is tantalising but hardly unique.

The World Cup is no longer the pinnacle. International level is no longer a step up. That is not to say it does not have a role -- it does, as the excitement of the final round of Brazil 2014 qualifiers has shown -- but let's not pretend that, for a player like Townsend, it is some sort of Herculean challenge. It is a carnival, a festival, a break from the norm. It is different. It is not better.