Inter's Massimo Moratti the last of Europe's 'fan' owners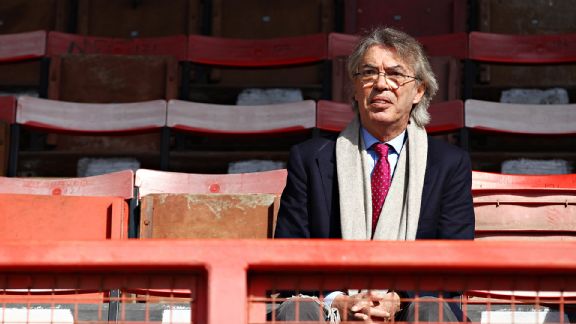 Julian Finney/Getty ImagesOne of a kind: Massimo Moratti, who sold 70 percent of Inter this week, thought and ran the club like a fan.
Just over 10 years ago, I bumped into Massimo Moratti at a restaurant in London's South Kensington. A few hours earlier, his Inter team had defeated Arsenal at Highbury 3-0 in a Champions League group stage match. Blitzed Arsenal might be a more apt description; the visitors were 3-0 up at halftime with goals from Andy van der Meyde, Julio Cruz and Obafemi Martins. (And note that this wasn't just any Arsenal team. This was an Arsenal team that had won the FA Cup the year before and that season would go on to dominate the Premier League without losing a single game, making history as "The Invincibles.")

Moratti's demeanor and expression reminded me of a trip I had taken to Disneyland with a friend and his 5-year-old kid. The little boy had spent the drive over talking about how Mickey Mouse and Snow White weren't real, they were just characters made up by grown-ups. When he bumped into Snow White, he slipped into a kind of joyful stupor.

Mouth open, eyes wide, half-knowing smile, he seemed to have entered another plane. What he thought wasn't real -- but deep down wished was real -- proved to be real.

I saw that same mix of joy and wonder on Moratti's face that night. One of the people with him told me: "He lives for this. This makes it all worthwhile to him."

It would probably be churlish to point out that the little boy at Disneyland is now in his late teens and figured out a long time ago that what he saw wasn't real. Just as reality would ultimately hit Moratti like a cinder block to the head. The manager who delivered that historic win -- Hector Cuper -- would be fired 31 days later. Inter would fail to make it out of the group, with the added insult of Arsenal beating them 5-1 at the San Siro in the return leg. They would end the season trophy-less for the sixth year running and find themselves 23 points off the pace in Serie A.

But you know what?

That night probably did make it worthwhile for Moratti. And anyone -- other than Arsenal fans -- who was near him that night and witnessed his childlike joy could not help but be happy for him.

On Tuesday, Moratti sold 70 percent of Inter Milan to an investment group led by Indonesian businessman Erick Thohir for $338 million, valuing the club at nearly half a billion dollars. He'll still hold a stake, he may or may not be given some kind of role, but it will be "his" club only in the way that a fan feels a team is "his."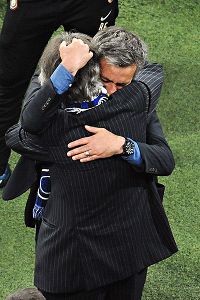 Mladen Antonov/AFP/Getty ImagesMoratti and his manager, Jose Mourinho, embrace after Inter won the 2009-10 Champions League.
Moratti was one of the last great fan-owners in the European game. His 18-plus years of ownership were marked by his personality. And that was defined in two ways. Wealthy and patrician, he almost always acted like a gentleman, setting him apart from most of his rivals. It also meant that he was less hated by supporters of other clubs than his peers, which, in the hyper-polarized world of Serie A, is no mean feat. His other hallmark, of course, was that -- for better or worse -- he thought and ran the club like a fan, with all that entails.

If you're into your pop psychology, Moratti is a slam dunk. His father, Angelo, the son of a pharmacist, was orphaned by the time he was 14. He left school at 16 and went on to make a fortune in oil refineries. He bought Inter when Massimo was 10 and as the kid grew into a man he witnessed the birth of "La Grande Inter," winners of two European Cups and two world club titles under the legendary Helenio Herrera.

Angelo sold the club in 1968 and for the next 27 years, Massimo was just a fan. He worked in the family business, which his older brother ran. And in February 1995, he bought Inter, bringing it back into the family fold and hoping to follow in his dad's footsteps.

Thus began the second Moratti era. And for most of it, it was marked by ridicule. The problem is that good people with lots of money who are emotionally invested don't always make good owners. Not if you define "good ownership" as running the club to something near its maximum potential.

Inter made 20 managerial changes during his time in charge. Take away the relative stability of the Roberto Mancini-Jose Mourinho regimes and it was actually 18 changes in just over 12 years. If you wanted to be cruel, you could have an absolute field day examining them. Like firing Gigi Simoni shortly after he was named Serie A manager of the year for winning the UEFA Cup and finishing second in the league. Or booting Marcello Lippi after one game of the 2000-01 campaign. Or Rafa Benitez, who effectively sacked himself with a rousing polemic hours after winning the 2010 Club World Cup.

Even when managers did well, it seemed to end badly. Roberto Mancini's four-year stint finished with the club's third straight Serie A crown, but the epilogue was marked by acrimony, accusations of spying and spurious stories leaked to the media. Indeed, Mourinho is one of the few guys who left on a good note, and he had to win the freaking treble to do it.

And when it came to players, well ...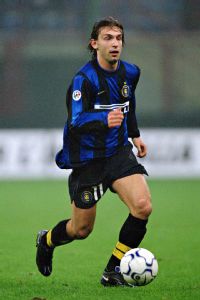 Stuart Franklin/Getty ImagesThere are plenty of blemishes on Moratti's record, including sending Andrea Pirlo to (of all clubs) Milan.
Inter managed to send Clarence Seedorf, Dario Simic and Andrea Pirlo to -- of all clubs -- Milan in exchange for Francesco Coco, Umit Davala and someone named Andres Guglielminpietro (Guly, to his friends). Seedorf, Simic and Pirlo went on to make a combined 961 appearances for Milan and won two Champions League titles. The trio Inter got in return played a grand total of 56 games.

There are far too many others to count. Far too many situations when Inter made player personnel decisions that simply blew up in their face, all the while far outspending almost everyone in the history of the game.

The Italian newspaper La Repubblica reported in summer 2011 that under Moratti's ownership the club had lost $1.62 billion (with a "b") and that Moratti had pumped a billion dollars of his own money into the club as equity. Cash he knew he would never see again.

That was likely the part of the problem. Moratti was simply too generous, too forgiving, too much of a pushover. Agents treated him like a cash machine (Nwankwo Kanu twice getting a raise while making just 12 appearances springs to mind). Directors of football and transfer market consultants never being held to account for their incompetence and sheer stupidity. Coaches coming in demanding players and Moratti caving in, even when they didn't fit the club's plan or, in some cases, when he knew he was likely to make another managerial change.

"If you're rich, you have to have a complex of guilt towards those who are less fortunate; you have to think of all those who are so far worse off than you are," he once said when asked about his legendary generosity.

Meanwhile, off the pitch, the game was changing and Inter remained in a time warp. Spend as much as you like, don't worry about match-day or commercial income, because Moratti will just cut a big fat check at the end of the year. Most of the Italian game (with some exceptions) was guilty of this: outdated stadiums; cheap, tatty merchandising; sponsorship deals that appeared to have been struck by 8-year olds. But Inter were among the worst offenders. Between 2006 and 2010, five years in which the club won everything in sight, commercial income rose from $63.5 million to $65.4 million. Across town, AC Milan, with a comparable fan base but with considerably worse results on the pitch, saw their commercial income go up from $91.9 million to $122.7 million.

A businessman owner would identify those responsible and kick them to the kerb. And he would have done the same with all those employees and advisers who exploited his generosity and cash while offering bad, incompetent advice, year after year. Instead, it seemed like, at Inter, the only ones who paid the price of incompetence were the managers.

(And even then, since most had fat multiyear deals that Moratti duly paid up until they got new jobs, they too didn't really suffer.)

Thohir, as far as we know, did not grow up an Inter fan. He bought Inter; he might have bought Valencia or Arsenal or Boca Juniors. A club is a club to him. It's a business. A fun business in which you don't mind breaking even, but a business nonetheless. The kind where you actually make business decisions. Like firing those who are incompetent, lazy or stupid.

In fact, it's not really a choice. Financial fair play is here and if Inter want to ever be a European power again, they'll need to be smart about it. The cost-cutting actually officially began 18 months ago, but -- as with all things Inter -- it has been half-baked and subject to the owner's whims (or the ability of those around him to extract more cash from him).

There is a lot of potential, but also so much to do. From the stadium to the sponsorships to actually exploiting Inter's huge but underutilized youth system. (Seven of the players who reached the final of the European under-21 championship last summer are products of Inter's academy. And of course, two years ago, Inter's youth side won the NextGen Series.)

The Moratti way meant that Inter had a steward who cared deeply about the club, who put his own money into it and kept it far from bankruptcy and financial turmoil. It also delivered the unforgettable treble under Mourinho, and that is something that will forever remain in history and in the hearts of supporters.

There's a lot to be said about an owner who is a good man. But, simply put, that way of doing business is now untenable. And, when you look back, it never yielded the results it should have, certainly not on the pitch.

Thohir may or may not turn out to be a good owner. But right now he's a necessary owner. And every indication is that he will run the club according to business principles, not as a fan who hit the jackpot or a kindly dad willing to forgive every one of his selfish kids' misdeeds.

In that sense, Thohir is what Inter need.