How Moscow ran out of stadiums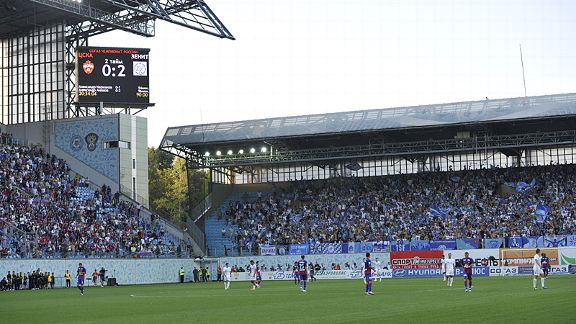 GettyImagesCSKA Moscow's Arena Khimki is facing a race against time to be ready.
In about one week's time Manchester City are scheduled to play a Champions League away tie at CSKA Moscow, but it's still not certain at which stadium the game will take place, as none of the city's main arenas are currently in a fit state for top-class football.

The Russians say they are positive that CSKA's Arena Khimki is finally ready to host the game after some much-needed attention to a pitch that has forced recent home games to be played at away venues, but general director Aleksandr Zaytsev told Sport Express on Tuesday: "The only problem is aesthetic -- there isn't enough grass." As far as the hosts are concerned, grass is apparently only of aesthetic value when playing football. It would be funny if it were not so sad.

As the famous 19th-century poet Fyodor Tyutchev wrote: "You cannot grasp Russia with your mind, or judge her by any common measure, Russia is one of a special kind." His words ring true today.

The situation in Moscow is farcical: widespread redevelopment, overuse of pitches and often unfathomable decisions mean the Russian capital simply ran out of stadiums. Manchester City officials will almost certainly have been following the plight of Czech club Viktoria Plzen just two weeks ago, when UEFA delegates ruled out the possibility of playing on Khimki Arena's potato patch of a pitch. CSKA were then faced with an extremely difficult task of finding an alternative, as disaster loomed.

The Russian champions registered the Kuban Stadium in Krasnodar as their reserve venue, and in theory it was a smart move. The town is located about 1,300km south of Moscow, and the climate is much better there in late November when the capital can be covered with snow and ice. However, CSKA failed to pay attention to Kuban Krasnodar's qualification for the Europa League -- with Kuban hosting Valencia on Thursday, it was impossible for the Russian champions to take on Plzen on Wednesday, due to UEFA guidelines.

City rivals Lokomotiv Moscow would not allow CSKA to play at their Lokomotiv Stadium to prevent overuse, and eventually Zenit St Petersburg came to the rescue, despite the fact that they hosted Austria Vienna themselves on Tuesday. The very fact that UEFA allowed two Champions League matches to be played at the same stadium in St Petersburg on consecutive days is a miracle because, as previously stated, it goes against the standard guidelines and a special exception had to be made.

The match went ahead, but Plzen, far from happy with the move, were forced to forfeit their training session at Zenit's Petrovsky Stadium 24 hours before the game and had to use Zenit's alternative facilities instead.

So how did the Arena Khimki pitch get ruined and lead to such chaos? For starters, two Russian Premier League clubs, CSKA and Dinamo Moscow, use it as their home ground. In late August, Spartak Moscow also played their Europa League qualifier against St Gallen there, and then the federation decided it wise to stage a pair of European Under-21 Championship qualifiers against Slovenia and Bulgaria at the same stadium, despite CSKA protests. Add desperately unfortunate weather, with nonstop rain for weeks, and the pitch was destroyed.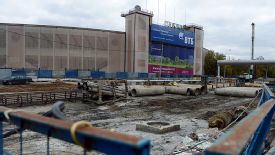 GettyImagesDinamo Moscow's stadium during reconstruction works.
Khimki is a problematic venue for CSKA and Dinamo anyway. Although a modern and fan-friendly stadium, it is very small with just over 18,000 seats and is located in Moscow's suburbs, making it difficult for supporters to travel there. Both clubs are in the process of planning or building their own new stadiums, as are neighbours Spartak and Lokomotiv. In the future, Moscow will be -- or at least should be -- full of state-of-art arenas, but like everything in Russia things take an age to be completed (as Zenit proved with their seemingly never-ending new stadium fiasco). In the meantime, with Lokomotiv reluctant to share their existing ground after watching the Khimki disaster, Moscow's teams were left without pitches.

During the last month, finding a stadium to stage league games became extremely difficult, leading to some truly bizarre solutions. CSKA hosted Anzhi Makhachkala on the small Torpedo Moscow ground, on an absolutely unsuitable surface. Quality football was impossible, and the game ended in a goalless draw. The following week, Dinamo Moscow were sent to stage their game against Samara at the tiny Rodina Stadium in Khimki, with a capacity of less than 10,000.

The decisions were all taken at the last minute, making planning impossible for the fans. The farce reached its nadir in the beginning of October, when Spartak -- denied an opportunity to play at the Lokomotiv Stadium that they are sharing this season -- were sent away to Yekaterinburg, some 1,800km to the east, to stage their "home" fixture with Terek Grozny.

On the same day, the derby between CSKA and Dinamo took place at Lokomotiv's reserve ground, on an artificial pitch. CSKA desperately tried to postpone the game, claiming that national team players could be injured ahead of the crucial World Cup qualifiers, but to no avail. That was the first, and probably last, top-flight match ever played at that location. Only 7,000 spectators were allowed to attend, meaning not all CSKA season ticket holders could make it. And what about the Spartak season ticket holders who were unwilling to travel hundreds and hundreds of miles to the Ural Mountains? No reasonable explanation was given.

At the time of writing, nobody knows where Dinamo, who share the Arena Khimki with Manchester City's opponents CSKA, will host Kuban on Sunday. UEFA officials insist they can't play at home, while the Russian FA, for whatever reason, is reluctant to allow them to use the Rodina Stadium again.

You might ask: But what about Luzhniki? Moscow's biggest and most important stadium, where Chelsea captains usually slip when taking penalties, has been used as a home ground by Spartak in recent years. Well, it was closed for reconstruction this summer ahead of the 2018 World Cup. However, with no stadiums left in the city, journalists began asking questions and found out that the works have not even started. They are only scheduled to begin in 2014.

Why, therefore, can Luzhniki not be reopened until the end of 2013, given the fact that CSKA, Spartak and Dinamo are facing such a crisis? That will remain a mystery forever, but last week everyone was amazed to see OMON, the police special elite units, publishing pictures of their troops training at the Luzhniki ground on Twitter. They even built temporary houses and brought military vehicles to the venue. "We don't know why they gave us the stadium. Ask the football federation," OMON said in answer to the public outcry.

So there you have it. Manchester City may well have to run the risk of picking up injuries playing CSKA at a small stadium with "aesthetic" grass problems, while a much bigger arena in the city centre is closed for military purposes. Russia might somehow be ready for 2018, but nothing will ever change the country's mentality, which, as Tyutchev wrote, you "cannot grasp."